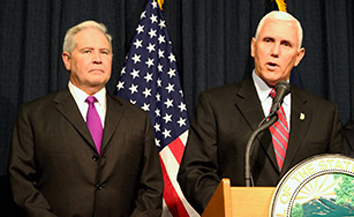 Jim Schellinger put Democrats on edge last month when he accepted a job from Gov. Mike Pence to head up the state's chief economic development agency, effectively benching himself from helping his party turn out a win over the Republican in 2016.
But the high-profile political donor and former gubernatorial candidate's new position as president of the Indiana Economic Development Corp. could help both parties achieve a key goal: boosting wages for all Hoosiers.
People need jobs, Schellinger said in an interview with IBJ. And they need high-paying jobs. That combination is "coming together under this governor's leadership," he said. "That's one of the reasons I wanted to be here. You celebrate the successes, but you're never done working for more."
But some of those successes—a falling unemployment rate and relatively high private-sector job growth—have been masked by the national uproar over Pence's support of a "religious freedom" law that opponents said would allow businesses to deny services to LGBT people. Pence has said repeatedly that the state's economic growth shows it's past the controversy. But Democrats say no­—and they say it's middle-class workers who suffer when the state's economic development efforts are not at their best.

Parker
"The issue going forward is quality over quantity," said Dan Parker, a former Indiana Democratic Party chairman. "Even though some Democrats might not be happy with him from a political standpoint, there's nobody we would rather have running [IEDC] than Jim Schellinger because of his commitment to working people and the creation of quality jobs."
Indiana has proved fertile for job creation, with one of the lowest unemployment rates in the Midwest—4.9 percent in June—and record-breaking private-sector job creation years. IEDC has secured $3.8 billion in capital investment so far this year from companies who project they'll create 17,000 jobs over the next six years.
But critics say the question is whether those jobs will support families. Per-capita income in Indiana has stagnated over the last decade. Hoosiers earned an average $38,136 in 2012, compared with $38,044 in 2002, according to the U.S. Bureau of Economic Analysis.
And per-capita income has dropped compared to the rest of the nation. The state ranks 38th, down from 30th in 1980.
"That's the greatest limitation on our economic growth," said Rep. Scott Pelath, D-Michigan City. "Wages and household incomes are what ail us here in Indiana."
Pelath said Schellinger's new job puts him in a position to make an impact.
"I've known Jim for many years and have confidence in his abilities and know he shares many of the same principles that I have about the economic pie being accessible to as many people as possible," Pelath said.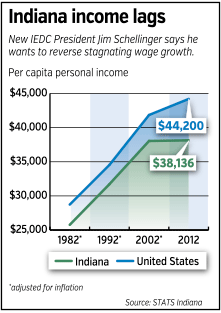 Schellinger, who will take a leave of absence from running his architecture firm CSO Architects, at Keystone at the Crossing, said he's confident wages will rise if Indiana continues growing jobs in key fields like aviation and technology, which the state has had some success with recently.
On Aug. 3, global e-marketing company Emarsys announced plans to make Indianapolis its North American headquarters, bringing 167 jobs over five years. IEDC says about 5,000 technology-related jobs have come to Indiana since 2009, more than double the growth rate of all occupations. Technology trade group TechPoint says Indiana technology jobs pay an average of more than $75,000 a year.
So far this year, IEDC has secured commitments for more than 15,000 jobs with an average salary of $25.89 per hour, a nearly 21-percent increase over the average state wage and 15 percent more than IEDC's 2014 commitments.
"Our approach here is continuous improvement," Indiana Secretary of Commerce Victor Smith said. "What can we be doing to move the needle?"
Tough to budge
As Schellinger stood in his new, mostly empty downtown office—with panoramic views featuring the JW Marriott, which CSO designed—he said he wants to work harder to promote wage growth.
"We've had great success recently in aviation, defense, advanced manufacturing and technology," Schellinger said. "Those are the exact kind of high-wage jobs that are going to keep our talent here and attract new talent to our state."
But it's not easy to dramatically change per-capita income. Indiana has 3.4 million working-age adults, but, in "a good year," the state sees turnover of about 500,000 jobs, said Michael Hicks, a Ball State University economist and director of the Center for Business and Economic Research.
"It's like moving a battleship," Hicks said. "It would be absolutely implausible to change this overnight."
Schellinger, who has served on the IEDC board since 2013, said one strategy for moving the needle is a "regional cities" initiative Pence championed during the last legislative session.
Pence pledged to spend $84 million—to be generated by a tax-amnesty program this fall—on a matching-grant program to help cities far from Indianapolis fund projects to improve quality of life.
Schellinger said those improvements will help attract young talent to Indiana and drive companies to produce competitive wages as a retention strategy.
"Greater talent costs more money," he said.
Consensus-builder
Hicks said he has confidence in Schellinger's ability to lead the regional cities program. Schellinger is replacing Eric Doden, who left IEDC in May to head economic development efforts as CEO of Greater Fort Wayne Inc.
"He's an architect," Hicks said. "He should know more than anyone else how important place is to the ultimate economic consequences of the state. His appointment is notable in that this is now the second development director who really understands the problem."
Supporters say Schellinger has a history of demonstrating leadership.

Tucker
Alan Tucker, president of CSO Architects, said Schellinger led the charge to diversify the firm's portfolio. In the late 1980s, Tucker said, Schellinger started seeking more public-sector contracts. Now, they account for about 50 percent of the 54-year-old firm's business. Its 2013 billings were $16.2 million.
"He's in a position to do what he's done here for many years," Tucker said.
Kip Tom, a member of the IEDC board who leads Leesburg-based global agribusiness firm Tom Farms, said Schellinger has brought a balance to IEDC through consensus-building.
"He'll go into a discussion or a negotiation with a new company and he's able to look at both sides and bring them together to a solution," Tom said.
Union leader skeptical
Still, the Democratic label could help at a time the party has been highly critical of the work Republicans have done on economic development. Although boosting wages is a bipartisan goal, the parties have disagreed about how to achieve it.
Recent union battles are one indicator of the chasm. The GOP-controlled General Assembly passed a so-called right-to-work law in 2012 that freed employees from paying fees to unions they don't join. Republicans said it would boost job growth and lead to better wages. But Democrats said it would destroy unions and lead to lower pay for middle-income Hoosiers.
Their positions haven't changed. And Brett Voorhies, president of the Indiana State AFL-CIO, said he has little hope Schellinger's appointment will result in much progress.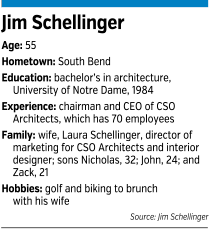 "One man, especially Jim Schellinger, is not going to budge the governor," Voorhies said. "I don't think Schellinger has that much influence, especially with working people. Whether you claim to be a Democrat or a Republican, [Pence's] policies have done a lot of damage already and it's going to take a long time to repair those damages."
In the past, Schellinger has appealed to unions for support. During his unsuccessful 2008 gubernatorial run, Schellinger vowed to reinstate collective bargaining for state employees. But unions lined up with the eventual Democratic nominee, Jill Long Thompson, who was defeated by former Gov. Mitch Daniels.
Schellinger said he won't have time for politics in his new role. He will soon step down as chairman of the Indiana Democrats Victory Committee, a political action committee that gave nearly $80,000 to John Gregg's unsuccessful 2012 gubernatorial bid against Pence. Gregg is the current fundraising front-runner of several Democratic candidates who have said they hope to challenge Pence in 2016.
Plus, Schellinger said he and Pence share common ground in making job creation a priority.
"It's not about politics," Schellinger said. "I've seen thousands of jobs come through. I never saw one of them listed as a Democratic job or a Republican job."•
Please enable JavaScript to view this content.