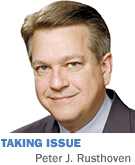 OK—wasn't planning another column on Donald Trump, but he's pushed me over the edge by saying he's like Ronald Reagan. To paraphrase Lloyd Bentsen, I knew Ronald Reagan. Ronald Reagan was a friend … oh, you know how this goes.
Trump has captivated the angry right, cheered by radio hosts like Rush Limbaugh and Laura Ingraham. Limbaugh finds him "refreshing," someone "giving it right back" to media types out to destroy a man who speaks his mind. Ingraham loves Trump's anti-immigration rhetoric, and says attacking him only helps Jeb Bush, whom she despises.
Yes, I know. Trump is tapping into some genuine voter frustration and anger (which happens to drive talk-show ratings). He's taking on "the Establishment." He "tells it like it is." He … you know how this goes, too.
As National Review's Jonah Goldberg points out, Trump actually doesn't "tell it like it is." He tells it "the way [some] want to hear it, which is an entirely different thing." Indeed it is, as all demagogues know.
Goldberg and others, like Commentary's Peter Wehner, have also documented that Trump is no conservative. This includes what Ingraham et al. deem the "conservative" immigration position. In 2012, Trump chided Mitt Romney as too "hardline" on immigration, since there had to be a "path to citizenship" for illegal immigrants, who may number "30 million" (the 11 million stat is apparently for pikers).
The Donald has also:
• said he's "totally pro-choice" on abortion, "because I think we have no choice."
• advocated a huge "net worth tax" on wealthy individuals.
• castigated GOP presidential candidates for "attacking" Social Security, Medicare and Medicaid.
• backed a Canadian-style, single-payer health care system.
• said he's a "big fan" of Hillary Clinton, a "terrific woman" whom Obama should have made vice president.
• made large contributions to Democrats, including Clinton and Harry Reid.
To a Limbaugh, any of these sins would condemn Jeb Bush or another GOP candidate (save perhaps Ted Cruz) to the outer darkness of eternal RINO-dom. Not so for The Donald, who gets a pass—and is now merrily flipping on these and other topics, which (shocker!) seems not to embarrass him.
None of this is at all like Ronald Reagan, whom Trump now claims to resemble. What is even more offensive about this outrageous claim, particularly to those who worked for the 40th president, is Trump's crudity compared to Reagan's character.
Trump labels his critics "losers," "jerks" and "dummies." He has called women he dislikes "fat pigs, dogs, slobs, and disgusting animals." Asked about this by Fox News' Megyn Kelly, he said he didn't have time for "political correctness," then tweeted that she wasn't "very good or professional" and retweeted a supporter's calling her "a bimbo."
And then he said Kelly had "blood coming out of her eyes, blood coming out of her, wherever."
Can you imagine Ronald Reagan, who stood up when a woman walked into the room, ever saying any of these things?
Reagan also kept on his desk in the Oval Office a plaque saying, "There is no limit to what a man can do or where he can go if he does not mind who gets the credit."
Sound anything like The Donald to you? How can a serious conservative even imagine putting him in the same office?•
__________
Rusthoven, an Indianapolis attorney and graduate of Harvard College and Harvard Law School, was associate counsel to President Reagan. Send comments on this column to ibjedit@ibj.com.
 
Please enable JavaScript to view this content.