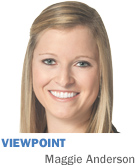 So often the "millennial conversation" is negative. People point to generalizations about "how difficult millennials are to work with" instead of focusing on the immense potential this group of young people has for business.

We "twentysomethings" make up the generation that doesn't believe it needs to pay its dues and bend to a traditional hierarchical structure. We admit to being entitled and noncommittal. We may find new jobs every two years, expect to make big moves fast, and rise up and out of companies rapidly. We demand fast-paced work environments, a seat at the table, and constant change.

But millennials are also great for business because we challenge status quo and drive change, value authenticity and transparency, want to make an impact on the world, have entrepreneurial drive, lead with influence rather than power, and have large ambitions.

We expect more from ourselves as future leaders, and we also believe that businesses can be achieving more, innovating, and making more of a societal difference rather than just focusing on profits.

As a whole, "Gen Y" wants to make a difference in the world. We are less motivated by salary and title and more motivated by a sense of purpose. It all comes down to those values. We care about individuality, self-expression, flexibility and family, collaboration, social responsibility, and helping others in need.

Millennials are at our best when we know the "why" behind our daily tasks. We want to understand what impact our work has on the bigger picture, and companies who refuse to evolve and change frustrate us.

We respect our bosses for their expertise and leadership styles, but we think of them more as friends than as authority figures. That is why traditional hierarchies don't appeal to us. For millennials, those who lead with fear and power come up short, compared with those who lead with influence. Loyalty and respect are earned, not given automatically. We expect frequent feedback and that our interactions will be collaborative and the environment casual. When those needs aren't met, we leave. And as everyone knows, that comes with a major cost to employers.

Millennials are jacks-of-all-trades, not subject-matter experts. We work quickly, and we believe emphasis should be put on the end product, rather than the time spent to complete it. So, give millennials a project and let them run with it.

In my role, I have complete control of my work schedule. I am often alone in the office and have little accountability day to day. And because I have this level of responsibility, I think I work even harder. I will bend over backward for my organization and my leaders, because I have ownership. It comes with a certain level of pressure on my shoulders, but I know that what I am doing matters and that I am needed and appreciated.

Cara Silletto of Crescendo Strategies recommends five tips for working with millennials: communicate expectations, listen more, use their full capacity, align for advancement, and recognize their contributions.

I hope our Indianapolis business leaders use these tips to better work with Generation Y—because, in five years, millennials will be half the workforce.

Millennials will decide the future of business. We will continue to push forward, innovate and challenge the way things are done.•

__________

Maggie Anderson is executive director for the Integrating Woman Leaders Foundation in Indianapolis. Her personal brand tag line: a champion for adventure, hard work and broadcasting optimism.