Cummins Inc.'s $30 million global distribution business headquarters under construction downtown won't be as tall as originally envisioned. But the building's designers think its calibrated facade still will pack plenty of architectural pizzazz.
The Columbus-based engine maker unveiled the design of the building in December and received approval from the city last month to reduce its height from 10 stories to nine after the company determined it didn't need as much space.
New York-based Deborah Berke Partners is architect for the project, which features a contemporary design sure to make its mark on the downtown landscape and, perhaps more important, on the East Market District that is beginning to experience a renaissance.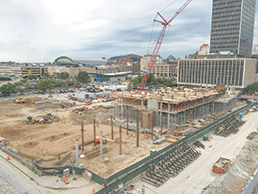 The F.A. Wilhelm Construction Co. is building the headquarters for Cummins' distribution business on four acres once occupied by Market Square Arena. (IBJ photo/Scott Olson)
"It's a very special site," Berke told IBJ. "We felt a responsibility to Indianapolis to make a quality building that reflects the forward look of what the 21st century is like, in terms of openness and [space] flexibility."

The building's long and narrow layout aims to create work space that offers abundant views and plenty of daylight, she said, offset by a glass facade that is calibrated, or staggered, to cover floor plates that widen as the structure rises.

"To my mind, a big part of that is working in daylight, and working in space that feels open and comfortable but is not vast and dehumanizing," she said.
(Rendering courtesy of Deborah Berke Partners)
The unique design poses construction obstacles, Phil Kenney, president of project contractor F.A. Wilhelm Construction Co., said at IBJ's Sept. 10 Commercial Real Estate & Construction breakfast. (Read the full transcript of the breakfast here.)

"Cummins has a long history of challenging architecture, so there are a lot of angles and different layout issues that we have to work our way through to get the project built," Kenney said. "But we're making some great progress."

Wilhelm construction crews have progressed to the second level and eventually will work at a quick enough pace to add a floor a week, Kenney said. The project is expected to wrap up in late 2016.
The project, which is adjacent to the Cultural Trail, will include an unusually large amount of green space for a downtown development. (Rendering courtesy of Land Collective)
The calibrated facade uses different types of clear and opaque glass, and metal fins and sunshades, not only to maximize daylight but also to add urban context. And expansive, column-free spaces have tall ceilings, Deborah Berke Architects said in an email further explaining the design.

The design passed through multiple iterations before getting the green light, Cummins spokeswoman Sally Leyes said.

"We think that calibrated grid lends to our engineering experience," she said. "That's what we wanted to achieve with the look and the feel of the building, and we think we've done that."

Lasting impression

Cummins chose Deborah Berke from among three firms it invited to submit designs. The two others, also from New York, were SHoP Architects and Tod Williams Billie Tsien Architects.
(Rendering courtesy of Land Collective)
Deborah Berke Partners, founded in 1982, has designed commercial, hospitality, institutional and residential projects in the United States, as well as in Asia, Europe and the Caribbean.

But it's a small project the firm completed close to Cummins' home turf in Columbus that snagged Cummins' attention. Deborah Berke designed the Hope branch of the Bartholomew County Public Library system in 1995. Architectural fees for the project were paid by the Cummins Foundation.

The Cummins headquarters is being built on four acres where Market Square Arena previously stood. The property is bounded by Market, Alabama, Washington and New Jersey streets. Cummins agreed to buy the property from the city for $4.3 million.

The project is just one of several that's remaking the east side of downtown.

To the north, Flaherty & Collins Properties is building its $121 million, 28-story apartment-and-retail development known as 360 Market. And farther north, 21 Museum Hotels LLC is planning a $55 million project to convert the long-vacant Old City Hall to gallery, office and event space and build 149 rooms and a parking garage on an adjoining parking lot.

Deborah Berke also is designing the 21c Hotel.

East of the Cummins building, Milhaus Development LLC has started constructing 52 apartment units to front the exterior of a parking garage along the north side of Market Street between New Jersey and East streets, to the north of its Artistry, Mentor and Muse apartment projects.

And to the west, on the south side of East Washington Street across from the City-County Building, IndyGo's $20 million, 14,000-square-foot transit center should be finished by the end of this year.

'Petting zoo' of projects

The Cummins building should help extend activity along East Washington, while its abundance of green space fronting the street will tie into the redesign of the City-County Building's plaza, said Drew White, a partner at Axis Architecture + Interiors. Axis designed the transit center.

"The whole design jumps out at me," White said of the Cummins building. "I think the tower's going to be beautiful. It's going to help further extend the Market Street wall."

Both the building and parking garage will feature green roofs. The parking garage will be positioned farther back from East Washington Street than the original layout showed, to provide for potential future development.

Bruce Race, a professor of architecture at the University of Houston and former teacher of urban design at Ball State University's Downtown Indianapolis Center, lauded Cummins for tapping Berke.

"They paid a premium for good architecture," Race said, "so you have a building that will grab everyone's attention."

But Race disagrees with White that downtown's east-side additions will complement one another and referred to them as a "petting zoo" of projects that are "more hodgepodge" than cohesion.

"They just happen to be co-located," he said. "None of these projects talks to each other."

Still, Race called Cummins' "cantilevered" office building that steps out from the base "thought-provoking, exciting architecture."

Berke's firm is teaming on the project with locally based Ratio Architects Inc.•