The Indiana Fever are more than a winning WNBA basketball team fighting for a second league championship.
The team has also become a money-making business and, league officials say, a model franchise.

For a third consecutive year, the Fever have led the WNBA in sponsorships sales and, more important, have been profitable. Team officials said the margin isn't huge, but league sources confirmed the Fever is one of only six franchises in the 12-team league to be profitable this year at all.

Team officials are hopeful, as the Fever battle the Chicago Sky in the Eastern Conference semifinals, that this year's playoff push will boost fortunes even higher.

The league's deal with ESPN, which pays each team $1 million annually, helps cover the $919,000 player salary cap. But to be sure, the team is bringing in its own revenue.

Recent sponsorship extensions—with The Finish Line through 2018 and Community Health Network through 2017—plus a new deal with Papa John's Pizza, increase the odds that the team will push further into the black.

The Finish Line and Community Health Network—two of the team's biggest sponsors—increased their level of investment, Fever officials said. Community Health Network will put its name and logo on the floor in front of the player benches. NBA teams started selling that space two years ago, but the Fever is the first WNBA team to capture that revenue.

"We're having another record year in [sponsorship] sales," said Fever President Kelly Krauskopf.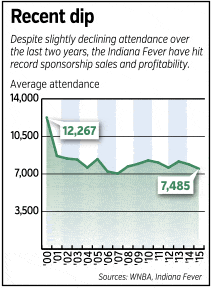 The team has doubled sponsorship sales since 2012, she said.

"The Fever are doing a lot of things right," said WNBA President Laurel Richie. "Their strong sponsorship sales are a testament to a strong team and a clear strategy. In my visits there, it's been clear this team has put down deep and broad roots that have led to a fervent fan following."

That avid fan base is what caused Finish Line to extend its sponsorship, which started in 2013.

Krauskopf
"The Fever has some of the most passionate fans of any team here," said Mike Grimes, vice president of omnichannel marketing for Finish Line. "If we have a Fever item that says 'Sponsored by The Finish Line,' we get more reaction from that than anything else."

The Finish Line sponsors the Pacers, Indy Eleven and Indianapolis Colts as well.

Cause for concern?

If there's a dark cloud hanging over the Fever, it's that attendance has been basically static since the team's second season in 2001. Each of the last 15 years, average attendance has hovered between 8,700 and 7,000. In its inaugural season, the team was among the league leaders at 12,267.

The Fever have made 11 straight playoff appearances and two trips to the WNBA Finals—in 2009 and in 2012, when they won the championship. While Fever officials are quick to note the team's attendance has risen in five of the past nine seasons, it declined in 2014 and 2015.

This year's regular-season attendance was down 5 percent, to 7,485.

But just treading water might be a win considering the Fever's strong summer competition: The Indianapolis Indians have been on an attendance tear the last five years—hitting records each of the last two seasons—and the Indy Eleven have emerged as a major draw in their first two seasons. Both teams overlap the Fever's June-September schedule.

"What the Fever is doing with regard to their attendance is very strong," said local sports marketer David Morton. "There's a very finite number of fans to go to sporting events in a city the size of Indianapolis, and they've not lost ground at a time when competition for the sports and entertainment dollar has increased substantially. That kind of stability shows they've found a niche."

While the Fever are one of the few WNBA teams to draw more men than women—52 percent to 48 percent, according to Scarborough Research—the audience still skews heavier to women than many local sports teams.

"Not only do they bring in more women, but their tickets are affordable so their crowd is more family-oriented and less corporate, and that appeals to certain sponsors," Morton said.

Krauskopf is encouraged by what she sees in ticket sales, noting that full-season-ticket renewal is 77 percent so far. That's 10 percent ahead of this time last year.

"We've never been this high in renewals this early," Krauskopf said. "It shows the excitement with what the team and what [Coach] Stephanie [White] is doing."

This year, mini-season package sales rose 24 percent, single-game sales increased 8 percent, and group sales moved up 7 percent.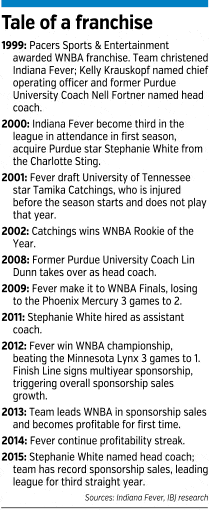 "I'm really excited to see the increase in mini-season ticket packages because those are the ones you can convert into full-season-ticket deals," Krauskopf said.

She acknowledged, however, that season-ticket renewal has been a concern. It is down 8 percent compared to 2014.

"It can be difficult to make up that kind of loss," Krauskopf said. "So we have to do a better job of hanging on to what we have."

Fuson
While the goal is for the Fever to make a profit, Pacers Sports & Entertainment President Rick Fuson said the profit doesn't have to be big for the enterprise to be successful.

"As a company, we have a great commitment to the Fever," Fuson said. "Sure, we want to maintain a good business, but having a commitment on all sides—male and female—and at all levels of the game of basketball is even more important to us than making a big profit. We're very positive on what the Fever have going right now."

Other worries

The team's decision last year to hire Purdue University graduate and former Fever player Stephanie White as head coach has sparked interest in the team, sports marketers said.

"She's a native Hoosier. She's one of us," Morton said.

The Fever might need White's star power. Fever forward and perennial all-star Tamika Catchings, who was drafted in 2001, recently announced she will retire after next season.

"Tamika Catchings is the face of that franchise," Morton said. "She's meant every bit as much to that team as Peyton Manning did for the Colts or Reggie Miller did for the Pacers. A player like that isn't easy to replace—on and off the court."

And the WNBA as a whole is not without challenges. This year's average league-wide attendance of 7,300 is an all-time low. And while the ESPN contract offers financial stability, most televised games still draw fewer than 275,000 viewers, according to New York-based Nielsen Media Research. TV ratings for WNBA games have lagged ratings for women's college basketball games on ESPN, according to Nielsen.

League officials hope next year's 20th anniversary season will help the league gain steam. Targeted marketing efforts are in the works, and Nike, Pepsi, Kaiser Permanente and Harmon have recently been added as league sponsors.

"We're making steady, deliberate progress," Richie said. "The fact that the Fever and other teams have become profitable in the last two years is a sign of that."•