Simon Property Group Inc. is proposing an estimated $20 million in improvements to Circle Centre mall, which spurred a downtown renaissance when it opened 20 years ago this month but now is showing signs of struggle.

The upgrades include an overall freshening of the 752,000-square-foot mall, including new lighting and seating, an upgraded food court, upgraded bathrooms, construction of a mall entrance on Georgia Street and improvements to other entrances to help better draw in passers-by.

Simon Senior Executive Vice President David Contis would not quantify the cost other than to say it is in the millions of dollars. However, parties briefed on the plan say the improvements would run roughly $20 million, with the city potentially picking up part of the tab. City officials did not respond to repeated requests for comment by IBJ deadline.

The mall is owned by about 20 local companies that pumped $75 million into the $320 million project in the early 1990s, when a recession and other obstacles threatened to derail former Mayor Bill Hudnut's longtime dream of creating a bustling enclosed downtown shopping center.

Contis
Simon manages the mall but owns just 15 percent and needs the green light from the ownership group—led by Eli Lilly and Co., the largest investor—to move forward. Lilly Assistant Treasurer Susan Ridlen told IBJ in an email that the group is evaluating the plan with its investment adviser and that the initial report from the adviser is "very positive."

Retail observers say the mall needs a burst of investment to stave off further decline. It suffered a big blow when Nordstrom closed its Circle Centre location in 2011, and over the years it has lost other higher-end retailers, including Coach and Nine West.

Last year, the city struck a deal with the sole remaining department store tenant, Carson's, to cut its rent $300,000 annually through January 2018 to keep it from leaving.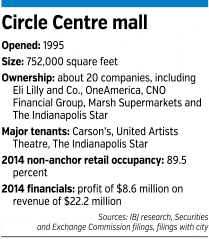 The challenges are reflected in the mall's lackluster sales per square foot, which slid to $326 in 2013, the last year Simon disclosed the figure in an annual report on the property it files with the city. The figure is far below the average for Simon malls nationwide. By comparison, Simon disclosed earlier this year that sales per square feet at its posh Fashion Mall at Keystone were $818.

Sherry Seiwert, president of the not-for-profit Downtown Indy, said in an email that the proposed investment would help boost the mall's appeal to downtown's rapidly growing residential population.

"We are so pleased by the proposed improvements and upgrades to Circle Centre by Simon, especially the prospect of adding a significant mall entrance off of Georgia Street," she said. "Maintaining and increasing retail density in our downtown remains a priority for us, so we are encouraged by Simon's plans for continued investment."

Contis said the addition of a Georgia Street entrance and upgrades to other entrances are part of an effort to open up the mall to the street.

"It needs to be more outward facing. In the old days, these types of malls were all built more inward facing," he said.

"Remember, half the customers who shop Circle Centre aren't from Indianapolis," he said, referring to conventioneers and other visitors. "In many cases, you walk right by it, and you don't even know there is a retail facility there."

Access is especially a problem from Georgia Street, which has no mall entrance—a shortcoming that became more acute once the thoroughfare was transformed into a bustling pedestrian corridor before the 2012 Super Bowl.

Contis said Georgia Street "wasn't anything" when he moved to Indianapolis four years ago. "Now we have to open up an entrance to Georgia Street because Georgia Street is an entertainment mecca."

Contis said the mall also may be poised to get a lift from new tenants on its southern end, where foot traffic has suffered since Nordstrom's closing.

"We are working with a couple of stores to create more anchor-type storefronts on that end," he said. "I can't announce them right now, but we have one we have basically completed."

Mixed-use future

Longer term, Contis said, the mall may continue to evolve toward more of a mixed-use property. In addition to retail, the mall now houses an outpost of Brown Mackie College and the offices of The Indianapolis Star, which moved into part of the Nordstrom space last fall.

"Downtown malls, especially in smaller cities—there are a lot of them that have failed," Contis said. "Circle Centre is one of the rare malls in a mid-tier-sized city that has been successful, and part of it is that it's been leased to where the demand is," citing as examples the mall's heavy concentration of restaurants and non-traditional tenants like The Star and the college.

He said possibilities for the future include adding housing and convention space—options experts in those areas say could make sense.

"If they could figure out how to make housing work physically, it is a great idea," said George Tikijian, senior managing director of the apartment brokerage Tikijian & Associates.

Added Mike Wells, president of commercial developer REI Investments: "We are seeing in other cities lots of mixed use that involves housing, especially in upper levels because upper-level retail has always been a struggle compared to street level."

Visit Indy Vice President Chris Gahl said, "We are very open to their ideas about activating Circle Centre beyond shopping," including creating space for conventions, meetings or special events. He said the location is prime because 12 hotels with more than 4,700 rooms connect to Circle Centre via climate-controlled skywalks.

In regulatory filings, in fact, Simon already has ceased categorizing Circle Centre as a shopping mall. After it completed the 100,000-square-foot lease with The Star and its parent, Gannett Co., Simon shifted it into "other properties."

Ridlen, the Lilly executive, said ownership will continue to evaluate the property's highest and best use. "We expect, however, that the mall will always maintain a strong retail presence," she said in her email.

Funding plans

The local companies originally invested to ensure that the long-discussed downtown mall would finally be built. Many showed similar civic-mindedness a few years later, redirecting Circle Centre profits into construction of Bankers Life Fieldhouse, which opened in 1999.

The timing could be opportune to redeploy profits again. In 2017, the Capital Improvement Board is scheduled to make payments totaling $33.7 million to Circle Centre investors that plowed money into the fieldhouse.

Capital Improvement Board President Earl Goode said he was not aware of discussions about Circle Centre's owners redeploying that cash to upgrade the mall.

But it wouldn't surprise Wells, who was an adviser to Mayor Stephen Goldsmith when he was trying to get the mall off the ground in the early 1990s.

"Those companies have been good supporters of downtown," Wells said, and the stakes are high.

"People need to remember how critical the mall is to the downtown," he added. "As I go to other cities around the country, downtown retail is still the exception and not the rule. Every city in the country would like to have our mall. We need to not turn our back on it and keep investing to keep it vibrant."•