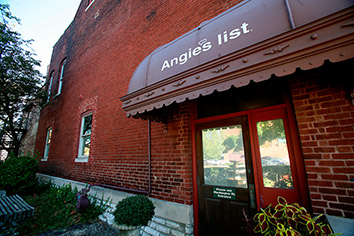 Angie's List is undergoing the biggest reorganization of its sales force in its 20-year history in hopes of landing more advertising and boosting revenue. But some salespeople fear the changes will hurt their compensation.
The home-services reviews and marketplace firm is transitioning to a team-based sales model from one based on an individual handling most aspects of a client relationship. Instead, elements such as prospecting clients and closing deals will be split among team members.
Angie's List officials confirmed the move to IBJ this week.
The transition, which began in June, is expected to be complete in October, Chief Operating Officer Mark Howell said.
"[Team members] will be able to specialize in those functions in which they're best suited," Howell said.
Roughly 80 percent of the company's revenue comes from service providers that advertise with Angie's List or sell services on its website, from which Angie's List receives a cut.
The company said it ended the second quarter with a sales staff of 1,026, with 746 responsible for establishing new client accounts and 280 responsible for renewals. Although salespeople currently fall under two categories, the restructuring will spread their responsibities even further. The transition will affect the entire organization.
The move comes in the wake of decreases in the company's service provider count in two of the last three quarters. Angie's List has some 53,000 service providers that generate revenue, but it lost 827 in the second quarter, the largest net decline since it went public in November 2011.
Angie's List estimates there are several hundred thousand service providers reviewed on the website that could become advertisers, analyst Blake Harper of Topeka Capital Markets said, so the company should not be losing advertisers.
"The growth rate can fluctuate, but the absolute numbers should be growing," Harper said, noting that the company also lost 383 service providers in the fourth quarter of 2014.
The firm's sales force has become a big focus of its overall strategy. The company cut 97 sales jobs last summer "as part of a focus on improving salesforce performance and productivity," it reported to the U.S. Securities and Exchange Commission.
IBJ got word of the transition from several former and current employees, some of whom were concerned their more than $150,000 in earnings from salary and commissions could be limited to as little as $40,000, depending on where they are assigned within a team.
When asked about the changes in compensation, Howell said, "It's so much more complex than that. Our responsibility is to attract and retain great talent, and I think we've been very effective in that."
When asked if he expected some potential defections related to the transition, Howell said, "I certainly hope not. There is an incredibly high level of enthusiasm for this new program."
The transition was spearheaded by Deb Romanczuk, vice president of continuous improvement at Angie's List, and Jim Hill, vice president of service provider relationships. The teams will have up to 20 people, officials said.
Harper, the analyst, said it's not uncommon for enterprise sales teams to be structured this way. He said the company might be arriving late on this front.
"The fact that they lost service providers in Q2, it seems that they are reacting here to their falling numbers," he said. "They should have been implementing a sales force structure that enables them to grow every quarter."
Reorganizations of sales staffs can lead to some employee exits, he said. However, the most succesful salespeople likely will continue to be well compensated.
"I would say that … the best salespeople are going to end up being the closers and they're going to have the opportunity to make the most amount of money," Harper said.
 
Please enable JavaScript to view this content.