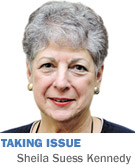 The CEO of a Georgia peanut company was recently sentenced to 28 years in prison for intentionally covering up the presence of salmonella in his company's peanut products for years and creating certificates faking laboratory results. People died.
Meanwhile, in what has been called the "diesel dupe," the German car giant Volkswagen has admitted cheating on U.S. emissions tests. The Environmental Protection Agency found that cars being sold in America had devices in diesel engines that could detect when they were being tested, changing the performance accordingly to improve results. (Gotta admire that superior German engineering …)
There are plenty of lessons to be learned from these and other numerous, if less visible, examples of corporate malfeasance, but I want to focus on a particularly pernicious one: the danger posed to both the country and business in general by growing levels of public distrust.
In 2009, I wrote a book called "Distrust, American Style," in which I explored the role of social and interpersonal trust on American society. In that book, I argued that—partly because of the complexities of modern society and partly because of the specific attributes of American political culture—the "generalized social trust" necessary to sustain social capital ultimately depends upon our ability to trust our governing institutions.
I also argued that our ability to keep the multitude of public and private institutions—including business and financial enterprises—trustworthy depends upon recognizing the important role played by government as an essential "umpire," enforcing the rules of fair play.
Think about the numerous ways in which we all rely on the trustworthiness of both government and business: When we buy meat at the grocery marked U.S.D.A. prime, we trust that the supermarket has properly marked it. When we deposit our paychecks at the bank, we trust that the amount of that deposit will show up as a credit on our next bank statement. When we make a payment to the local utility, we expect that service will, in fact, be forthcoming. When we call the fire department, we expect a prompt response.
You can undoubtedly identify hundreds of similar examples. This is the kind of trust without which societies cannot function.
In modern cities, we can't rely on gossip or other informal mechanisms that in earlier times told us whom we could and couldn't trust—we rely instead on the police and other government agencies, along with voluntary watchdogs like the Better Business Bureau, to monitor the trustworthiness of those with whom we do business. Gossip and reputation are not sufficient to protect us from the unsound banking practices that led to the recent Great Recession, or to the sorts of dishonesty exhibited by Volkswagen or, before that, by Enron, Tyco or WorldCom.
Since "Distrust, American Style" was written, we have had Citizens United and its progeny, we have battled the lingering effects of a Great Recession brought about by inadequate regulation of venal and greedy financial institutions, and we have seen daily reports of government corruption and incompetence—some true, some not. As a result, levels of trust in business and government continue to decline.
We need to clean up our government and make sure our elected officials are acting in the interests of the public rather than dancing with the donors "that brung them." Consumers will trust business again only when they are confident that government is acting as an honest broker and enforcer of the rules of fair play.•
__________
Kennedy is a professor of law and public policy at the School of Public and Environmental Affairs at IUPUI. She blogs regularly at www.sheilakennedy.net. She can be reached at skennedy@ibj.com. Send comments on this column to ibjedit@ibj.com.
Please enable JavaScript to view this content.