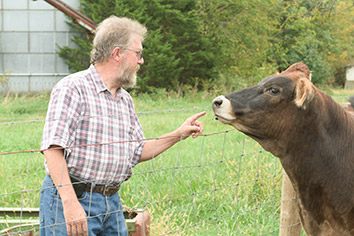 Craig Wood has spent most of his 60 years on 191st Street in Westfield, living in three different houses that once were part of the family farm.
For most of that time, the adjacent land has been other houses and farm fields—but that all changed on Nov. 18, 2011, when construction on Grand Park Sports Campus began.
Wood remembers the morning of the groundbreaking ceremony as a "very, very cold November day." He walked through the more than 150 acres his family had farmed for decades—land that would soon be part of the 400-acre sports complex—and thought about the opportunities and benefits it would bring to Westfield.
"I got kind of misty-eyed because that was a big step," Wood said, tears welling as he recalled the day.
Now, he can hear cheers from the soccer, baseball and softball games. Traffic has increased. And lighting from the park spills into his back yard. But none of it bothers him.
"We knew at some point in time it was going to change, and we're working through it," Wood said.
The Wood family is not alone. Rural central Indiana holds some of the state's most prime farmland—but it's also the most vulnerable to development.
In a 2010 study from the Indiana Business Research Center, economic research analyst Tanya Hall called it a "tug of war" between agriculture and development. According to the study, Indiana acreage devoted to farmland decreased 24 percent from 1950 to 2007 as the population increased 61 percent.
And Hamilton County—where at least 90 percent of the land is considered best suited for crops—is the fastest-growing region.
Wood's father, Bill Wood, started farming in Westfield in the 1940s. The farm was based on State Road 32 between Wheeler and Dartown roads until Bill Wood bought property on 191st Street in 1967, built a house on the land, and moved his farm operations there.
Craig Wood joined his dad on the farm in 1979 after earning his bachelor's degree in agriculture from Purdue University. In 1990, Wood and his two sisters inherited the property, which was split among the three of them. And because Wood knew he would continue running the farm, he kept the property with the house and farmstead on 191st Street. He rented more than 230 acres from his sisters for years.
Craig Wood Farm primarily offers livestock freezer meat and hay—and previously sold grain.
At the farm's peak in the 1970s, the family controlled close to 500 acres, Wood estimated. Now, he operates on about 25 acres, which he intends to sell for private development someday.
Wood describes the farming business as batting practice: Sometimes you'll hit a foul ball; sometimes you'll hit a home run. But you'd better consistently hit doubles if you want to be successful.
"It's more than a job. It becomes part of you," Wood said. "It becomes part of your soul."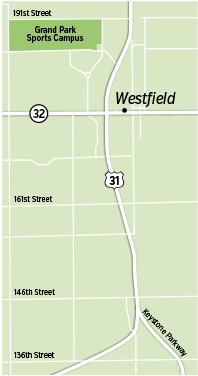 Prime land
As early as the 1980s, Wood realized development on his land was inevitable. He just didn't know when to expect it.
His family started to receive offers for housing projects in the 1990s, but he said none of them knocked his socks off.
The land "was going to be part of our legacy for the community," Wood said. A housing subdivision "just wasn't what we wanted or what we'd be comfortable with."
Around 2008, Wood said, he had casual conversations with local soccer groups who wanted more fields to play on, but something much bigger was in the works. A couple of years later, Grand Park was introduced.
"Our crystal ball was not quite as clear as we thought," Wood said.
He could have expanded his farming operations, he said, but opted not to because he expected development to come quicker.
Hamilton County Economic Development Corp. Executive Director Tim Monger said rural development is often spurred by the opening of an attraction.
"Who would have thought even five years ago that there would be a Grand Park?" Monger said. "That was really Westfield having a vision."
In 2011, Wood signed paperwork to allow the city of Westfield to essentially rent more than 150 acres until it was ready to purchase it. Since then, he has sold more property for other parts of the sports complex and nearby private development.
The Woods "were excited about our project from the beginning," said Andy Card, the developer of Jonathan Byrd's Fieldhouse. "Mainly due to the fact that the project gave back to the community in many ways."
Card purchased more than eight acres from Wood for the indoor basketball and volleyball facility that is expected to open in January.
"He was very involved in the whole process from the beginning," Card said. "It seemed to me there was a lot of sentimental value in the land because it had been in his family for so long."
In addition to Wood's property, more than 130 acres is listed for sale near 181st Street and Wheeler Road and another 80-acre site is up for the taking on Horton Road near 191st Street. Both parcels are close to the park.
"It doesn't surprise me that it's the right timing for people that own land up there to sell," Card said.
But that's as far north as Monger expects the growth to go.
"I think we've hit that limit, that northern border in terms of urban growth," he said. "I don't see anything that would change that."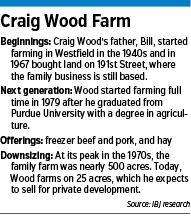 Future of the farm
Despite living practically next door to Grand Park and prime development land, Wood isn't worried about being pushed out of his home.
He and his wife, Sandra, intend to keep living there and maintaining the three-acre property their home sits on.
"I can't say our hand has been forced," Wood said. "We've certainly been in the driver's seat."
Eventually, his business will eliminate hay production, but Wood said he'd like to keep the farmstead for the livestock operation.
He is considering other options, though, such as renovating the barns and starting a new business, as he envisions his post-farming days.
"I tell people I'm semi-retired," Wood said. "I've discovered I can't just sit. I've gotta be doing something."•
Please enable JavaScript to view this content.