What's the top thing Chuck Brewer and Joe Hogsett should say to fire up Republican and Democratic voters before the November mayoral election?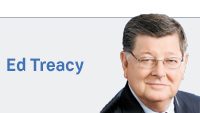 Without question, Joe Hogsett is in the strongest position a Democratic mayoral candidate has been since 2003, when then-Mayor Bart Peterson was running for reelection. This position is the product of several factors, including Hogsett's biography and plans being a nice fit for Indianapolis' challenges.

But it also includes the broad coalition that Marion County Democrats have been able to stitch together to create winning margins for various candidates.

Sometimes candidates are told they don't need to talk to the base. They are told they don't need to preach to the proverbial choir. I could not disagree more. Just like motivating a choir to sing by preaching to them, candidates must speak to their base and motivate them to get involved, get active and vote.

Hogsett can win by talking with the myriad, sometimes-disparate communities that make up the Democratic base. Republicans often claim that the African-American vote is a monolithic block that marches in lockstep with the Democratic Party. What an offensive and simplistic way to look at the coalition of supporters of Marion County Democrats.

While African-Americans do make up a critical part of the Democratic tent, the rapidly increasing numbers of Latino voters, the increasingly Democratic college-educated white-collar worker, the traditionally deep-blue blue-collar union members and the LGBT community and allies join them.
When Hogsett talks to these communities about Democratic core values—equality, fairness, justice, compassion, progress and opportunity—he'll win. The Latino communities are heartened to hear the Democrats, unlike our Republicans, know that as a nation of immigrants, we need to respect and embrace our immigrant neighbors, not break up families.

African Americans in Indianapolis support the Democratic Party because Democrats like Hogsett engage with them—directly in their neighborhoods. Democrats seek not to tell the community what they need, but listen to them—in the barbershops, the beauty shops and the churches. Ministers play a critical role in organizing of the community, and their influence on the alignment between their values and the principles of the Democratic Party is invaluable.

The LGBT community supports Hogsett because we Democrats stand shoulder-to-shoulder with them against repeated Republican attempts to define and deny the right to marry or even live free from fear of persecution, safe in their jobs and homes.

Union households support Democrats because Democrats like Hogsett know that the right to organize and collectively bargain created the American middle class and constant Republican attacks on worker-friendly laws are systematically attacking and destroying the middle class.

This column is about what Hogsett needs to do to motivate the broad Democratic base to deeper action. Hogsett already has a lifetime of support for core Democratic values, including strong support for organized labor, vocal opposition to the hateful and harmful Religious Freedom Restoration Act, and a voice for equality of opportunity for all.

He is well positioned based on a broad base of support from these Democratic constituencies.•

__________

Treacy, Marion County Democratic chairman from 2001-2007 and 2008-2013, is retired from a government affairs career. Send comments on this column to ibjedit@ibj.com.