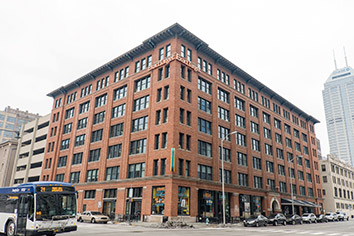 Salesforce.com appears to have scrapped plans to build its own downtown headquarters building and instead is seeking a huge block of space in an office tower to satisfy its aggressive growth plans.
The San Francisco-based cloud-computing software giant, which bought ExactTarget Inc. in 2013 for $2.5 billion, employs about 1,400 people downtown, up from 1,000 in early 2014.
RELATED STORY
Click here
for a story on Salesforce Marketing Cloud's rapid growth.
The company's local headcount is expected to grow past 2,000 in the next few years, prompting the need for more space, said Scott McCorkle, CEO of the locally based Salesforce Marketing Cloud division.
McCorkle told IBJ the company prefers urban locations, but declined to be specific about its plans.

McCorkle
"We have not made any decisions on the real estate," he said, "so we continue to look at all options."
Real estate sources said the company has backed off talk of building its own tower with perhaps 500,000 square feet—probably because of the high cost and extended time line for such a project. A year ago, Salesforce CEO Marc Benioff said during a visit to Indianapolis, "If we can find the right developer, the right piece of land, we'd love to have a Salesforce tower here."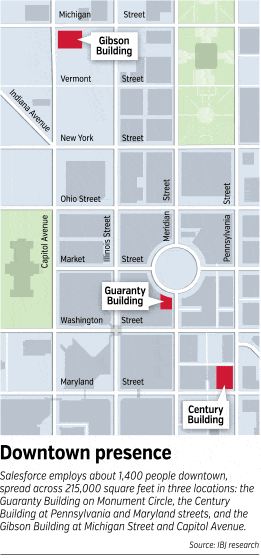 The sources said Salesforce is instead searching for 100,000 to 200,000 square feet, which at the high end would nearly double the amount of space it occupies downtown. The space would be in addition to the 215,000 square feet it occupies in the Guaranty Building on Monument Circle, the Century Building at Pennsylvania and Maryland streets, and the Gibson Building at Michigan Street and Capitol Avenue.
Real estate sources said Salesforce has narrowed its choices to Chase Tower and Market Tower and likely will pick one by the end of the year.
"If you look at our employee count now and 50 percent more employees over the next few years, we will need great office space to [house] those very talented people," McCorkle said. "And our real estate plans will evolve to accommodate that growth."
A Salesforce expansion of up to 200,000 square feet would provide a shot in the arm for the entire downtown office market, which is struggling, said Bill Ehret, who operates the local office of the real estate services firm Avison Young Inc. and is the leasing agent for BMO Plaza.
"A tenant that's north of 100,000 square feet doesn't come along very often," he said. "When they do happen, they're either a catalyst for a new building or a great catalyst to absorb existing space at pretty attractive rates compared to new construction."
While Salesforce would have consolidated its work force had it built a tower, company officials now are content to have workers spread across downtown.
"The idea that we have to consolidate, that's not really a driver as we look for additional space," said McCorkle, who noted that multiple offices create a campus-like feel, with employees walking or biking between offices.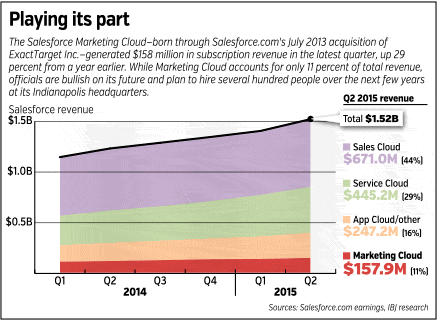 Indianapolis is Salesforce's second-largest location, in terms of employee count. The company has expanded to occupy all eight floors in the Century Building, eight of 10 in the Guaranty Building, and four of five in the Gibson building.
Leasing space in a Class A tower to accomplish its growth plans might seem out of character for a company that previously eschewed corporate-style digs in favor of older buildings with more character. But the skyscrapers struggling with vacancy are the only options that can deliver as much space as Salesforce is seeking.
The Class A vacancy rate downtown began approaching 20 percent in 2011 for the first time in at least 15 years and kept trending upward to 21.6 percent in the second quarter of this year. That's more than a percentage point higher than downtown's overall office vacancy rate of 20.4 percent, according to statistics from Cushman & Wakefield.
Downtown's vacancy rate would drop to 19.5 percent if Salesforce absorbs 200,000 square feet of office space.
At 1.1 million square feet, the 49-story Chase Tower is downtown's largest office building and is 83 percent occupied, according to the latest IBJ statistics. John Robinson, an office broker with Chase Tower's leasing agent, Jones Lang LaSalle, declined to comment on whether Salesforce is considering the building.
Nabbing Salesforce as a tenant could take the building to near capacity. Chase has four contiguous floors available for sublease that the bank vacated and seven additional vacant floors, sources said. Each floor has 20,000 square feet.
Market Tower, at Illinois and Market streets, totals 517,500 square feet and is 67 percent occupied. Tristan Glover, a vice president at Zeller Realty Group, which owns the building, also declined to comment on Salesforce's plans, saying only that Market Tower would make a "good home" for the company. Market Tower has four vacant 18,000-square-foot floors, plus space available elsewhere in the building.
Chicago-based Zeller in October 2014 bought the 30-story Market Tower out of foreclosure and has embarked on a $4 million renovation to make the skyscraper more appealing to technology and creativity-driven companies like Salesforce.
So far, it's built out more modern-looking space to suit the needs of new tenants such as architectural firm DkGr, software firm Emarsys North America Inc., and tech company Return Path Inc.•
 
Please enable JavaScript to view this content.