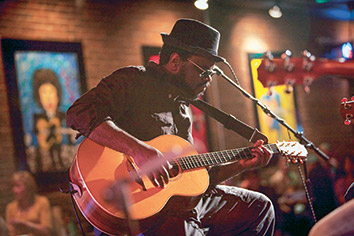 Over the summer, a one-day seminar/workshop took my wife, Katrina, and me to Nashville, Tennessee. Of course, being country music fans, we took an extra day to sightsee.
Music can be heard everywhere in Music City—coming out of stores, bars and restaurants. It's everywhere you go, especially in The District, where many of the city's entertainment options are concentrated. There, we stopped in for lunch and heard a young man singing and playing the guitar. A native Bostonian, he gave me a CD and website information when I dropped a tip in the jar, no doubt hoping to find someone who would give him a break.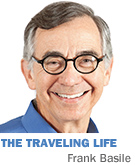 Many of the people one encounters in Nashville—taxi drivers, tour guides, servers, etc.—are hoping to be discovered. The bellman who carried our luggage was helpful and knowledgeable about the hotel and its amenities and proud of the place he worked. He also told us he moved to Nashville 18 years ago seeking an opportunity for full-time work playing guitar, singing and song writing. He is still hoping to get a job doing what he loves. And at least he didn't serenade us … as our taxi driver had the day before.
During the seminar I was conducting, I advised the group that anyone returning to the meeting room late from a break would have to sing a song to the group. After the first break, one fellow was late and, rather than awkwardly and embarrassingly warbling out a tune, he proudly sang a beautiful country gospel song and received enthusiastic applause from the group.
When another participant was late at the next break and sang the required song, I realized this was not punishment in Music City. This was their opportunity to perform before an appreciative audience.
Even the non-singers had a passion for music. During the introductions, I asked each person to share one thing no one else knew about him or her. One of the participants, a lady of about 70, said she dated Elvis, but broke off the relationship because his hair was too greasy.
Katrina and I visited the Grand Ole Opry, of course, and I recalled a trip there in 2013 when we heard the legendary 92-year-old Little Jimmy Dickens sing for the last time. We toured the historic Ryman Auditorium—original home of the Opry and now a National Historic Landmark. For a fee, you can have your picture taken on stage and even record your own CD.
We resisted the temptation.
Broadway is lined with century-old Victorian buildings housing nightclubs, bars, restaurants, boot shops, galleries, the famous ErnestTubb Record Shop and the iconic Wild Horse Saloon. There's even a touch of my hometown, New Orleans, at the Bourbon Street Blues and Boogie Bar, in the historic Printer's Alley. So many places feature live music that it can be tough to pick one.
Of course, not every place in Nashville offers the same kind of entertainment. We wandered into one recently opened bar and saw what we thought was a dance floor where we could dance later that night. We soon realized, though, that the dance floor wasn't for customers: A sign on the wall announced live naked girls dancing every night.
We did not return.•
__________
Basile is an author, professional speaker, philanthropist, community volunteer and retired executive of the Gene B. Glick Co. His column appears occasionally. He can be reached at Frank_Basile@sbcglobal.net.
Please enable JavaScript to view this content.