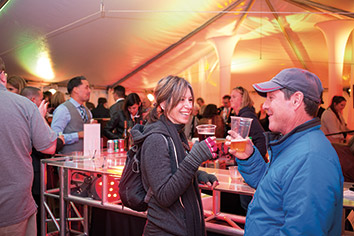 Writing about festivals in this column is usually a past-tense affair. By the time you read this, the first Crossroads Comedy Festival and Bard Fest will have drifted into history. And this year's Heartland Film Festival, in full swing as I write, will either be down to its last reel or gone as well.
I admire all three of these festivals, along with IndyFringe, Indy Jazz Fest and other here-and-gone arts events. Each offers an incentive for folks to sample the lesser-known and helps broaden the audience for its genre.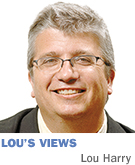 Without Heartland—or other film festivals—how many moviegoers would sample a Hungarian hostage drama or a documentary about the aftermath of a gang rape in India? How much harder would it be for a solo monologue play or a non-narrative experimental work to find an audience if not for the 10 days of IndyFringe? Audiences come to arts festivals in part because they trust the curating and/or want to be part of the event. Specific content isn't always the decision-maker, which encourages experimentation.
There's another kind of festival, too, of course. From spring through fall, Indiana is filled with ethnic- and food-focused festivals, from GreekFest and Indy Irish Fest to celebrations built around popcorn in Valparaiso and persimmons in Mitchell.
While the performance arts and film fests tend to be inside, these events are largely outside.
Now comes the dream:
What I'd like to see are more festivals that combine the two.
Sure, most of the outdoor fests put musical performers on stage—and that's great—but few find an optimal balance of indoor, high-quality performing-art experiences and outdoor festive fun.
Yes, there's a tent at Indy Fringe, but you could walk Mass Ave and still not know a big event is happening. Where's the celebratory signage? The near-total embrace by the local residents, merchants and restaurants?
Conversely, why aren't more high-quality indoor performance options incorporated into the big outdoor fests? Yes, there's plenty on stage at the Penrod Arts Fair, but that's after you've paid the admission charge. Even the Indiana State Fair could be an opportunity to showcase more Indiana performing arts talents.
The model for how to blend the two to create event magic is Bloomington's Lotus Festival, a world-class world music festival held in late September. Visit Bloomington during the festival and you can't help but be a part of the action. The local restaurantsembrace the fest with on-the-street offerings. Free outdoor events both entertain those who can't afford tickets and encourage those who care to take the leap.
I realize that organizing a festival is no easy task, that much of the work of any fest is handled by volunteers, and that engaging the community often comes with mounds of challenges. And I'm not suggesting that any of Indy's festivals alter their core missions or the content that has been central to their successes.
But the nature of annual festivals is that, each year, they offer a chance to try something a little different, to stretch, to grow, and to take more chances. And so I add a voice of encouragement to more such efforts next time around.•
__________
This column appears weekly. Send information on upcoming arts and entertainment events to lharry@ibj.com.
 
Please enable JavaScript to view this content.