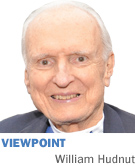 Talk of leadership fills the air in the wake of the Nov. 3 election of Joe Hogsett as the next mayor of Indianapolis.
So here's a stab at thoughts on leadership, emphasizing my own experiences. This analysis has two parts: one mechanical, one spiritual.
Begin with concept, or vision. Leaders must have an idea of where they're heading. Early on in my time as mayor, I participated in retreats and seminars to discuss where, in 1975, we wanted to go as a city. We developed a couple of ideas. First, fill downtown with housing and retail—you can't be a suburb of nothing! And second, use athletics to generate jobs and economic development. There were other parts to our vision, to be sure, but these were the two biggies.
Concepts are worthless if not followed by strategies to put them into action. This involves three things:
Create. The concept can't be just a "pipe dream." There has to be a realistic chance of success. We knew, for example, that Indianapolis would never be large enough to host an Olympics, though we did think about it.
But a center for sports activities, building on the city's strength in health care, our central location, and the Hoosier passion for college basketball, football and other sports? Could we build a domed stadium? Could we attract national governing bodies to our town and build venues for them, like a track and field facility, a velodrome, a rowing course, or a natatorium? Yes, we decided these were realistic concepts.
Communicate. Leaders have to sell their vision clearly, transparently, without arrogance. For us, that meant assembling teams to communicate our ideas to the public. We held press conferences, attended public hearings, visited editorial boards, and spoke at one civic organization after another. We involved grass-roots support, met with legislators, the governor, and members of the City-County Council.
Cultivate. Make it happen! We decided not to build a domed stadium outside the interstate that circles our city and county, but instead to construct it as an expansion of our convention center downtown. We had to figure out how to finance the project. We went to the Legislature to gain authority to impose a 1 percent tax on food and beverage in Marion County to fund the debt service on the bond we floated. We persuaded the governor to sign the bill and then took it to the City-County Council, where it carried 26-3. We secured support from two philanthropies in town, and we sold the suites in the stadium once it was built. All for $80 million.
In the early 1980s, we began building the stadium without the promise of an NFL team's playing there—a sizable political risk! Various political opponents and media pundits opposed the deal, in essence saying we should "use the money for low-income housing and street repairs" (evidently unaware that the tax money involved was earmarked for building the stadium, and nothing else).
I heard many times: "Bill, if you put that tax on, you will never be elected to anything again." We had to stick to our guns, or give up. Part of leadership is knowing when to stand on principle and when to be flexible.
When the bond issue for the 1987 Pan Am Games was defeated, we had a plan B (Fort Harrison for the Olympic village) ready to roll out. But regarding the planned domed stadium, we stood on principle and stayed the course. The Hoosier Dome was finished in 1984, the Colts moved from Baltimore that spring—and I was re-elected in 1987!
Thus far, all I have written about is leadership mechanics, i.e. knowing how to put things together and accomplish big tasks. I viewed the mayor as the orchestra leader in this process. But this does not reach the more indefinable components. Leadership is easier to recognize than define. It involves charisma (the Greek word for gifts).
The first gift is integrity. Hard choices have to be made. Promises must be kept. Trust needs to be built. Carefully. It can easily be destroyed. Leadership often must choose what's believed to be right over what's easy or fun. Many people told me if we put bricks on Monument Circle (as we did to restore its period look, in place of asphalt), I would never be elected to anything again. We did, and I was.
A second gift is "we" rather than "I." In short, collaboration, collegiality, consensus-building and seeking the common good.
Leaders need advice: It is impossible to achieve everything with a "my way or the highway" mentality. I have been emphasizing what we did, not what I did. That is not false modesty; it just recognizes the importance of teamwork, whether it involves excellent support from staff or a partnership with the private and not-for-profit sectors.
Third, respect and appreciate others. Saying thanks is an important attribute of good leadership.
I always felt I was elected to be mayor of all the people, not just those who voted for me. Put your arms around the city and show love! That is a gift of the spirit.
The final gift I'll highlight is joy. Good leaders, beyond their trials and tribulations, enjoy what they are doing and communicate that enjoyment to others. Like when I rode a snowplow during the blizzard, or marched in a St. Patrick's Day parade as a giant leprechaun.
I am not saying I possessed all these characteristics when I was mayor of Indy. All I can say is that I tried, and did my best.•
__________
Hudnut was mayor of Indianapolis from 1976 to 1992.
Please enable JavaScript to view this content.