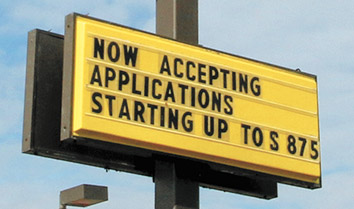 For 30 years, Bill Nicholls has studied the Hamilton County job market as part of his role overseeing hiring for Ritz Charles in Carmel.
This year has been unlike any other. Nicholls, vice president for the catering and event facility, typically finishes his fall hiring and training by the beginning of October. But at the end of last month, he was still searching for quality employees.
"It's been incredibly challenging this fall," Nicholls said.
Advertisements for traditionally low-wage jobs in hospitality and retail decorate major thoroughfares in the northern suburbs, offering management positions and higher pay as incentives.
"We're not even getting anyone to come in and apply," said Jeremy Geisendorff, general manager of Cambria Hotel & Suites near exit 210 off Interstate 69 in Noblesville. "All of the businesses at our exit are having the same issues."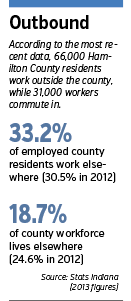 Industry experts blame the problem on Hamilton County's extremely low unemployment rate, lack of public transportation and general economic growth. Many expect hiring to continue to be a hassle—or become even more problematic—as the population increases and more companies are attracted to the area.
"The good news is, we all have enough business to need these employees," Nicholls said. "We just have to get more sophisticated with how we recruit."
The retail industry is among the largest business sectors in Hamilton County, and significant investments keep rolling in.
Earlier this year, Pittsburgh-based Giant Eagle Inc. opened a massive Market District grocery store in Carmel, and Cincinnati-based Kroger has been investing hundreds of millions of dollars to renovate its central Indiana stores and hire hundreds more employees.
The high number of jobs has allowed the county to continuously enjoy one of the state's lowest unemployment rates. In September—the most recent month available—unemployment was at 2.9 percent.
"It is bordering on full employment. It doesn't have to be zero for full employment," said Mo Merhoff, president of OneZone, the chamber of commerce for Fishers and Carmel. "You've already got slim pickings then."
And when almost everyone in Hamilton County is working, the individuals who are looking at entry-level positions tend to come from elsewhere—particularly places where housing is more affordable.
In the Hamilton County retail sector, annual pay averages $26,500, according to not-for-profit Hamilton County Area Neighborhood Development. With that wage, an individual would spend 40 percent of his or her paycheck on a median-priced rental unit. That's significantly more than experts recommend.
And it's why so many people working in Hamilton County commute. Almost 19 percent of the county's workforce lived elsewhere in 2013, according to data from STATS Indiana.
"We're presuming that anyone who wants to work for us must drive a car to get there," Merhoff said.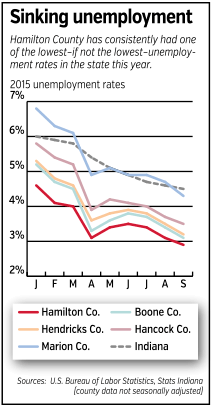 Getting to work
But some lower-income workers don't have reliable transportation.
Nicholls said he recently hired an employee who takes a bus to 96th and Meridian streets, then rides a bike three miles north to the banquet center.
Business and community leaders have expressed a desire for a regional public transportation system that would make commuting between counties easier.
Voters in Hamilton and Marion counties could see a referendum as early as 2016 for an income tax increase that would cost the average household $82 to $206 annually.
The system would involve buses traveling throughout the suburbs and connecting to a $1.2 billion rapid-transit electric bus system known as IndyConnect.
"I'm curious how many people would like very much to interview or work at Market District but can't get to the job," Merhoff said.
Mike Maraldo, regional vice president of operations for Giant Eagle, said officials considered offering a shuttle to transport employees to the store, but determined it wasn't needed.
"We would not shy away from it," Maraldo said. "We've done it in the past."
In Whitestown in Boone County, where thousands of individuals work at companies in the AllPoints at Anson industrial park, transportation had been a problem until recently.
In July, Central Indiana Regional Transportation Authority introduced the Whitestown Connector after partnering with several local agencies and receiving a $240,000 annual federal grant for three years. The route connects to the Indianapolis bus system.
Just three trips were recorded during the route's first month. But the route has seen significant increases every month since. In October, more than 470 trips were taken—an 83 percent increase from September.
Amazon.com, which has more than 2,000 employees at its fulfillment center at Anson, is contributing $60,000 per year for three years to fund the route.
"It's going to be a great option for folks who don't have access to transportation right now," Amazon spokeswoman Nina Lindsey said. "It just made a lot of sense."
Whatever it takes
Other businesses have offered hiring and referral bonuses, increased incentives and expanded advertising.
"Everyone has reinvented their hiring practices," Nicholls said.  
Market District, for example, had more than 500 positions to fill; it opened a recruiting center, scheduled job fairs, and offered hiring and referral bonuses.
"You need to be a little different than your competitor," Maraldo said. "That way, we were ahead of the game and not trying to play catch-up at all times."
Geisendorff said he occasionally has offered an immediate $200 referral bonus, although company policy is $100 after the referred employee has worked for 90 days.
"We've tried all different avenues to try to recruit new associates," Geisendorff said. "Not one thing in particular has worked for us."
Nicholls said he's increased starting wages, expanded his hiring team to help with recruiting, and offered referral bonuses.
"I think the hiring playing field may have changed forever," Nicholls said. But, he added, the hallmark of a good business "is one that evolves with the challenges."
The proposed mass transit system wouldn't be operational—if it passes—until 2018 at the earliest, so for at least the next two years, commuting to the northern suburbs will remain difficult for some.
In the meantime, business leaders are expecting the competition for hiring to keep growing.
Two more hotels—a 190-room Embassy Suites and 125-room Holiday Inn Express—are already planned to open next to the Cambria Suites that Geisendorff manages.
"I don't know where they're going to find the help," he said. "That's all of our fears. … It's only going to get worse."•
Please enable JavaScript to view this content.