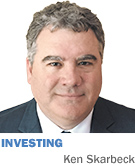 Reality TV has come to Wall Street. This drama is centered on Valeant Pharmaceuticals, and the players are activist investors led by the self-important Bill Ackman, gobs of other hedge funds and short-sellers.

Valeant is run by CEO Michael Pearson, a former McKinsey pharmaceutical consultant. Pearson's (controversial) business strategy was to acquire companies with existing drugs on the market, then cut their research and development costs, and focus on drug distribution. Wall Street loved Valeant's growth as it executed on several acquisitions and the stock rose swiftly from $10 in 2008, nearly doubling in price this year to a peak of $263 in August.

Back in March, Ackman's Pershing Square hedge fund announced it had acquired a 5.7 percent stake in Valeant for $3.8 billion. Ackman loudly sang its praises, "talking up his position," an obnoxious characteristic of activist investors.

But in mid-August, Congress began investigating the company for aggressively raising prices on its drugs. Its report found that Valeant had boosted prices on 54 drugs this year by an average of 66 percent, well above the rest of the drug industry.

Under scrutiny, Valeant began watching its stock price sink. The bottom fell out in mid-October when short-selling firm Citron Research alleged accounting fraud at Valeant and compared it with Enron. Specifically, Citron raised questions about a Valeant-controlled pharmacy named Philidor, saying it was booking fraudulent sales. Valeant's stock, now at around $80, has fallen 70 percent in three months.

In response, Ackman held a four-hour conference call on Oct. 30 that was roundly criticized by market observers for its "defensive" tone. Pershing has lost an estimated $2 billion-plus on its Valeant position, leading to a 19 percent decline for the hedge fund so far this year. Short-sellers, smelling blood, are shorting Valeant and other Pershing holdings, betting that investor withdrawals from his hedge fund will force Ackman to sell off some of his stocks.

To add to the carnival atmosphere that surrounds Valeant, a lone tweet sent last week by Citron's Andrew Left caused the stock to slip several points.

Activist investing is in vogue, for now, making celebrities out of players such as Ackman, Carl Icahn and Norman Pelz. Their big stakes and cage-rattling techniques have led to both large gains, and other times huge losses, for their investors. Activists enjoy being squeaky wheels, often proposing radical changes to businesses under the guise of unlocking value or improving business performance.

In cases such as Valeant, or Ackman's 342-slide presentation advocating his short sale of Herbalife (which hasn't worked out well, either), activism attains a sort of a comical sensationalism with an appearance of Ivy League billionaires throwing temper tantrums in the stock market.

Critics of activists say they sometimes attack businesses that are working fairly well, are only interested in short-term gains, and might not stay invested long enough to even see if their proposals work.

Activism is contrasted by the more principled investment process where the investor becomes a long-term partner in a business because of a belief in the company's operations and the path its management is taking. The principled approach has more long-term stamina than activism, which might turn out to be a passing fad.•

__________

Skarbeck is managing partner of Indianapolis-based Aldebaran Capital LLC, a money-management firm. His column appears every other week. Views expressed are his own. He can be reached at 818-7827 or ken@aldebarancapital.com.