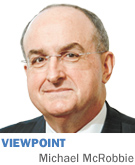 Indiana's research universities contribute to the quality of life for Hoosiers in ways big and small, in every corner of the state and in virtually every walk of life. They educate hundreds of thousands of students and generate billions of dollars of economic activity within the state's borders each year.
Perhaps nowhere is that impact greater than in the groundbreaking research done at Indiana University and other institutions in Indiana.
The benefits to the people of Indiana from having great research universities in the state are profound. University research and creative activities are associated with increased growth and incomes in their surrounding regions through students who have received their education in a research-rich environment, through new enterprises and new ideas brought into existing businesses, and through the pervasive culture of innovation they help to foster.
For example, in fiscal year 2015, Indiana University researchers received $541 million in external funding awards—the second-highest annual total in the university's history. Those are dollars largely from outside of Indiana brought into the state to support research here.
This success in earning research awards, much of it from federal agencies such as the National Science Foundation and the National Institutes of Health, comes in the face of some of the greatest funding pressures universities have seen in decades.
The sharp partisan divide in Congress has strangled growth in federal research spending over the past several years and politicized the review process through which much university research is funded. As a result, university researchers—who account for more than half of all research conducted in the United States—are increasingly competing for scarce federal resources.
Congress' Joint Economic Committee has estimated that 80 percent of the $285 billion invested in research and development by the private sector is spent to bring commercial products to market. That leaves universities to conduct much of the basic research that is essential to maintaining the country's scientific and technological leadership, and which provides the foundation for solving the world's most pressing challenges.
Federal funding for this basic research is vital, and IU is among many research universities around the nation working hard to send an unmistakable message to our leaders that federal investment in scientific research is money well spent.
In that spirit, IU recently launched the most ambitious research program in its history. Over the next five years, the university will invest at least $300 million in its Grand Challenges research program to develop transformative solutions for some of the planet's most pressing problems.
These projects will address challenges that are too big to ignore—such as global water supplies; the availability of energy; infectious diseases; harnessing the power of, and protecting, big data; and climate change—by catalyzing collaborative and interdisciplinary research, as well as new partnerships with community organizations, industry and government.
With the Grand Challenges program, IU joins a growing number of American universities—such as Princeton University, UCLA and New York University—that have, in recent years, committed major funding to tackling urgent challenges facing the world today and in the future.
With its Grand Challenges initiative, IU is looking to move the needle on vital issues affecting people around the world and especially here in Indiana. In the process, we hope to join our colleagues at universities across the country in making a resounding statement that investment in basic research has never been more important to the long-term health and success of our world.•
__________
McRobbie is president of Indiana University.
 
Please enable JavaScript to view this content.