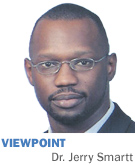 We weren't ready. We weren't ready for the void on the airwaves, for the passing of a friend, for the loss of a true champion and powerful voice for the underserved. We weren't ready to say goodbye to Amos Brown.
For 40 years, Amos took a stand against injustices in the Indianapolis community. He was outspoken on many topics, including addressing the health disparities of African-Americans. It was our great fortune, as the board of directors and staff of the American Heart Association, to have an advocate like Amos on our side.
Amos knew that African-Americans have the highest prevalence of high blood pressure in the world. He knew that African-Americans are more likely to be obese and to have diabetes. He knew that all those risk factors add up to a greater likelihood of African-Americans developing and suffering from heart disease.
Amos joined us as a judge at several of our Red Apron Cook-offs, events designed to educate the minority community about healthier diets. He used his radio program as a tool to raise awareness of heart disease and stroke, to educate about healthier lifestyles, and to advocate for smoke-free air, healthier school lunches and the elimination of food deserts. Amos had a heart for his community and used his powerful voice to empower and make a difference.
And now, the torch must be passed. While there may or may not be one man or one woman who can step forward and fill the gap left by Amos' passing, it's clear that it's up to each one of us to take control of bettering our own lives and bettering our own health.
Grab the torch, and be a voice! Now is the time to educate ourselves, our loved ones and our community about the value of living longer, healthier lives free of cardiovascular disease and stroke.
Thank you, Amos Brown. We will miss you. •
__________
Smartt, a member of the Indianapolis board of directors of the American Heart Association, wrote this on behalf of the association's board and staff.
Please enable JavaScript to view this content.