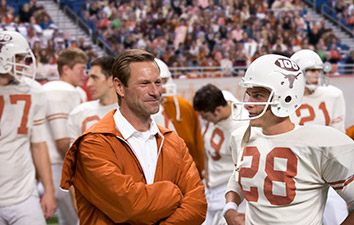 Moving from screenwriter to screenwriter/director is akin to moving from player to player/manager.
Or maybe it isn't. I don't know.
You see, I'm not much of a sports fan. Oh, I'll cheer loudly when at a game. I'll watch some on TV if someone else turns it on. And I know enough not to bet against the Harlem Globetrotters. But if I were at the podium opposite Alex Trebek and the Final Jeopardy category were "Athletes," I'd be in deep, deep trouble.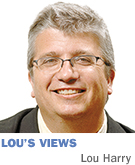 That said, I do like a good sports movie. I appreciate stories focused on the thrill of victory and the agony of defeat, be they as inspiring as "Rocky," as silly as "Happy Gilmore," or as gets-me-every-time as "A League of Their Own."
"My All American," the new film that marks the directorial debut of Angelo Pizzo, who also wrote the screenplay and penned the sports-cinema classics "Hoosiers" and "Rudy," might not land a place in the pantheon of greats, but it certainly proves a spunky, engaging competitor.
I won't be the first or last to identify "Hoosiers," "Rudy" and "Brian's Song" in its DNA. It's the story of Freddie Steinmark, an all-around good—albeit short—guy yearning to play college football (Sound familiar, "Rudy" fans?). He lands at the University of Texas under legendary coach Darrell Royal and then—well, I'm revealing a lot less than is given away in the trailer in saying that a serious medical problem arises.
Freddie Steinmark (Finn Wittrock) fulfills his promise to teach high school sweetheart Linda Wheeler (Sarah Bolger) about football in "My All American." (Photo courtesy of Van Redin/Clarius Entertainment)
That plot turn is the only real villain of the film. Pizzo's script doesn't look for the dark side in any of these real-life characters—there's barely a drop of negative action or thought in any of them. And he steadfastly sticks to the facts as much as possible in a non-documentary film. Steinmark's father seems a bit pushy at the beginning, but his son clearly enjoys the challenges. Coach Royal is tough but there's no doubt he loves his players. Even a potentially heated "who's-going-to-start" rivalry is rapidly (and, to its credit, playfully) dissipated.
Pizzo is helped considerably by smart casting, not just in leads Finn Wittrock (as Steinmark) and Aaron Eckhart (as Royal). He's assembled a terrific bench, with colorful but not showy performances in an assortment of coaching and other supporting roles. The football action is compelling even if there sometimes seems to be more in-the-air action here than in an average Spider-Man movie. Ten minutes or so of trimming might have helped. And a clunky framing device—a green reporter interviewing Royal about his most memorable player—is too obviously there just for exposition but is quickly
forgiven once we get into Steinmark's story.
"My All-American" doesn't look for shades of gray. It's as much a tribute to Steinmark as it is a bio and while that reverence might damage other films, Pizzo plays it to the film's advantage. He doesn't pretend this is anything but the story of an uncomplicated young man who loved playing football. Pizzo doesn't shy away from the faith-based grounding of the Steinmark family, but neither does he overplay it. He's crafted an inspirational film about giving your best rather than a religious "message" tract. Its PG status should remain undisputed.
I can't name a single player on the University of Texas football team today. But I'm glad I saw the story of this one. And I'm glad to say that Pizzo, as demonstrated by his rookie outing as a director, appears ready for more time on the cinematic field.•
__________
This column appears weekly. Send information on upcoming arts and entertainment events to lharry@ibj.com.
Please enable JavaScript to view this content.