The Westside Community Development Corp. is proposing to develop an $8.5 million, 56-unit affordable housing project along Michigan Street as part of a larger effort to rejuvenate the struggling area.
The near-west side of Indianapolis often can seem like an island—cut off from downtown by the White River. But attempts are under way to extend development beyond the waterway into those neighborhoods suffering from years of neglect.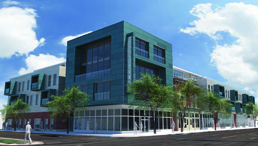 The $8.5 million project on the near-west side would include 56 apartment units and 4,700 square feet of commercial space. (Image courtesy Schmidt Associates)
Last November, Local Initiatives Support Corp. announced that it would funnel private-sector investments into three neighborhoods over the next six years under an initiative known as Great Places 2020. One of the three areas is at the intersection of West Michigan Street and King Avenue, about 10 blocks from the IUPUI campus.
That's near where Westside Community Development now is proposing to develop its Statesman affordable housing project that would include nearly 4,700 square feet of commercial space.
"We are looking at ways to activate Michigan Street and energize the area to do more commercial development," WCDC Executive Director Phil Votaw said. "But we need more housing density to get more retail. So we're trying to hit both of those with this project."
WCDC is partnering on the project with Riley Area Development Corp. A request to rezone property on the northeast quadrant of West Michigan Street and North Pershing Avenue is expected to be heard Nov. 19 by the Metropolitan Development Commission's hearing examiner.
The building occupied by WCDC sits on part of the property. The project would include two apartment buildings linked by a walkway that would form an L-shape around the WCDC building to stretch from North Pershing east to near North Sheffield Avenue.
A vacant home to the north, on Pershing, is set to be demolished through the city's Renew Indianapolis program to help free up space for parking.
"This will be the largest development we've done, and it's going to be the first one we've done in a while," Votaw said.
The project, however, is contingent upon receiving federal tax credits to fund most of it. The Indiana Housing and Community Development Authority administers the federal program that awards tax credits to developers to renovate, acquire or construct affordable rental units. The authority awards the credits annually and typically doles them out in February.
LISC's Great Places 2020 program also targets neighborhoods at East Washington Street and Oxford Avenue and at 38th and Illinois streets.
On the near-west side, the area already has amenities including a park, bank branch, police station and a Kroger grocery store but is lacking residential development, LISC Executive Director Bill Taft said.
The growing IUPUI campus and the construction of the $754 million Eskenazi Health on 10th Street could serve as further catalysts for the near-west side, he said.  
"And obviously, it's so close to downtown," Taft said. "But there's not been that energy to bring that activity across the river."
Traffic patterns in the area haven't helped matters. Traffic typically zooms through the neighborhoods coming in and out of downtown on Michigan and New York streets. Both will be converted next year into two-way streets from West Street through the campus and across the two White River bridges into the Haughville neighborhood.
"That's going to make the logistics going across the river a lot more direct," Votaw at WCDC said.
 
Please enable JavaScript to view this content.