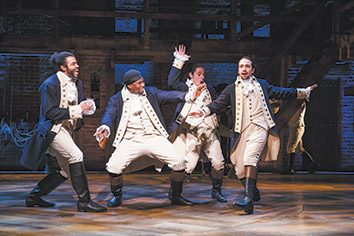 I recently spent a week in New York attending an American Theatre Critics Association conference. By day, we talked about gender parity in theater, the role of the critic in a changing media world, the development process for new musicals, and more.
By night, of course I went to as much theater as humanly possible. Here's what I saw (For longer reviews, visit www.ibj.com/arts.):
'Hamilton'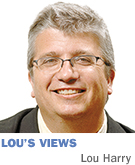 I can't think of another Broadway show in my lifetime that has generated the kind of far-reaching buzz "Hamilton" has gotten. And I'm happy to report that it deserves it.
The good-luck-getting-a-ticket-before-next-spring hit tells the sweeping life story of Alexander Hamilton, from his arrival as an immigrant to the not-yet-United-States to his fateful run-in with Aaron Burr's bullet.
The surface twist: Hamilton and his founding brothers and sisters are played by minority actors (except for King George, of course) and their vernacular is R&B and rap rather than "1776"-style show tunes.
But those choices aren't gimmicks—they are essential components in seeing history through fresh eyes. Composer/lyricist/playwright/actor Lin-Manuel Miranda and his all-star team have created a show that rocks and resonates, one that challenges and embraces, and one that left me thrilled at its expanded vision of what musical theater can achieve.
It's also a kick to be reminded that musical theater songs and the stuff you hear on the radio don't have to be mutually exclusive, as they've been the past 40 years or so.
Fear not, conservative readers. "Hamilton" is radical not in its messaging but in its approach. Yes, it covers crucial moments in American history (at one point, I had to smile at the realization that a packed house was transfixed on a song about the Federal Reserve system—take that, "Schoolhouse Rock"). But on a more universal level, it's about being in the moment with limited information, knowing that your choices will affect the future. It's about the conflict between your vision of yourself and the notion of compromise. It's about how our humanity impacts history. It's about legacy and who gets to tell your story.
'An American in Paris'
Certainly an eyeful (or, should I say, Eiffel?), "An American in Paris" has stunning visual effects, making for some of the best use of projections and choreographed sets I've ever seen (the opening Nazi-to-French flag transformation is particularly gasp-worthy). It embraces ballet in ways few Broadway musicals do. And it offers a chance to see two ballet stars, Robert Fairchild and Leanne Cope, as its leads.
For those of you who haven't seen the 1951 film musical, "An American in Paris" concerns a World War II veteran, Jerry, who decides to stay in France to focus on art and the pursuit of an elusive young woman, Lise.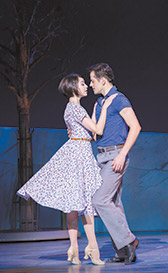 Leanne Cope and Robert Fairchild lead the "An American in Paris" cast. (Photo courtesy of Angela Sterling)
But "Paris" doesn't offer a compelling reason to care about its central character, nor do its songs feel essential. Jerry's interest in Lise seems more stalking than romantic—a restraining order seemed more appropriate than a love connection. And the collection of terrific Gershwin tunes ("The Man I Love," "I Got Rhythm," etc.) seem retrofitted rather than organic.
The creative team tried to address its lack of narrative drive by darkening the material a bit and toning down the Technicolor. In a city still in the shadow of war, one of Jerry's sidekicks (more interesting then the leading man) has suffered a war injury, another is clearly in the closet. The story has been tweaked with what-did-you-do-during-the-war questions. It's easy to see what they are aiming for, but the target isn't hit.
Like the Oscar-winning movie, the theatrical version has got rhythm. It's got music. Perhaps I'm being a little selfish asking for anything more.
'Fun Home'
It's a gutsy move putting "fun' in the title of a musical about a woman wrestling with the apparent suicide of her closeted gay father. But that's not the only way "Fun Home"—which deservedly won last year's Best Musical Tony Award—is unconventional for a hit Broadway musical.
It's based on a graphic novel. It jumps around in time. There's no dancing (except for a few joyous, refreshing exceptions). It's got three actresses playing the same character. Oh, and its lead character is a lesbian.
"Fun Home" doesn't settle for being unconventional—it's got a strong, character-driven story to tell, one enhanced by, rather than padded with, its score. It dodges easy answers as it takes us into the life of adult Alison (Beth Malone), college-age Medium Alison (Emily Skeggs), and pre-teen Small Alison (Gabriella Pizzolo). Individually, the performances are distinct and rich. But they synergize in ways that reverberate throughout the show and beyond.
Book writer/lyricist Lisa Kron, building from Alison Bechdel's acclaimed graphic novel, doesn't fill in all the blanks or simplify a complex life. Instead, she gives breathing room to the actors, playing with memory, embracing awkwardness, and understanding that one of the most difficult realities of the past is that we can't, in the now, have any impact on it. 
And I can't think of a more perfectly written character song, achingly beautiful in its spot-on, age-appropriate joy and confusion, than "Ring of Keys." Underlying the lovely tune and its charming performance is the knowledge that a fairly mainstream audience is listening intently to a young woman who, for the first time, sees that "butch" can be beautiful/handsome.
It's a reminder that one of the greatest special effects of theater is its ability to put us in the heart and head of another human being. And it left me in tears.
'The Curious Incident of the Dog in the Night-Time'
While "Fun Home" took the Best Musical Tony last year, "The Curious Incident of the Dog in the Night-Time" won for Best Play, offering another non-traditional-but-welcome character to the Broadway pantheon.
Christopher is an autistic lad adept at math, hostile to being touched, steadfastly honest, and not a fan of loose ends. When a local dog is killed, he assigns himself the task of discovering whodunit, something that requires a great deal of bravery for Christopher because it requires that he talk to people besides his protective father.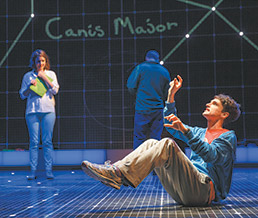 A high-tech set takes audiences into the mind of an autistic boy on a mission in the Tony Award-winning Best Play "The Curious Incident of the Dog in the Night-Time." (Photo courtesy of Joan Marcus)
Christopher's amateur CSI work, like his efforts to find a train station without a map, doesn't involve taking a linear route. But his discoveries go far beyond pet-racide.
There are a few moments when obvious laughs get in the way of the truthfulness of the play's characters. And a gimmicky, unnecessary breaking of the fourth wall does minor damage. But the freshness of the story and the special way it puts us into the head of a boy who can "see everything" is why the ending proves so satisfying. When the wonders of the living graph-paper-like set combine with fully committed performances, the result is magical.
P.S. Make sure to stick around after the curtain calls for a delightful bonus.
'Something Rotten'
If you're heading to New York with someone who says, "I just want to be entertained," consider "Something Rotten."
It's the story of theatrical brothers Nick and Nigel Bottom, who can't compete with that arrogant know-it-all William Shakespeare. The Bard, played here by the marvelous Christian Borle, dominates the London theater scene and the desperate Bottom brothers need to find an advantage. That means going to an ineffectual soothsayer for a glimpse into the theatrical future.
What they find is that something called a "musical" will someday be all the rage and that Shakespeare's greatest legacy will be a play—and here's where the vision gets muddy—called "Omelet."
And so, of course, the boys set out to create "Omelet: The Musical."
Silly? You betcha. Another show with jokes steeped in musical theater lore? Yup. An underlying message? Nope. Big laughs? Absolutely.
The show's creators, real-life brothers Karey and Wayne Kirkpatrick, conspiring with book writer John O'Farrell, have wisely given the audience just enough reason to care about these folks and just enough goofy suspense about what will happen when "Omelet" hits the stage.
OK, so it isn't "The Book of Mormon"—the songs aren't as distinct, the comedy not as outrageous, and there's no underlining, sneakily subversive message. But, unlike some New York critics, I'm not interested in that kind of comparison.
For the rest of us—those looking for shows to be pleasures unto themselves—"Something Rotten" delivers.
'Fool for Love'
When the lights go up on an edge-of-the-desert motel, we find May, doubled over at the end of the bed, barely visible under her wild mane. Eddie poses defiantly nearby a la the Marlboro Man. For the next 75 minutes, the two are rarely still—there's even some impressive lassoing.
The marquee names here are Nina Arianda and Sam Rockwell as May and Eddie, whose raw relationship isn't a dance as much as it is a push-pull struggle between magnets whose polarities keep changing.
There are moments when the magnetic pull is toward each other, moments when it's all about repelling, and still others when one is drawn to the other—who is trying to get as far away as possible.
The couple has a mess of a back story. And their prospects for the future aren't much better. What playwright Sam Shepard seems interested in, though, is how we get from moment to moment when we can't free ourselves from the world we've co-created—how we never can know if things are going to get better or worse.
While Arianda and Rockwell are fascinating to watch, I rarely felt the sum of their work exceeding their individual efforts. That certain chemical something just didn't seem to happen, tipping the evening away from being a satisfying whole and more toward an interesting acting exercise.
Still, "Fool for Love" is one of those shows—and this is one of those productions—that I find myself appreciating more as I get distance from it. It's tough to shake May and Eddie. And, given the opportunity, I'd return to this dead-end motel for another look.•
__________
This column appears weekly. For more, visit www.ibj.com and follow on Twitter @IBJARTS.
Please enable JavaScript to view this content.