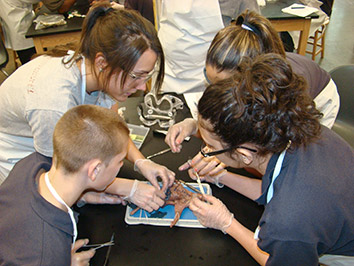 Charter schools requested $77 million in low-interest loans from the state as part of a contentious new program that will help them pay for facilities, operational expenses and transportation costs that they say property-tax supported traditional public schools can more easily afford.
Indiana's State Board of Education on Friday announced it had approved advances of nearly $40 million to 33 schools from the $50 million state program that was hastily approved by lawmakers at the end of the 2015 legislative, in part because lawmakers had not given Gov. Mike Pence the extra money he'd sought for charter schools.
"Since public charter schools receive zero property tax revenue for facilities, transportation and technology, this program helps to offset those funding disparities," said Sarah O'Brien, the state board's vice chairwoman, in a statement.
State board members voted in October to save $10 million of the program's allowable loans to dole out to new charter schools next year.
The loans, which will come from the state's existing Common School Fund and carry a 1 percent interest rate, were controversial. Charter school skeptics and even the Senate's chief budget writer, Sen. Luke Kenley, R-Noblesville, questioned whether charter schools with significant debt had the capacity to repay the loans.
"Taxpayers have reason to be concerned about being left on the hook for charter schools not being able to pay back the state," the Indiana State Teachers Association said in October a written statement about the loan program.
But state board members said Friday the charter schools were being held to strict enough safeguards. Only certain charter schools are eligible to apply. The loans need to be repaid in 10 years and are to be used for academic purposes or to refinance existing debt.
Each school was capped at a $5 million maximum loan amount, which none received. Hammond Academy of Science and Technology received the largest single loan of $3.4 million. Sixteen of the schools received more than $1 million.
Tindley Accelerated Schools' group of five charter schools in Indianapolis will receive grants totaling nearly $8.7 million. Three schools run by the Carpe Diem group in Indianapolis will receive a total of $2 million.
Because the requests exceeded the amount of money available through the program, the board placed a $6,197 per-pupil cap on the amount advanced to charter schools, which O'Brien said "helps to protect taxpayers by limiting a school's ability to borrow more than it can afford to repay."
Like traditional public schools using money from the Common School Fund, charters will have payments to the state automatically withheld from their state tuition support aid.
And the state will have "security interest" in buildings that are constructed using the money. State Board of Education spokesman Marc Lotter said the security interest is essentially a lien.
"They're going to place a lien on that facility so that if something were to happen the state would be able to recoup its portion of the outstanding funding," Lotter said.
Pence cheered the program when it was announced earlier this year, along with a grant program that could give charter schools extra funding of $500 per student. He said the programs would make funding for all public school students "more equitable."
"Hoosiers can be assured that our administration will continue to look for ways to expand quality educational options for students, parents and communities throughout our state," Pence said in a statement at the time. 
Please enable JavaScript to view this content.