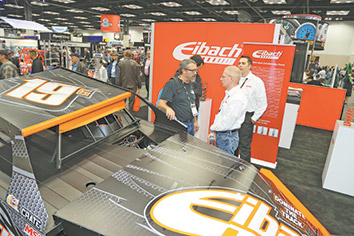 Thousands of visitors from across the globe are about to descend on Indianapolis.
And although they'll be doing a lot of buying—and selling—they aren't coming for holiday shopping.
Instead, they'll wheel and deal at the Performance Racing Industry Show, which has grown into one of the biggest international draws of any trade show or convention held in Indianapolis.
This year, about 3,000 attendees from a record 71 countries are expected to attend the show Dec. 10-12. More than 250 international companies will send delegates.
Only GenCon and the Fire Department Instructors Conference International rival PRI as an international drawing card to the Indiana Convention Center.
While the GenCon gaming gathering and FDIC also attract thousands of international visitors, those visitors don't come from nearly as many countries. GenCon, the city's largest convention with more than 60,000 attendees, drew people from 52 countries this year and FDIC drew people from 55, according to the events' organizers.
PRI will attract 35,000 attendees this year, meaning nearly 10 percent of the traffic is from outside the United States.
"I think the total number of international attendees could be underestimated," said Tim Frost, a Chicago-based motorsports business consultant who puts on a conference for track operators in conjunction with PRI. "A lot of domestic companies bring in dozens of their international representatives for the show. That really swells the number."
Lakeville-based Hoosier Tire is one of those companies.
"We have a staff from corporate of about 20 [coming to PRI], and then we bring our distributors here from all over the world—including Japan, Germany, the UK and Thailand—so we've got a good international flair, as well as about 15 distributors here from the United States," said Hoosier Tire spokeswoman Paula Nate.
PRI came back to Indianapolis–after a stint in Orlando–with a renewed emphasis on the international racing market. It helps that Indianapolis is home to the Indianapolis Motor Speedway, which is well known among Europeans. (Photo courtesy of Performance Racing Industry)
The international contingent will likely account for more than 15 percent of the show's projected $57 million economic impact, hospitality experts said. And it's that spending that allows PRI to draw even with GenCon's economic impact—despite its much smaller size.
"People who come from overseas—since they come from so far away—tend to extend their stay by a day or two and spend more money for things like hotel rooms, meals and entertainment," said Visit Indy Vice President Chris Gahl.
They're also big players—and big spenders—at the show.
"International attendees are spending a lot of time and money to come over here, so they're all business," said PRI General Manager John Kilroy. "They're looking to buy and sell and make connections. They're not here window shopping. They're here to recoup their investment."

Kilroy
In addition to some of the biggest foreign car makers, like Honda, the international contingent includes such companies as Australia's Emtron Engine Management, Colombia's C2R2 Engineering, England-based gear box manufacturer Xtrac, German spring and shock maker Eichbach, Italian brake manufacturer Brembo, French chassis builder Oreca, Paris-based international race sanctioning body Federation Internationale De L'Automobile, and China's biggest race series, the Touring Car Championship.
"Though they may not all be household names, these are some of the biggest names in global motorsports," Frost said.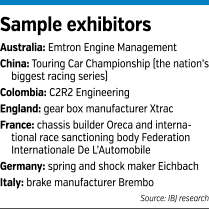 The International Council of Motorsports Sciences also is holding its annual congress at PRI this year.
The proportion of foreign attendees has grown so large that PRI will set up an "international center" inside the convention center to assist visitors with anything—including interpreters in five languages—they need to get business done and to enhance their stay here.
The city gets more than a one-time economic bounce from the international influx.

Frost
"Even in today's world of advanced technology and communications, word-of-mouth is still the best form of marketing," said Jay Gladden, professor of hospitality and tourism at IUPUI. "From a global perspective, Indianapolis is still developing an image. Any exposure to people from outside the country to our first-rate amenities is invaluable to developing a positive international brand."
The PRI show has long been the biggest and best-known U.S. motorsports trade show. But when it first came to Indianapolis in 1998, it was largely a domestic affair.
Then in 1999, PRI hired French racing enthusiast Francisque Savinien as director of global sales and marketing.
"We opened up the whole world and said, 'That's your territory,'" Kilroy said of one of his early conversations with Savinien.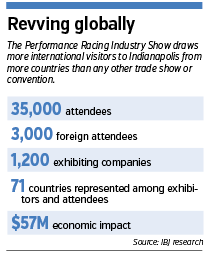 The idea was not only to grow the show's brand globally, but—by drawing international racing interests—to make the show more valuable for American attendees as well, Kilroy said.
In the early 2000s, Chris Aylett, CEO of the British Racing Association, came to PRI and began encouraging British and other European companies to attend as well.
"Chris approached us to help him connect members of his organization to the American marketplace," Kilroy said.
But as PRI continued to grow, it left Indianapolis for Orlando after the 2004 show. When PRI decided to extend its stay in Florida, Indianapolis motorsports businessman Chris Paulsen and a group of investors that included NASCAR's Tony Stewart started the International Motorsports Industry Show in the expanded Indiana Convention Center.
IMIS hit the accelerator on international recruitment, which spurred PRI to do the same.
"The international business is a very important part of motorsports overall, and I thought it was key to have an international presence to make the show an overall success," said Paulsen, founder of C&R Racing, a locally based motorsports component manufacturer. "We recognized that some of the best racing technology comes from England, Italy, Germany and France, and we wanted that technology showcased at our show."
IMIS grew its global reputation each year it existed, from 2009-2012, then PRI decided to buy IMIS and move its event back to Indianapolis in 2013. That fueled the flood of foreign racing interests in the show.
"It's important that the one show is back in Indianapolis. That's the center of gravity for racing, and that move has helped accelerate the global growth of the event," said Zak Brown, founder of Zionsville-based motorsports marketing firm Just Marketing International.
Due to the Indianapolis Motor Speedway, home of the Indianapolis 500, Brown said, Indianapolis is well known among Europeans.
An overall downsizing of the PRI show to weed out anything not considered a hard-core racing company only added to the show's appeal in the international racing community, he added.
Brown, who now works out of London, said PRI's global reach isn't yet near its potential.
"Motorsports is growing in popularity in a lot of overseas markets," Brown said. "As PRI grows its reputation as the place where racers, manufacturers and technology people in the sport come together, they're going to draw a larger segment of the overseas market wanting to tap into American channels."•
Please enable JavaScript to view this content.