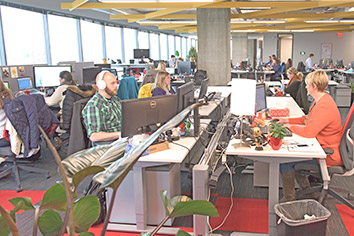 Standing in Return Path Inc.'s new digs on the 11th floor of Market Tower, manager Nick Badgett looks around at the email technology company's Indianapolis office—now more than half full after moving in Oct. 15.
The open office space—which is free of cubicles and desk dividers—can fit about 55 workers, said Badgett, senior director of regional marketing. Today, it hosts 35. The New-York-based firm has the option to lease adjacent space if need be, and executives suspect they eventually will.
It's been a quick expansion.
"Daniel Incandela, the [vice president] of marketing, was the first hire here and I was the second hire," the ExactTarget alumnus said about his Return Path stint, which began in January in a conference room borrowed from another firm. "Since then, we've grown to almost 40 people in Indianapolis, and we'll be growing more, too."
Return Path is one of the latest examples of out-of-town technology companies that have put down roots here and are growing fast. Chicago-based Geofeedia Inc. and Vienna-based Emarsys eMarketing Systems AG are among others, and the moves suggest outside tech outfits are increasingly betting on the city's emerging tech community.
 

Badgett
These newcomers are in expansion mode, adding sales, marketing and software engineering teams. They're looking to tap into relatively fresh talent pools and to capitalize on what cities like Indianapolis don't have—a high cost of doing business and intense employee poaching.
"There are good things and bad things about being in" established tech cities, Return Path CEO Matt Blumberg said about mature hubs like San Francisco and Boulder, Colorado, where his company has offices. "The good thing is that there's a broader talent pool that's trained, and the bad thing is that there's intense competition for that talent."
Indianapolis was ranked the 10th-cheapest city, of 50 surveyed this year by international real estate brokerage firm CBRE, to run a technology company. The survey found that a sample tech firm with 500 workers and a 75,000-square-foot office would spend $32.5 million on wages and $1.3 million on rent in one year in Indianapolis.
The same firm would spend $54.4 million on rent and wages in Silicon Valley, the report said.
And there are experienced tech workers to be had in Indianapolis.
"ExactTarget helped create … an unbelievable ecosystem of local talent," said Kristian Andersen, a partner at local venture studio High Alpha. "It's the abundance of talent, coupled with the economics of doing business in Indianapolis, that create such an unbelievable value proposition for these [outside] companies."
Geofeedia, which sells social media analytics software, established an office here last December. It has 27 employees and intends to have more than 350 by the end of 2020. Emarsys established its U.S. headquarters here in June and employs about 40 now. It projects adding close to 150 more workers over five years.
Appirio, a tech consulting firm, opened its local office in 2012. Earlier this year, it moved its headquarters to Indianapolis from San Francisco and announced plans to grow its local workforce from 151 to 577 by the end of 2020.
Return Path, Geofeedia, Emarsys and Appirio have all hashed out economic development deals with the state and occupy office space downtown. Besides the jobs, their investments have made the local tech sector one of the few bright spots in a downtown office leasing market that's been struggling with high vacancy rates since the Great Recession.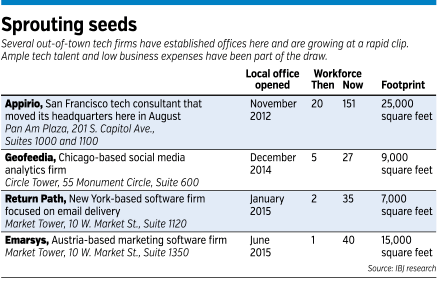 But other tech firms have been quietly planting seeds, too. They include portable IT infrastructure firm Nutanix, a private California-based company that's valued at more than $2 billion. Sales Manager Dwayne Cooper said the company launched its Indianapolis operation in late 2014 and might employ a dozen people by late 2016.
"It's a market with a lot of high-tech people and organizations, and I think the growth engine is going to be here," Cooper said.
Return Path is a 16-year-old software company that works with marketers and IT departments to, among other things, legitimize and ensure external emails arrive at their intended destinations. The private firm generates nearly $100 million in annual revenue and boasts a double-digit revenue growth rate, CEO Blumberg said.
 

Blumberg
Its expansion here was part of a broader strategy to cut ties with outsourced marketing agencies and promote itself, said Return Path Senior Vice President Scott Roth.
"We felt like we weren't telling our story to the market as accurately and as aggressively as we wanted to," Roth said.
Roth, a former ExactTarget marketing vice president, played a significant role in Return Path's picking Indiana.
He worked with former ExactTarget Chief Marketing Officer Tim Kopp at an Oregon company called Webtrends in the mid-2000s. He followed when Kopp jumped to ExactTarget in late 2007, splitting time between Oregon and Indianapolis.

Roth
After Salesforce.com purchased ExactTarget in 2013 for $2.5 billion, Roth wanted to try something new; he ultimately joined Return Path in October 2014. Just before Roth's hire, Return Path raised $35 million in venture capital and executives were considering opening an office in an emerging tech city. Drawing on his stint in Indianapolis, Roth directed their attention here.
Blumberg said Indianapolis might already have been on the list of cities to consider, but "what really pushed that forward was when we hired Scott."
Roth is back in the Pacific Northwest now, but still oversees some teams at the local office. Incandela, the first hire here, is the local head honcho.
Roth occasionally visits the office, which has picturesque views of Monument Circle and a broad kitchen that abuts the workspace, unencumbered by walls. No one has offices. If workers and managers need privacy, they grab their laptops and wireless headsets and breeze over to the kitchen bar or a private room.
Initially, Incandela and Badgett worked out of a conference room that belonged to digital consulting agency Studio Science and then moved into shared office space at Regus downtown. They rented roughly 2,000 square feet of temporary space at Market Tower in April and upgraded to 7,000 square feet of permanent space in October.
The company has the option to lease another 7,000 to 8,000 square feet on the same floor, allowing it to seat 110 to 120 total employees. Blumberg said his "expectation is that, certainly, within a couple [of] years we will fill that up."•
Please enable JavaScript to view this content.