Employers with fewer than six workers are exempt from some of Indiana's civil rights laws and Senate Bill 100 would excuse firms with fewer than four workers from serving same-sex weddings. Should tiny employers be required to observe civil rights laws?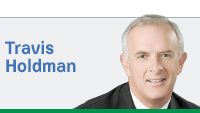 Is there room for religious liberty and LGBT civil rights to coexist?

That is the core question emerging from the contentious debate earlier this year over Indiana's Religious Freedom Restoration Act. And it is a question that continues to loom over Indiana lawmakers as the 2016 General Assembly approaches.

While pundits, activists and academics can have this debate in the abstract, it's the duty of elected officials to attempt to mold these lofty ideas into workable public policy.

This difficult and delicate balancing of civil rights and religious liberty is the fundamental goal of Senate Bill 100.

As introduced, the bill adds sexual orientation, gender identity, active duty military status and veteran status as protected classes in Indiana's civil rights laws for employment, housing and public accommodations. It also includes significant provisions aimed at protecting Hoosiers' religious liberty and rights of conscience.
Among these provisions is an exception for businesses of three or fewer full-time employees engaged in wedding and marriage-related services.

This is consistent with similar small-business exemptions found in federal, state and local civil rights laws.

For example, the federal Civil Rights Act and Americans with Disabilities Act apply only to businesses with at least 15 employees. Indiana's existing civil rights statute for employment applies only to businesses with at least six employees. And many of the local ordinances in Indiana, including Indianapolis, Bloomington, South Bend and Columbus, include exceptions for small businesses.

I wasn't involved in crafting those federal, state and local laws, so I can't speak to the reasoning behind them. I can, however, explain the thinking behind the wedding-related small-business exception in SB 100.

Like the bill overall, this provision attempts to strike a reasonable balance. It recognizes the value of applying LGBT civil rights protections to the vast majority of Hoosier businesses, while carving out a conscience protection for small wedding-service businesses.

In a wedding business of four or more employees, it's likely that someone on the payroll can accommodate any legitimate business transaction—including services for a same-sex wedding—without having to violate his or her conscience. For the very small wedding businesses, this might be more difficult, so there is a reasonable exception included for those cases.

To be clear, this bill does not authorize all small businesses in all industries to withhold goods or services from someone simply because he or she is a member of the LGBT community.

The exception is only for very small wedding- and marriage-related businesses. Because marriage is seen by many as a holy sacrament of their religion, it is fundamentally intertwined with issues of conscience and religious liberty and it's reasonable to provide this exception.

Senate Bill 100 contains other elements of compromise and balance between the oftentimes conflicting values of LGBT civil rights and religious liberty. A copy of the bill, as well as a full summary of its contents, can be found on my website at www.IndianaSenateRepublicans.com/Holdman.

I understand that there are things in this bill for all sides to question. That's the nature of compromise. There will be ample opportunity in the weeks ahead for lawmakers to hear from all stakeholders as this bill moves through the legislative process. I look forward to the discussion.•

__________

Travis Holdman, a Republican, represents Senate District 19 in northeast Indiana. Send comments on this column to ibjedit@ibj.com.