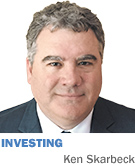 Representatives from more than 200 nations have been meeting the past two weeks in Paris to discuss ways to reduce emissions from fossil fuels. The goal of the United Nations climate conference is to implement policies to limit global warming below 2 degrees Celsius by 2100.
Leaving aside the extremist views on climate change held by the far left and far right, it is clear that, as stewards for future generations, we must take rational steps to protect the long-term health of our planet.
From an investment perspective, the challenge for investors becomes how to analyze the future of industries that produce and rely on fossil fuels, along with assessing the viability of renewable energy sources.
The sheer number of automobiles burning fossil fuels is an obvious target to reduce carbon emissions. However, the sobering fact is that the number of automobiles on the world's roads is set to double by 2030. Much of the increase will come from the rising consumer class in China and India, and most of these cars will burn gasoline or diesel. Just this month, Beijing issued its first red alert, closing schools and factories because the pollution in the air was 12 times worse than healthy levels.
One conundrum is that transportation is still 95 percent reliant on petroleum, and when the economy is growing, transport emissions are growing. The United States is aiming to boost fuel miles per gallon to 54.5 by 2025. China's target is 50.1 mpg, and Europe's is 60.6 mpg. Still, these advancements won't overcome the daunting math of worldwide vehicle growth.
Energy, being a fundamental necessity for mankind, invites the intrusion of government whether via regulation or tax policy. In advance of the Paris conference, the International Energy Agency identified the elimination of subsidies as one of the most effective strategies for reducing greenhouse gas emissions. The agency estimates that global subsidies for fossil fuels amount to $490 billion a year. Yet, when subsidies are reduced, the cost of energy to consumers rises.
The use of renewable energy—wind, solar and biofuel—is already here, and further development of these technologies is under way. Leaders in the U.S. technology industry are investing in these alternative energy sources. Elon Musk is building a massive battery plant to supply his Tesla electric cars. Musk is also chairman of Solar City, a company that installs solar power systems.
Of course, renewable energy development also requires subsidies, which is a hot-button issue for taxpayers. Botched programs like the government's $535 million loan to the failed solar firm Solyndra do not help advance the cause. Also worth noting is Volkswagen's fraudulent scheme to alter emission tests so it could sell more cars. Finally, critics charge that there are circular costs to producing renewable energy. How much coal was burned to produce the electricity to power the plants that are manufacturing the batteries?
Cambridge University recently published a paper called "Unhedgeable Risk" that explores the risks investors might face with 9 billion people on Earth in 2050 with finite land, water and natural resources.
Investors need to consider the energy policies governments put in place and assess how they might affect the profitability of companies in their portfolios.•
__________
Skarbeck is managing partner of Indianapolis-based Aldebaran Capital LLC, a money-management firm. His column appears every other week. Views expressed are his own. He can be reached at 818-7827 or ken@aldebarancapital.com.
Please enable JavaScript to view this content.