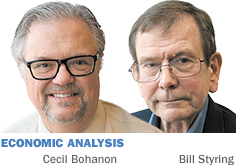 In 2015, 1 million-plus people left the Middle East seeking asylum in Europe. This migration has generated a backlash benefiting nativist-nationalist parties in France, Germany, Hungary, Slovenia and Greece. Donald Trump's rise reflects similar immigration anxieties in the United States.
The Bohanon part of this column spent most of December on a university-related project in Afghanistan. Over 100,000 Afghans have joined the migration, and guess what? Opposition isn't just from the receiving countries. Afghan newspapers are stuffed with stories about Afghanis returning from Germany after a bad experience—how Western Europe in general isn't welcoming to migrants. The Afghan government keeps warning citizens about rapacious human smugglers. It would seem French uber-nationalist Marie LePen and Afghan President Ashraf Ghani are on the same page about Afghan emigration: Both are against it.
This odd coalition might seem surprising. It shouldn't be. Immigration stories have cultural, social and political elements to be sure, but economics almost always plays a central role. Consider a couple of economic principles at work.
Principle No. 1. Income/wage differences drive migration. If a construction worker can command $400 a month in Kabul but $2,000 a month in Frankfurt, we can be sure which direction migration will flow. Construction wages will rise in Kabul and fall in Frankfurt. Labor unions are notoriously and rationally cool toward immigration. That includes U.S. unions. Basic supply-demand economics does suggest short-term pressure on native citizen wages.
Principle No. 2. Employers in destination countries love immigration. Native employers hate it. But not just because of wage differences. Immigrants tend to be assets rather than liabilities. It's hard to quantify, but immigrants tend not to be the "wretched refuse" and "huddled masses" inscribed on the Statue of Liberty. To move from Afghanistan to Germany in 2015—no less than moving from Germany to the United States in 1850—required a level of intelligence, resources and pluck above that of the average citizen. From a purely economic viewpoint, U.S. immigration policy is on the stupid side. It emphasizes "family unification" and downplays economic contribution. The annual quota for H1-B "skilled worker" visas are spoken for in days.
Afghanistan is a good example of the economic principles of migration. Countries of origin don't want emigrants to leave. Many citizens of receiving countries don't want them to come. In the longer run, most immigrants become assets. Maybe Angela Merkel's motives are as much mercenary as merciful.•
__________
Bohanon is a professor of economics at Ball State University. Styring is an economist and independent researcher. Both also blog at INforefront.com. Send comments to ibjedit@ibj.com.
Please enable JavaScript to view this content.