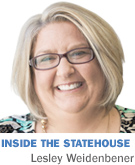 After months of "listening," Gov. Mike Pence is expected to use his State of the State address on Jan. 12 to tell Hoosiers where he stands on the controversial issue of civil rights for gay and transgender residents.
The speech is "one of the best opportunities I have as governor to speak directly to the people of Indiana on a broad range of issues," he told reporters recently.
And, he added, "We'll likely take advantage of that."
But what he will say and whether it will make any impact on lawmakers is anyone's guess.
Already, majority Senate Republicans have tried to provide leadership on the issue, offering a proposal that seeks to balance civil rights for gay Hoosiers with religious liberties. It's a plan that has the backing of Senate President Pro Tem David Long, R-Fort Wayne.
Meanwhile, House Speaker Brian Bosma, R-Indianapolis, says that, while he's interested in the governor's thoughts, the legislative branch is independently elected and Pence "is not the boss of them."
"Everyone has their own opinions on these things and we'll work as we have in the past through thorny issues trying to get to the right decision for all," Bosma said.
That may seem good for Pence. He can leave lawmakers to figure out what to do about the civil rights issue and deal with it only when—or if—legislators send something to his desk. Even then, his actions might not carry much weight. The General Assembly needs only a simple majority to override a gubernatorial veto.
But continuing to evade leadership could also be dangerous in a year when Pence is asking voters for a second term.
For months, Pence has been publicly avoiding the discussion. He's sidestepped questions by saying he's "listening" to a variety of people's opinions. He's met behind closed doors with advisers and the leaders of religious organizations.
"We're going to be putting those views together and come up with a common-sense solution for Indiana," said then-Pence campaign spokesman Robert Vane in October. That's about as detailed an answer as anyone has received from the Pence camp, although it's not clear now Pence will offer any actual solution, even though he's at least in part responsible for the problems.
Last year, Pence signed into law the Religious Freedom Restoration Act, a bill passed by the GOP-controlled Legislature that aimed to give judges guidelines for protecting religious liberties in civil cases. Critics said the law would essentially authorize discrimination against the LGBT community and Pence's inability to explain the law on a Sunday morning talk show thrust him and the state into the national spotlight.
But that's all old news. At issue now is whether the state should move to expand the state's civil rights law to protect gay and transgender residents from discrimination.
Recent polls show a majority of Hoosiers now support doing so. But key constituencies within the Republican Party are split on the issue—business leaders say an expansion of the civil rights law will help keep the state competitive while evangelical groups say it will damage religious liberties.
And that's where Pence faces his dilemma. He might tell Hoosiers on Jan. 12 where he comes down on the issue. Or he might continue to sidestep the question.•
__________
Lesley Weidenbener covered the Statehouse for two decades—a span that included five governors, 20 regular legislative sessions and countless campaigns—while working for three news organizations. She is now IBJ's managing editor.