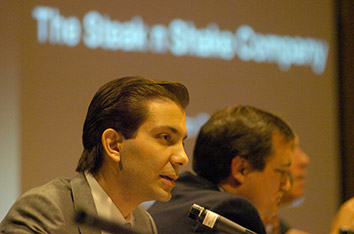 Sardar Biglari, CEO of the investment company that owns Indianapolis-based Steak n Shake, has a reputation for being a hands-on kind of executive when it comes to his business holdings. His latest move is sure to confirm that estimation.
Sardar is set to become editor-in-chief of Maxim, according to a report by Politco, taking control after a high-profile effort to revamp the men's magazine proved unsuccessful.
Biglari Holdings Inc.—which counts Western Sizzlin Corp. and First Guard Insurance among its holdings in addition to Steak n Shake—acquired Maxim for about $12 million in early 2014.
Not long afterward, Biglari announced plans to turn the publication into an upscale men's lifestyle magazine, moving it away from the somewhat-raunchy reputation it had built by regularly featuring photos of nearly-nude celebrity women.
In February 2015, he hired Kate Lanphear, the former style director of The New York Times' fashion magazine, as editor-in-chief to overhaul the magazine. Lanphear made major changes that apparently turned off the publication's target readership and newsstand sales dropped 40 percent. She left in November.
Biglari brought in Glenn O'Brien, ex-Rolling Stone editor and GQ's former "Style Guy" columnist, as editor-at-large after Lanphear's exit, but he kept the editor-in-chief position open. He also brought in a new creative team that helped redesign the December issue of the magazine under his direction.
The December magazine, which featured model Alessandra Ambrosio on the cover, was Maxim's best-selling issue in two years, selling 100,000 copies at newsstands.
Biglari hasn't been shy about letting readers know he's involved. His name now appears in script on the front cover under the nameplate. He also included a photo of himself posing with Ambrosio in the December issue.
A New York Post media column about the photo shoot, which took place in Monte Carlo at Biglari's hotel suite, said Ambrosio "was creeped out by Biglari" and didn't want him in photos with her that would be published, but he insisted on being involved in the shoot. The Post cited a "Maxim insider" for the information.
The Post later changed the column after French fashion photographer Gilles Bensimon said it was his idea to have Biglari in the photo and that Ambrosia had no objections.
Biglari and Maxim have since filed a defamation and breach-of-contract against former employees Jason Feifer and Wayne Gross that accuses them of leaking false information to the Post.
 
Please enable JavaScript to view this content.