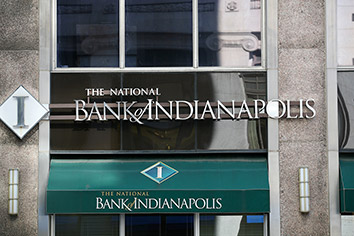 Indiana-based banks have been spending less and less writing off bad loans over the past several years, a trend that suggests they've cleaned up their loan portfolios and might be willing to increase their appetite for risk.
According to the Federal Deposit Insurance Corp., 124 Indiana-headquartered banks had $67 million in net charge-offs in 2014, the lowest amount on record for statistics that date back to 1992. That's a fraction of the $593 million Hoosier banks ate in loan losses in 2008.
Through the first nine months of 2015, FDIC data shows, Indiana recorded a mere $27 million in net charge-offs. Industry executives credit the steadily improving economy.
"The economy, while it's not great, has been good," said Mark Bruin, chief banking officer at The National Bank of Indianapolis. "You've got unemployment down around 5 percent, so people are able to pay their bills."
Bruin said that, from about 2008 to 2010, banks extended capital to only the most creditworthy borrowers, which is reflected in the low charge-off figures of late. Today, he said, "Banks have worked off most of their bad assets."
But lenders don't make a lot of money off borrowers with pristine credit, and industry experts said banks have begun making loans they might not have made five years ago to jump-start relatively anemic loan growth.

Wingrove
There's no indication that the risky lending practices that prompted the Great Recession are set for a comeback, but banks eager for loan growth might increasingly loosen lending terms.
"I think it gives you an opportunity to look into the future and be comfortable that your underwriting and credit perspective are pretty good," said Star Financial Bank Chief Credit Officer William Wingrove, speaking about low charge-offs.
"And it creates an opportunity to look for ways to be able to increase the risk that you're taking, to be able to make more loans to a broader group of borrowers."
Banks set aside a slice of their revenue in a pool to cover loans that turn sour. Executives than tap those reserves when they charge off loans they believe won't be repaid.
But as charge-offs have declined, so has the amount of cash banks divert from revenue to cover them. Fort Wayne-based Star Bank set aside just $331,000 for loan losses in 2014, down from $17 million in 2010. Evansville-based Old National Bank went from $30.8 million in 2010 to $3.1 million in 2014.

Stuart
Those provisions don't reflect what banks have stockpiled, only what banks contribute to the stockpiles. Star had $20.7 million reserved for loan losses at the end of 2014. Old National had $47.8 million in loan-loss allowances at the end of 2014.
Joseph Fenech, a Zionsville-based bank analyst with Hovde Group, said banks saw their bottom lines benefit from low loan-loss provisions in recent years. But as they pursue riskier loans, they'll have to increase provisions, which could weigh on earnings.
"I think going forward," Fenech said, "you're going to see a gradual pickup in the pace of provisioning to account for new loan growth."
FDIC data show net loans and leases reached $48 billion at the end of 2014, up 8 percent from a year earlier. That figure was $51.4 billion through the first three quarters of 2015, just a hair under the total for 2007.
Despite the gains, bank executives said demand remains lax for commercial loans.
"Businesses have been cautious about investing in expansion—buying new equipment and building new buildings," said Connie Bond Stuart, regional president for Pittsburgh-based PNC Bank. She said some of the loan demand she's seeing is coming from borrowers seeking funds for mergers and acquisitions.

Bruin
"Business activity has strengthened, but not where anybody would like it to be," added Wingrove of Star Bank, speaking about commercial loans. "We'd like to see demand higher."
The National Bank of Indianapolis' Bruin said he believes charge-offs have bottomed out and likely will tick up as the "credit pendulum" swings toward riskier, higher-yielding loans. He said he's seen recent reports about rising delinquencies for auto loans and mortgages.
"I think 2016, if you compare it to historical norms, is still going to be another year of low loan losses, but I don't think it's going to be as low as 2014 and 2015."
Fenech said 2015 marks the year when banks effectively cleared bad assets off the books and returned to "normalized credit metrics."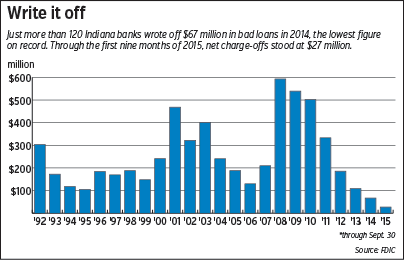 But because growth has been tepid, banks might not be in the best shape when the next downturn arrives.
"The acceleration that we normally see out of a downturn hasn't been there," Fenech said. "So the question now is, how long before we're in another credit cycle [considering] we haven't had the growth to make it feel like we ever exited the last one?"•
Please enable JavaScript to view this content.