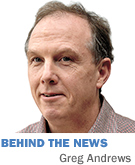 Securities analysts who quiz company executives during quarterly earnings conference calls tend to be polite to a fault, avoiding pointed questions no matter how poorly a business performed.
So you could forgive Patrick Lavelle, the CEO of Voxx International—parent of Indianapolis-based speaker-maker Klipsch—if he was taken aback on Jan. 12 after an analyst unleashed a no-holds-barred attack on the company's long-term performance.
"You guys have repeated the same story that things will get better next year for now going into year four," said Vad Yazvinski, a portfolio manager and chief investment officer of The Jordan Co. in Columbus, Georgia. "How much credibility should—can—we put into the guidance and in the positive tone you guys are trying to infer here considering the performance of the stock, the financial performance of the company?"
To be sure, almost nothing has gone as expected since Voxx in 2011 snapped up Klipsch for $166 million in cash as part of its strategy to shift from commodity electronics into higher-margin, innovative tech products.
Here's one stark statistic. The stock market value for Voxx today is just $118 million—far less than it paid just for Klipsch, one of a long list of acquisitions it made dating back a decade. Klipsch generates the bulk of the revenue for Voxx's premium audio division, which accounts for about 23 percent of overall Voxx sales.
The other divisions are automotive (everything from remote starter systems to rear-seat entertainment devices) and consumer accessories (everything from the 360fly reality sports cameras to iris-scanning identity-authentication devices).
The last division, especially, has plenty of sizzle, but so far only modest sales.
In the nine months ended Nov. 30, Voxx sales tumbled 13 percent, to $511 million. Every division lost ground, with premium audio taking the hardest hit, dropping 19 percent to $104 million.
Lavelle kept his cool on the call, telling Yazvinski that "transitioning the business to where we are offering and selling the new technologies will take some time. And we may stumble as we introduce some of these products due to unforeseen situations."
He added: "When you're dealing with technology, and you're dealing with disruptive technologies that come in and change existing product categories, obviously you have to develop the new products that are necessary to compete."
He cited as an example Klipsch, which has seen demand fall for its home speaker systems costing thousands of dollars as consumers instead gravitate toward cheap Bluetooth speakers and earbuds.
Klipsch is fighting back, in part through its debut of 40 products at the Consumer Electronics Show in Las Vegas earlier this month—the largest product rollout in the company's 70-year history. Offerings include premium Bluetooth in-ear monitors, Bluetooth headphones and streaming music systems.
"All have been met with excellent reviews, and were sold out for the holiday season. … It's certainly a positive indicator," Lavelle said.
But Yazvinski said he's tired of hearing Voxx executives talk a good game without delivering performance. He noted the company's transformation so far has eroded shareholder value, leaving the stock below where it traded a decade ago. Since the Klipsch acquisition, shares have fallen from $8.12 to $4.94.
"You basically went from being a company that was making money to a company that is a VC incubator of a lot of products—some of them might work, some of them might not," he said.
"A lot of your lines of business at this point would be better off in the hands of somebody else," he said, urging the company's board to consider "strategic alternatives," including a sale. "We believe the brands you own are valuable, but they might take five years, 10 years to get realized, and shareholders have suffered for over a decade."
Lavelle responded that he believes management of the company's businesses already is in the right hands, managers with the "contacts" and "know-how" to successfully execute winning strategies.
He closed the call on an upbeat note, one that did nothing to ease Yazvinski's frustration.
"We do see light at the end of the tunnel," he said.•
Please enable JavaScript to view this content.