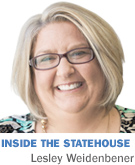 It's not that often you get big business and labor endorsing the same proposal at the Indiana Statehouse.
But it happened this month during testimony on a bill to create a work-share program, a proposal that would let businesses on the brink of layoffs cut employees' hours instead while the state's unemployment system supplemented their pay.
The goal, said Tom Easterday, executive vice president of Subaru of Indiana Automotive, is to keep workers from leaving the state in search of another job when they get laid off.
"It's really vital to Indiana to retain those skilled workers so Indiana can compete again after an economic downturn," Easterday said. "And we all know one is going to come in the future."
And yet House Bill 1014—authored by two Republicans and one Democrat—isn't going anywhere. It's going to die this year in the House Employment, Labor and Pensions Committee with no vote, largely because the Indiana Department of Workforce Development thinks the program would be too expensive to implement and might drain the unemployment trust fund just as it's becoming solvent again.
Certainly, those are two good reasons to punt, although advocates had plenty of counterarguments. Most notably, nearly 30 other states—including Indiana's manufacturing-intensive neighbors Ohio, Michigan and Illinois—have managed to figure it out.
 

Ober
"I would hope we're not sitting here next year having not seized on an opportunity to try to do something to cushion the blow of what might be to come," said Rep. David Ober, R-Albion, who authored the bill for the second year in a row.
But Josh Richardson, DWD's deputy commissioner of unemployment insurance operations, said the state would need to spend some $1.5 million just to put a system in place to handle work share. And he said the program would add another $1 million to the unemployment program's annual operations budget.
None of that includes the additional strain on the unemployment system if lots of businesses use the work share program, he said.
"Is this the appropriate time to be expanding eligibility for a program?" Richardson asked lawmakers.
That skepticism is not new for Gov. Mike Pence's administration, which has opposed work share in the past. In fact, last year, Richardson said the governor's opposition was as much philosophical as it was financial: Why give companies a "cheaper and easier way" to cut employees' hours?
But advocates had some reasons to hope this year might be different. Last fall, a DWD spokesman said the agency's new commissioner, former lawmaker Steve Braun, was open-minded about the proposal and was taking time to evaluate data before taking a stand.
Plus, in late 2015, the state paid back the last of the money it had borrowed from the federal government to pay unemployment claims during the Great Recession. Lawmakers have also revamped the unemployment system by raising the taxes collected from businesses while cutting the payments received by out-of-work Hoosiers, all with the goal of keeping the program in the black into the future.
Still, in the end, the DWD has "struggled to warm up to [work share] the way our proponents have," Richardson acknowledged.
And that opinion won out, even as the strangest of bedfellows—Brett Voorhies, president of the Indiana AFL-CIO, and Mike Ripley, a vice president of the Indiana Chamber of Commerce—told lawmakers they both support the idea.
It wasn't enough for Rep. Doug Gutwein, chairman of the Employment, Labor and Pensions Committee, who said he remains too concerned about the program's cost to move the idea forward.
"We've heard pros and cons," he said. "I promised Rep. Ober I would give it a hearing to have the discussion we've had, and that's all we're going to do. We will not take a vote on this."
And with that, House Bill 1014 dies.•
__________
Lesley Weidenbener covered the Statehouse for two decades—a span that included five governors, 20 regular legislative sessions and countless campaigns—while working for three news organizations. She is now IBJ's managing editor.
Please enable JavaScript to view this content.