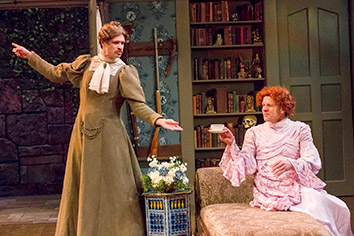 Australopithecus was an important stage in human evolution. But it looks primitive next to its Cro-Magnon descendants.
And so it goes with Charles Ludlam's "The Mystery of Irma Vep," being revived by the Indiana Repertory Theatre (through Feb. 14).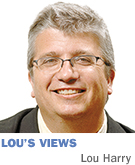 Lifted from the cultural context of its 1980s New York birthplace—where it had its debut courtesy of Ludlam's off-off-Broadway Ridiculous Theatrical Company—and diminished by a generation of genre-bending, campy comedies that have come after it, "Vep" remains sporadically funny but in a familiar rather than fresh way.
A mash-up of "Rebecca," "Wuthering Heights," "The Mummy's Curse" and "Nosferatu"—with a sprinkling of Shakespeare and Poe—it makes solid use of the IRT design team, including Tom Buderwitz's tricked-out scenic design and Lindsay Jones' smart sound work. And it's certainly well cast, with Rob Johansen and Marcus Truschinski making up the entire company of zany characters (although they seem, too early in the game, to be playing the Tim Conway/Harvey Korman "Can I crack up my scene partner?" game).
The plot—which hardly matters—concerns Lady Enid, second wife of Lord Edgar, who is concerned that her husband is still enamored with his late wife, Irma Vep—who might be haunting their estate. Vep's portrait looms large in the living room and her presence is even stronger. A vampire, a werewolf, a groundsman with a wooden leg and more are gamely played, the lot of them, by Johansen and Truschinski, abetted by a backstage crew smoothly choreographing costume changes and wig exchanging between door slams and lightning crashes.
In one of the more fun meta-moments, Jane the maid (Truschinski) says, "He'll never change" of the exiting Nicodemus (Johansen), who quickly re-enters as Lady Enid. In another, the absence of Nicodemus' leg becomes a fun test of Johansen's physical prowess. And I'm not sure if a flapping piece of footwear was deliberate or accidental, but Truschinski certainly made the most of it.
Still, while the plot of "Irma Vep" is somewhat wrapped up by play's end, the biggest mystery—why this show was revived in the first place—remained unsolved. Despite all-hands-on-deck work from the IRT cast and crew, it just doesn't make a case for itself. (For the record, I felt the same way about a Washington, D.C., Arena Stage revival in 2008, which the IRT improved upon.)
There's nothing inherently wrong in this sort of silliness. It just grows tiring once Ludlam's ideas run thin—particularly in the Egyptian scene that fails to launch the second act—leading one to assume that he and costar Everett Quinton carried the day in the original by virtue of their fresh personalities and in-the-moment commitment. Heavily incorporating Taylor Swift's "Shake It Off" (no, it's not in the script) into the proceedings, as the IRT does, seems pandering and desperate rather than organic—although the audience ate it up.•
__________
This column appears weekly. Send information on upcoming arts and entertainment events to [email protected]
Please enable JavaScript to view this content.