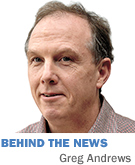 One thing you can say about reporting on Noble Roman's Inc. is it never gets boring.
The company, founded in Bloomington in 1972 and now based in Indianapolis, has had its ups and downs in the decades since its 1980s heyday, when more than 75 stand-alone pizzerias were in operation.
The late 1990s saw abrupt shifts in strategy. First, in 1996, Noble Roman's announced plans to expand east by buying the Boston-based chain Papa Gino's for $10 million, a deal that unraveled before closing. Then, with the pizza wars intensifying across Indiana, the chain shuttered dozens of locations and shifted to a new concept—franchised outposts in nontraditional locations such as convenience stores, military bases and bowling alleys.
While that's become a solid business, with some 800 franchised locations, lately the company has been trying to juice growth via two other avenues—by franchising stand-alone take-and-bake pizza stores and by selling freshly made take-and-bake pizzas in grocery stores nationwide.
Sparks are flying along the way, thanks to public attacks by Atlanta-based activist shareholder Privet Fund LP. In a letter to the board last month, Privet said "management has spectacularly failed to deliver on anything," and it reiterated calls for the company's sale.
But it's worth pointing out that Privet would not have amassed its 14 percent stake in the company over the past two years if it weren't a wholesale believer that Noble Roman's new growth strategy could be a game-changer.
"Obviously, I am a big fan of the business and of the concept. I think it has the ability to be extremely successful," Privet's Ben Rosenzweig said on a Noble Roman's earnings conference call in November.
Like all shareholders, Rosenzweig is frustrated that Noble Roman's shares are languishing below 90 cents apiece. He also is frustrated that Executive Chairman Paul Mobley has repeatedly missed growth projections.
Mobley in March 2014 suggested he wanted to have 70 take-and-bake stores by the end of 2015. Instead, the company has just 17, and that's down from the 22 that were open in late 2014.
Mobley acknowledged on a November 2015 conference call the concept is having problems, and he said the company is making changes to help franchisees become profitable, including by adding delivery.
Noble Roman's also took longer than expected to create the infrastructure for its grocery expansion, but might have turned the corner late in the third quarter and the fourth quarter, when it signed an additional 18 grocery distribution centers, boosting the total to 29.
Those deals set the stage for Noble Roman's to rapidly increase the number of groceries licensed to sell its pizzas, which now stands at around 2,000.

Mobley
"We are real excited for 2016," CEO Scott Mobley said in an interview with IBJ. "The grocery venue I believe is really going to explode for us."
Mobley, who is Paul Mobley's son, said most pizza sold in U.S. grocery delis is made off-site and then frozen before deli workers thaw it and put it on display.
Noble Roman's offers a far superior product, he said, because deli workers make the pizzas fresh in-store.
As the company pushes into groceries, it also hopes to ratchet up the growth of nontraditional locations, in part through the rollout of an updated kiosk that will help retailers sell more made-to-order medium and large pizzas in addition to grab-and-go individual pizzas.
"It's always been a strong, steady performer, but I think you will see a lot of renewed growth," Mobley said of the nontraditional business.
If all goes well with the growth initiatives, Noble Roman's profit will rise rapidly while expenses remain relatively flat. In the first nine months of 2016, the company earned just $811,318 on revenue of $6 million.
Schuster Tanger, another activist investor who was invited onto Noble Roman's board last spring, is among the believers.
"The company has had fits and starts over its long history," said Tanger, whose New York-based Red Alder Master Fund in 2014 and early 2015 amassed a 6.9 percent Noble Roman's stake. "I invested in the company for what is going on now at the company. That is what matters, and what is going on now at the company is promising."
Does he have faith in the Mobleys? "The short answer is yes," he said. "The longer answer is, I respect Paul and Scott Mobley and believe they are focused on the right initiatives."•
Please enable JavaScript to view this content.