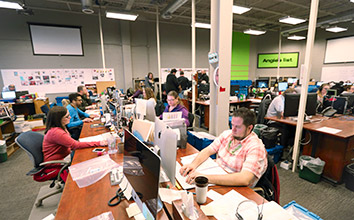 Indianapolis-based Rundown LLC sells software that helps publishers manage the content-creation process—tasks like delegating, tracking and analyzing the impact of stories.
The 4-month-old firm is after not only media outlets, but all types of companies. Part of its pitch, which has won over five customers so far, is that companies need to do more than just send promotional emails or buy ads to reach customers. They need to create useful, interesting content.

Jackson
"It's no different than watching the news and seeing some car dealer yell, 'Sunday, Sunday, Sunday,'" said Rundown CEO Taulbee Jackson, comparing abrasive TV ads to online banner ads. "Nobody really wants to hear that. I think people would rather hear, 'Here are three or four tips to help you save gas the next time you're driving.'"
Rundown is among several local startups that have popped up to capitalize on the growing interest in content marketing, defined in part by enterprise-generated blog posts, infographics, how-to videos, case studies and more.
Advertising isn't at risk of extinction, Jackson and other industry executives said, but companies are increasingly realizing they need a steady flow of engaging material for email blasts, Twitter posts and other digital channels—not just hard sales messages.

Marshall
Consumers "are getting more frustrated with paid ads that don't offer anything in return for our attention," said Susan Marshall, CEO of Torchlite Technologies Inc., another Indianapolis firm in the space that launched last summer.
"Brands are realizing they need to humanize themselves and build relationships before they ask for the sale."
Torchlite connects companies to free-lancers who specialize in digital marketing, operating off the idea that some companies don't have the money or know-how to hire full-time, quality Web designers, email marketers, bloggers and others.
Marshall, an alumna of Apple Inc. and Salesforce.com, said the company has more than 250 vetted free-lancers and 45 customers using its software platform, including locally based Bullseye Event Group LLC. So far, Torchlite has booked contracts totaling $1.5 million annually, and the company projects that figure will hit $3 million by June.
Rundown's customers include Brooklyn, New York-based Vice Media LLC, Milwaukee Public Radio, Indianapolis-based Givelify LLC and Tel Aviv-based Pravda Media Group. It expects to reach $1 million in bookings by year's end.
Jackson is a former WRTV-TV Channel 6 engineer and founder of local digital marketing agency Raidious LLC.
DK New Media LLC is another local firm in the field. It started off as a pure consulting agency, but now creates content for a range of clients, from law firms to vitamin supplement companies.

Karr
In 2013, it created an infographic for Lifeline Data Centers titled "How to Build a Data Center," CEO Douglas Karr said, a graphic that still draws traffic hits.
"The objective is to build that authority so you can build that trust with people," Karr said. "Once people start to see that you've got authority in a certain sector, then they're more apt to buy from you."
Content marketing is not new.

Baer
Jay Baer, the Bloomington-based president of Convince & Convert LLC and author of best-selling content-marketing book Youtility, said he's aware of examples that date to the 19th century—including his grandfather's Nebraska furniture business that gave away furniture-cleaning guides.
Part of what's driving increased corporate interest now, Baer said, is that Internet-empowered customers do extensive research before making a purchase. Many companies look to engage customers throughout that journey in a soft way, hoping a blog post, a series of tweets or an audio white paper will steer consumers their way.
"Today, customers need more information than ever, before they purchase, because they have more information than ever at their fingertips," Baer said. "So smart companies are providing answers to as many customer questions as possible so that people actually sell themselves."
Some companies outsource their content-creation efforts, while perhaps having an in-house expert write blog posts. Some companies, like Angie's List, have a full division of content creators.
Bluebridge LLC, a Fishers-based tech firm with about 40 employees, falls in between. The company, which sells software that helps organizations create and manage mobile apps, hired dedicated content-creation employees last year and now spends about half its marketing budget on content creation.
With a dedicated writer, designer and digital marketing director—as well as some external contributors—the company in 2015 created 55 blog posts, 15 customer case studies and 12 e-books, including, "The Buyers Guide to Mobile Apps."
The result: Sales directly attributable to its content efforts have grown 400 percent over the past year, CEO Santiago Jaramillo said. The mobile guide directly resulted in $50,000 in sales, he said.
"We've created good will by educating buyers with great, free content before they make their vendor short list," Jaramillo said. "This is helping Bluebridge influence prospective customers in the way they prefer to research technology, and now we're reaching a bigger audience than ever."
Angie's List's "newsroom," as it calls it, is 73 people strong, and is responsible for producing feature stories, tip sheets and guides, photo galleries, videos and other content related to home services.
Its material, which includes service-provider ads, runs online, on partner TV stations or in magazines and in its own monthly print magazine that has 130 editions in 58 U.S. markets.

Towns
Shelly Towns, senior vice president of product, said Angie's List has always been a content company, producing a monthly leaflet that originally hosted its flagship lists. Along the way, she said, company leaders realized the value recurring content had in keeping Angie's List top of mind.
"The average homeowner does six projects a year," Towns said. "Content gives us the license to stay engaged with our consumers between those episodic moments."
Angie's List content operations used to be segmented, with its print magazine and search-engine optimization team falling in different departments. In April 2013, the company merged those and other content units, partly because it needed content to enhance its search engine rankings.
In September 2014, it brought in former Indianapolis Star digital and visual director Scott Goldman to captain the operation, which today is a key spoke within the company.
"As of February, we had a circulation of 2.5 million," said Goldman, senior director of content strategy, about the print magazine. He added that 8,000 different ads appear across its markets for each issue.
Towns said the Angie's List newsroom is profitable.•
Please enable JavaScript to view this content.