The once-sleepy burg of McCordsville is undergoing a transformation that is expected to add a host of new commercial development to the Hancock County town.
Bordering Marion County to the east, McCordsville has seen its population climb the past decade from about 1,200 residents in 2005 to nearly 7,000 now.  
As a result of the influx, several commercial projects are in the works or have recently completed completed.
Topping the list is the Meijer store, which is set to be built at Carroll Road (County Road 700 West) and Broadway Street (State Road 67).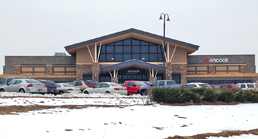 One of the first signs of new development is the 42,000-square-foot Hancock Wellness Center, attached to the Hancock Regional Medical office building. (Image courtesy Town of McCordsville)
To residents of larger suburbs such as Fishers to the north, where grocery options are more plentiful, landing a Meijer store might not be a big deal. But in McCordsville, where residents jokingly refer to the CVS pharmacy as the local department store, they're eager for its arrival.
"We have to go to Fishers or Indianapolis to do our grocery shopping," Town Manager Tonya Galbraith said, "so it really fulfills an unmet need."
Meijer has owned the land where it plans to build the store since 2007. But the recession slowed the Grand Rapids, Michigan-based retailer's expansion plans, she said. Now, with zoning approvals in hand, Meijer could start construction in May and finish in the summer of 2017.
Galbraith is hopeful the Meijer will spur additional commercial development.
"I really do think it will be a catalyst for other activity along Broadway," she said.
Construction also is slated to start in the spring on the $20 million Traditions at Brookside senior living complex. The 125,000-square-foot project from Carmel-based Leo Brown Group LLC will include 115 assisted-living and memory-care beds and 42 independent-living apartments.
Traditions at Brookside will be built at County Road 900 North and County Road 600 West in the Villages at Brookside residential development.
On Carroll Road north of where the Meijer store will be built, Daniel's Vineyards is set to open a production facility, tasting room and brewery in the summer.
The vineyards, north of County Road 900 North and across from the upscale Admiral subdivision in Lawrence Township, already boast 40 acres of grapes that until now have been processed off-site.
Once the production facility opens, however, Galbraith is confident Daniel's Vineyards, operated by Dan Cook, will become a tourist destination.
Already completed is a two-story, 42,000-square-foot Hancock Wellness Center that's attached to the Hancock Regional Medical office building. It opened Feb. 8 on County Road 600 West south of where the Traditions at Brookside senior center will be built.  
Including Meijer, McCordsville has more than 350,000 square feet of commercial development set to arrive in the next two years. Galbraith expects even more once the megastore is finished and outlots become available.
"When you share a border with Fishers and Lawrence and Marion County, and you have a piece of Geist in your town limits, all of a sudden the pieces start falling together," Galbraith said.
On the residential front, McCordsville logged 147 single-family building permits last year, an 8 percent jump from 2014.
 
Please enable JavaScript to view this content.