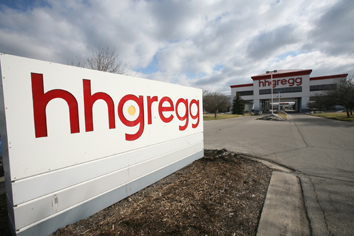 Dennis May has stepped down as president and CEO of HHGregg Inc. effective immediately, the company announced Tuesday evening.
 
The Indianapolis-based appliance and electronics retailer, which has seen its sales plummet in recent years, named Chief Financial Officer Robert Riesbeck as interim CEO. Riesbeck will continue serving as CFO until HHGregg names a permanent replacement for May.

Dennis May
May, 48, joined HHGregg in 1999 as chief operating officer, was named president in 2003 and became CEO in 2009. Since his arrival, the Indianapolis-based appliance and electronics retailer has grown from 16 stores to 227.
Before joining the company in 2014, Riesbeck was group CFO of Sun Capital Partners, the Florida-based parent of Indianapolis-based Marsh Supermarkets. He also held CFO positions at Marsh and American Golf Corp., as well as business-unit roles at Nike.
 
"The HHGregg team and I will be extremely focused on continuing with the execution of our transformation initiatives," Riesbeck said in a written statement. "I want to assure our employees, customers, vendors and shareholders that we will work together to achieve our company's growth and profitability goals."
HHGregg's shares have tumbled from $3.82 to $1.90 since Jan. 6, when the company announced disastrously bad results for its latest fiscal quarter, which included the holiday shopping season. Total sales and sales at stores open at least a year fell 11 percent, and the company missed analysts' forecast for total sales by $45 million.
The chain has been trying for years to recover after the bottom fell out of the consumer electronics business. Mass merchants and Internet retailers crowded into the segment, driving down prices at a time demand was falling. According to Evercore ISI, the average retail selling price for LCD TVs has tumbled from about $1,300 in 2006 to $450 now.
Consumer electronics accounted for just 37 percent of sales in the latest fiscal year. Back when the company went public in 2007, it was nearly half.
Meanwhile, the company has lost market share in appliances, as competition from Best Buy and other retailers intensified, and has shown mixed results with its diversification into furniture and mattresses.
HHGregg was counting on sales of
4K televisions
, which have significantly higher resolution than typical flat-screen TVs, to propel sales higher this holiday season, but the hoped-for boost failed to materialize.
The chain last summer unveiled a
cost-cutting strategy
aimed at saving $50 million a year and restoring profitability. As the 60-year-old chain attempts to regain its footing, it has put new-store openings on hold.
HHGregg went public in 2007 at $13 a share. The stock rose as high as $30 in 2010 before its prolonged slide began.
Some industry analysts predict that HHGregg's largest shareholder, Los Angeles-based private equity firm Freeman Spogli & Co., might be ready to pull the trigger on a sale.
The company has seen a parade of executive changes in recent years, including the departure of several chief merchandise officers.
 
In after-hours trading, HHGregg shares increased 20 cents, to $1.90 each, following the announcement of May's departure.
Please enable JavaScript to view this content.