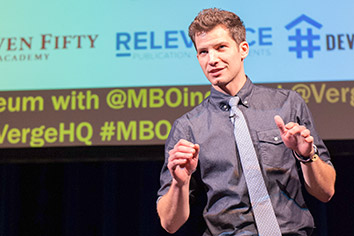 When it launched in 2009, Indianapolis-based Hackers and Founders often drew a handful of techies and entrepreneurs to small venues for monthly pitch gatherings.
Today, the for-profit event and media company is called Verge, and it convenes scores of people for presentation-packed shindigs every month. It also publishes articles and videos around startup growth stories and strategies. The number of Verge "members," who subscribe to emails and attend at least one event, has ballooned to nearly 5,000 across five cities.
Founder Matt Hunckler is pleased with the growth of the Verge community, but he's looking to turn it up a notch. The 29-year-old believes emerging tech hubs across the country can benefit from the connections and information Verge offers, so he's recently been charting a course for national expansion.
Along the way, Hunckler has been encountering both traction and friction. Support has come from out-of-towners who have volunteered to carry Verge flags in their respective communities. But complicating his efforts to establish a national brand is a large company Hunckler believes infringed on his Verge trademark.
"As a digital media company, Verge takes infringement of its intellectual property very seriously," Hunckler said in a phone interview, referring to a lawsuit his company brought last month against Vox Media Inc., which owns a technology and culture website called The Verge.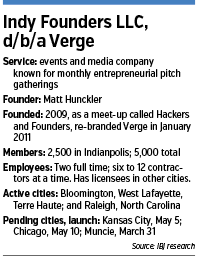 "The suit was filed to protect a brand that we've spent a ton of time developing, and, obviously, we look forward to bringing our claims before an Indiana jury."
Hackers and Founders rebranded itself Verge in early 2011 and filed for a trademark of the brand shortly thereafter, according to the lawsuit and media reports. Vox, which also owns SB Nation and Re/code, launched The Verge in fall 2011, according to various media reports.
Among other things, the suit demands Vox discontinue its use of the brand "Verge." In a statement, a Vox spokesman said: "We feel the case is meritless and the facts will bear that out. We cannot otherwise comment on a pending litigation matter."
Jonathan Polak, an attorney with Taft Stettinius & Hollister LLP who represents Hunckler's company, said, "We are not surprised by The Verge's reaction. I have yet to find an infringer of intellectual property that admits to liability.
"We certainly have a different view and that is why we filed suit on behalf of Verge. We look forward to vindicating Verge's rights through our system of justice."
Despite any branding confusion, Verge has been able to grow markedly since 2011, when it had fewer than 700 members.
Today, it has about 5,000 members through four Indiana chapters and one North Carolina outpost. Members include entrepreneurs, investors, programmers and marketers.
Verge's Raleigh, North Carolina, chapter started last summer, and the company is gearing up to start operations in Kansas City and Chicago this spring. Hunckler is eyeing other Midwestern cities, including St. Louis, Cincinnati and Louisville.
"The first time I presented a startup at Verge would have been 2009 or 2010," said local tech maven Kristian Andersen, speaking about the time he pitched a three-person software firm called TinderBox Inc. to about 15 people in the back of a restaurant.
"It's been fun for me to see TinderBox growing up … to a successful, high-growth company. But also mirroring that was Verge, going from 15 nerds to [hundreds of] developers, designers, entrepreneurs, investors and business leaders."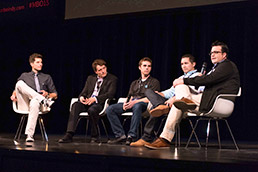 Hunckler, far left, conducts a "fireside chat" with business leaders at a Verge event last year. Verge has 5,000 members in chapters in Indiana and North Carolina.
 (IBJ file photo)
Connections
Hunckler also has grown up. The Indiana University alum knew only a handful of people in Indianapolis when he ventured here from Bloomington in 2009. Today, the 6-foot-4 business enthusiast is considered one of the most connected people in the Midwest.
Hunckler made his way to Indianapolis via the Orr Fellowship, a post-graduate program that places interns with tech companies. Hunckler landed at Bluelock, a cloud-services firm. He juggled Verge while jumping between companies in town and decided to take it on full time in 2014.
Hunckler has traveled on startup-focused bus tours with AOL co-founder Steve Case, and worked on a business venture with Scott Jones, who invented and sold the technology that underpins voice mail. Hunckler is adept at playing basketball and guitar, but he's widely known for being widely known.
He uses Salesforce and Contactually software to manage more than 10,000 Verge and personal contacts, he said, and he hardly distinguishes between business and personal relationships. In his email blasts, which he pens personally, he tells stories of his travels, gives advice, and promotes his events.
"Matt went from someone who was interested in technology and interested in entrepreneurship, to being someone who's a cornerstone of that," said Angel Morales, co-founder of SmarterHQ. "He's built a personal brand and built a community."
Verge, which Hunckler said is profitable, makes money from ticket sales and sponsorships. Other revenue streams include licensing fees from Verge operations in other cities, and Forbes.com, which pays Verge based on the amount of traffic it receives from contributed articles.
Hunckler said annual revenue is under $1 million.
Verge's expansion so far has been largely organic, he said, meaning people have asked him to start Verge events in their cities as opposed to his hard-selling the concept.

Austin
Such evangelists include Jay Austin, a 23-year-old Kansas entrepreneur who stumbled upon a video of Hunckler interviewing millionaire media entrepreneur Peter Voogd about his rapid success. Austin said he reached out to Hunckler about bringing Verge to Kansas City, and Hunckler ultimately gave Austin the green light.
"Matt came into a community that had a fragmented tech scene—the pieces were there, but it didn't have a regular unifying event," Austin said about his observations from visiting a Verge event here last fall. "And immediately I thought, 'That's exactly what Kansas City is lacking.'"
Staying the course
Hunckler intends to stick with Verge's organic approach.
"We're not cold-calling people," he said, but waiting to encounter the right types of people who can carry the Verge mantle and tailor it for their communities.
But it's not a passive, reactive process. It's been on the front burner for Hunckler lately, and he's trying to attract potential Verge directors by producing content that strikes a chord—videos, podcasts, blog posts and other content that helps startups scale their businesses.
Hunckler said the Silicon Valley tech ecosystem benefits from decades of technology successes and failures, which, in part, have led to a high concentration of investors willing to write checks for high-risk startups.
Raising money appears to be the biggest pain point for emerging tech hubs that don't have dense investor bases, Hunckler said, but some of those challenges can be overcome through connections. He said Verge intends to foster connections, not only within a community, but between communities.
His national ambitions play into this in many ways, Hunckler said, including having companies from North Carolina, for instance, pitch in Indianapolis, and vice versa.
"There are just as many investors outside of Silicon Valley—if not more—than there are in Silicon Valley," Hunckler said.
"So I see an opportunity to do a better job of connecting the right investment opportunities—startups—with the right investors, not just in those cities, but around the world."
Verge events, held on the last Thursday of each month, feature five-minute pitch sessions, a fireside chat with one or more prominent thought leaders, and free time for networking.
At this month's event, Hunckler was scheduled to interview Lesson.ly CEO Max Yoder on startup valuations and other topics.
Hunckler, the self-described "chief magician" at Verge, has one other full-time employee and six to 12 contractors at any given time, some of whom edit and publish video segments of the events. He plans to make another full-time hire soon.
Challenges ahead
The Vox lawsuit reflects a concern that Verge hopes to address as it expands nationally. Andersen, who helped rebrand Hackers and Founders to Verge in 2011, said having the same brand name as a national news outlet engenders confusion.
"Imagine you're calling a national company to be a sponsor," he said. "You tell them it's called Verge and they're like, 'Oh, yeah—I love that website. I didn't know y'all were doing a conference.'"
"I think [Hunckler] has to have that conversation a lot, and you end up just kind of apologizing for the fact that it's confusing."
Hunckler said the Vox lawsuit is not among his top concerns. He said the biggest challenges for him are attracting the right Verge directors in markets he's considering, and developing "the systems to listen to and understand these entrepreneurs who are growing outside of Silicon Valley."
"The secret for him—and I think he's aware of this—is that you've got to find another Matt Hunckler in every one of those communities," Andersen said. "But what worked in Indy may not work in Louisville or Chicago. You've got to find someone who's indigenous, connected and passionate, and that is hard work.
"If he is successful—and he's as well-qualified to do that as anyone else—I don't see why Verge can't franchise well."•
Please enable JavaScript to view this content.