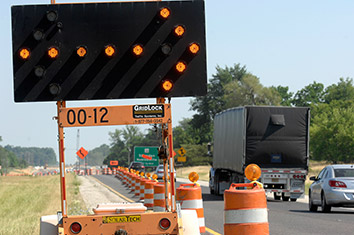 Indiana Republican leaders have reached a tentative deal to finance improvements to the state's roads and bridges that won't include a statewide tax increase.
GOP leaders said Wednesday that the deal will be a two-year agreement expected to pump about $1 billion into highway and road spending while allowing local governments to implement their own vehicle registration taxes.
"We have a general agreement," said Republican Senate Leader David Long, who added: "It does not have any tax increases in it."
House Speaker Brian Bosma said his caucus supports the plan, but made few details available. In addition to increasing road spending, the plan will include $42 million Pence had sought for his Regional Cities economic development plan, Long said.
Pence's office did not immediately respond to a request for comment. This year's legislative session is scheduled to end Thursday and the plan must be approved by both chambers.
Bosma said the agreement would offer a long term-solution for local road funding, while offering only a short term boost for managing state roads and bridges. Bosma said the deal will shift some of the state's gas tax that currently funds other priorities back to infrastructure spending.
Paying for improvements to Indiana's roads is a major portion of the Republican governor's re-election campaign and was made a GOP priority during the legislative session that ends Thursday
Republicans have shown a sense of urgency to address the issue since Democrats attacked them after an Interstate 65 bridge near Lafayette closed for a month last summer. The need was underscored last month when concrete from an overpass in Terre Haute started crumbling onto Interstate 70, leading to a temporary shutdown for emergency repairs.
Rep. Ed Soliday, a Valparaiso Republican who is chairman of the House Roads Committee, said Indiana's infrastructure ranks in the bottom third of U.S. states. Without additional funding, he said, the state's roads aren't going to be getting any better because gas tax revenues have declined as cars become more fuel efficient.
House Republicans have insisted for weeks that the 99-cent tax on a pack of cigarettes should be increased by $1 and the state's 18-cent-per-gallon gas tax should increase by four cents—a plan that Pence and the GOP-controlled Senate oppose.
Bosma all but conceded a tax increase is dead this session, but said any agreement would include provisions that will force the conversation again next year.
"I wanted a long-term state solution. It was clear that that wasn't in the works for this session," Bosma said. "I knew it was going to be a heavy lift in an election year. We structured it (the tentative deal) in such a way that we are guaranteed to come back to the table … next year."
Senate GOP leader David Long was not immediately available for comment, though Senate transportation committee chairman Carlin Yoder confirmed a tentative agreement had been reached. Pence's office did not immediately respond to a request for comment.
House Republicans have argued for a long-term statewide roads financing plan that includes the tax increases, which they say are necessary to improve Indiana roads and bridges
Their plan is supported by labor unions, local governments, the Indiana Chamber of Commerce and other key interest groups.
But Pence and his Senate allies are adamant that they do not want to raise taxes in an election year. They have called for a short-term solution that would draw down the state's $2 billion budget reserves.
Please enable JavaScript to view this content.