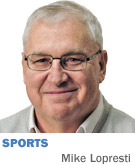 Did you hear the one about the time the Major League Baseball manager, women's college basketball coach and fashion model all walked into the same bar?
Wait a minute. That's not a joke, that's next weekend in Indianapolis.
You stack the women's Final Four and its potential for history—hint, the name "John Wooden" is involved in that—on top of the Pittsburgh Pirates and Cincinnati Reds together at Victory Field … that all ought to fill up a few downtown parking lots.
"They're special," Indiana Sports Corp. President Ryan Vaughn said about moments such as these. "It's literally why we exist—for the purpose of bringing people into town and putting Indianapolis on a national and international stage."
So here they are, eight reasons why next weekend is a really big deal.
1. Nobody is threatening a boycott! You remember last April, when the uproar over Indiana's Religious Freedom Restoration Act threatened to do a karate chop on the Men's Final Four, and had local organizers at Defcon 1? "It's nice to be talking about basketball leading up to the event," Vaughn said.
2. We get the answer to that age-old question: How many Hoosiers does it take to blow up a basketball? Or actually, 2,000 of them. One of the many Final Four side dishes is Bounce, on Saturday, where kids can dribble their way down Georgia Street. That requires a bunch of basketballs, hence a basketball-inflation party, where volunteers will gather round Tuesday morning at an NCAA warehouse. Gentlemen and ladies, start your air pumps.
3. Maybe because the guys' Final Four has been around forever, the women fight a little harder to get their niche among fans. Take Saturday during open practice at Bankers Life Fieldhouse: The players will sign autographs. Think Duke did that last year?
4. As the Final Four gets cooking, the Pirates and Reds will play Saturday afternoon to a full house at Victory Field, and how long has it been since two Major League teams came together in Indy? Aeons, if ever. The game sold out in 24 hours, and with the gates opening early that day for batting practice, customers can count how many balls land on West Street. It'll be the teams' final exhibitions. The Pirates have Opening Day Sunday, the Reds Monday.
 5. This is not your mother's Women's Final Four. The event has come light years from novelty status. "It's exploded," said Kelley Gay, who leads OneAmerica's corporate marketing and communications team. And she ought to know. Twenty-one years ago, as Kelley Hunt, she played on Connecticut's first national-champion team—the dawn of the Geno Auriemma Dynasty.
"When I was a sophomore in high school, I went to the very first nationally televised—like on regular old TV—women's basketball game. It was UConn/Stanford and I was sitting behind the UConn bench. Now, women's basketball is on the map and it's not just for women fans; it's men, women, boys and girls."
"It used to be under the rim was women's basketball, over the rim was men's. I think we've broken that barrier, too." 
6. Someone came up with the idea of playing the Division II and III championships in the same city, on the Monday between the Division I semifinals and finals. Indy gets the first try. Are you ready for Thomas More vs. Tufts? "As an old Division III student-athlete, I think it's pretty cool," said Vaughn, who was a college swimmer.
7. Here's something else missing from the men's Final Four last April. There's a fashion show Friday at Tourney Town fan fest thrown by Ben Davis product and former WNBA player Shyra Ely-Gash. It's called "Hoops Meet Heels." Dick Vitale never did that.
8. Odds are good of major history. We're taking a chance here, since this is being written before the Final Four is determined. But, as they say in women's basketball, the only things sure in life are death, taxes and UConn.
If the Huskies win, it would be Auriemma's 11th title, passing a certain Indiana native son on the all-gender championship list. If you pass John Wooden in anything, the college basketball landscape quakes, so the epicenter might as well be Indianapolis.
That would be especially meaningful to Gay, who was there when it all began, and would host many of her 35-0 ex-teammates, if UConn is here. "It's like, 'Let's go for 11 together,'" she said. "'Let's watch and celebrate all we did to help contribute to it. We were all stepping stones to going for No. 11.'
"It is something that takes years to recognize the magnitude of it. It was incredibly special. I don't think any of us really understood what it was going to be when we were there.
"The cool part of it is, many of us have children now and we're raising the next generation of little athletes."   
Gay would have insight into Auriemma few others in Indianapolis could claim, having both shared his triumph and endured his wrath.
"I will say it's possible that he's softened up a little bit. You can actually touch his hair; he will take a selfie with you. I have to be careful when I say relaxed because the tenacity in him and the fight and the will to win has remained the same. I think he's still proving, but he doesn't have to prove as much."     
In her Zionsville home is a wall with her jersey and other UConn memorabilia, along with keepsakes from her late father Kevin's eight-year NFL career as an offensive lineman. One of the other Final Four events is the inaugural women's 3-on-3 tournament on Sunday, open to anyone. Even an old Huskie?
"Nooooo," Gay said. "For now, I just do 3-on-3 in my driveway and whip up on all the guys in my neighborhood. I married a ref, believe or not. We have three kids—13, 11 and 9 [boy, girl, boy]—and will not let them beat us until they actually earn it."    
Geno would like that. Big weekend coming up, from jump shots to fastballs. A little bit of everything. How Indy.•
__________
Lopresti is a lifelong resident of Richmond and a graduate of Ball State University. He was a columnist for USA Today and Gannett newspapers for 31 years; he covered 34 Final Fours, 30 Super Bowls, 32 World Series and 16 Olympics. His column appears weekly. He can be reached at [email protected]
Please enable JavaScript to view this content.