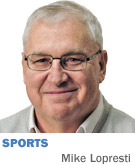 On the phone was the manager of the Pittsburgh Pirates, talking about one of his favorite places to shop.

Which, of course, is Victory Field.

"There's a host of players they should be excited to watch," Clint Hurdle said, his comment directed at the Indianapolis Indians fan base, with the baseball season at hand. Who he meant was ... well, we'll get to them in a minute. Hint: Think pitchers, and South Africa.

When Hurdle and the Pirates have something on their need list, they often place an order in Indy, and lately it's worked better than Amazon. The Indians usually have it in stock, which says something about both the quality of the Pirates' pipeline, and Indianapolis' good fortune to have so many promising faces on the roster at the moment.

That's one reason Pittsburgh has gone from no winning seasons in a generation to three consecutive playoff trips. And why the Pirates should contend again, though they now have to deal with a certain new reputed National League Central juggernaut from Chicago.

(Yes, the Wrigley Field fans among us are a Niagara Falls of optimism, even as they keep a wary eye on the sky, waiting for their team to get hit by a meteorite, since the Cubs can't possibly be this good. But that's another story. Back to Clint Hurdle.)

The question was, if the manager of the Pirates were planning to sit himself down in Victory Field this season, hot dog in hand, whom would he be most interested in seeing?

"The catcher behind the plate," he began, meaning Elias Diaz. "Josh Bell at first. You look around the diamond. Alen Hanson's back. Max Moroff. Willy Garcia. There are all the pitchers coming up.

"It's going to be a very good team, should be a fun team to watch. Just a bunch of good baseball players, and most of them have been grown through the Pirates organization, so that connectedness is special and unique."

To elaborate, Bell and Hanson were among the main men in the Indians' drive to the playoffs last fall, and are Pirates-in-waiting. Diaz is a good prospect, nursing a sore elbow at the moment.

Also, Gift Ngoepe. He is one of the organization's slickest infielders, and is working on his hitting, eager to make history. He would be the first black South African to ever play in the major leagues. "I do think about how close I am, and where I came from, where I started and where I am today," he recently told the Pittsburgh Post-Gazette.

Where he is today is Indianapolis.

Then there is a platoon of young starting pitchers—Tyler Glasnow and Jameson Taillon the most touted. Pittsburgh General Manager Neal Huntington has called them potentially the best starting rotation Indianapolis has seen in years.

So the Indians get to feature all these guys for a while, and the manager on the phone doesn't need to be in a hurry to see them.

"I think it's absolutely good for everybody," Hurdle said. "It takes courage to have patience. Our general manager has patience and he has a plan that we believe in and try to follow.

"We're looking for an established number of at-bats; we're not looking for an [express] lane. Sometimes there are situations that can demand maybe an earlier entrance than we anticipated. [Gregory] Polanca was a case like that a few years ago. Everybody wanted him up four months before he came up. Everybody's got an opinion, but nobody's tied to the player like we are. We want a player, when he gets that opportunity to come up, to stick."

Hurdle and Indianapolis Manager Dean Treanor sit at each end of this talent highway, one shaking hands and saying goodbye, the other shaking hands and saying hello. Sometimes vice versa. So it means something that they make a swell tandem.

"It's priceless and invaluable," Hurdle said. "I think the communication is clear and clean and transparent. There's no agenda on my part; there's no agenda on Dean's. We both are men who have gone through many grown-up experiences, many professional and personal experiences, and we're in a good place as far as being servants of where we're working."

The fact the Indians won a lot last year doesn't hurt this picture, either.

"Delayed gratification is a term that we use a lot in this organization. It happens at Indy a lot," Hurdle said. "You've got to sacrifice what you want right now in the moment for what's best down the road for the bigger picture. And I think our players have a grasp of that concept; I think our coaches do and I know our organization does. Obviously, it's a healthy environment, and they win games down there and they are fun to watch."

Victory Field turns 20 this summer, not only as a first-rate ballpark but also as a very active green room for young Pirate wannabees, waiting their turn. Class AAA baseball is about fireworks nights, kids-eat-free days and T-shirt giveaways. It is also about hope.•

__________

Lopresti is a lifelong resident of Richmond and a graduate of Ball State University. He was a columnist for USA Today and Gannett newspapers for 31 years; he covered 34 Final Fours, 30 Super Bowls, 32 World Series and 16 Olympics. His column appears weekly. He can be reached at mlopresti@ibj.com.