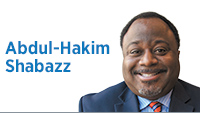 As I sit down to write this column, I just got two emails from the Indianapolis Metropolitan Police Department about two more criminal homicides. If my count is correct, that now takes Indy up to 27 this year—or a murder every three days.
And nearly a third of those murders have taken place inside IMPD's six focus areas: West 16th Street and North Tibbs Avenue, West 29th Street and Dr. Martin Luther King Jr. Street, West 34th Street and North Illinois Street, East 42nd Street and North Post Road, East 38th Street and North Sherman Drive, and East New York Street and Sherman Drive.
City and community leaders are looking at ways to stem the tide of violence, and doing everything from adding more police beats to looking at wraparound services such as mental health. However, sometimes I truly think that, when it comes to dealing with crime, the city is treading water. And it's time to consider something else. Gentrification.
Yes, gentrification. You know, the process—according to Dictoinary.com—of "buying and renovation of houses and stores in deteriorated urban neighborhoods by upper- or middle-income families or individuals, thus improving property values but often displacing low-income families and small businesses." In other words, taking a crappy neighborhood full of crime and people who consume taxes and public services and replacing them with people who don't commit crimes and actually pay taxes.
It's controversial, but guess what? It works.
In my hometown of Chicago, Cabrini-Green was one of the worst public housing projects in the nation. And it, too, was full of crime and people who didn't pay taxes but consumed a lot of city services like welfare and police. Eventually, the city got smart and relocated the poor into suburbia while, in Cabrini-Green, built homes, condos and apartments for people who could not only afford to live there, but also paid more in taxes than they consumed.
Indianapolis has done some of this, and the results seem to be working. According to the American Community Survey, from 2009 to 2013 on 12 census tracts, most north and west of downtown where gentrification has taken place, home values increased on average 23 percent. On the adjacent tracts, there were double-digit percentage drops in the home values.
So, not only do you have increased home values, which means more property taxes, but also, since we live in a world of property tax caps, you also luckily have higher incomes, which means more income tax revenue, which also goes toward city services. Another benefit of gentrification was that a lot more smart people moved into those areas. In a number of tracts, the percentage of residents with college degrees saw double-digit increases.
And Indianapolis is not alone. Using that same data provided by the American Community Survey, a lot of cities that have used gentrification to redevelop their areas of urban blight have seen similar success.
Now, of course, this raises the question of what to do with the people who lived there and then the "moral" question of whether it is right to relocate poor people to suburbia as part of a plan of urban rehab. Fair questions, but they have to be put against a backdrop of cities facing rising crime and decreasing revenue.
That's why I argue, at the end of the day, if you can't beat them, gentrify them.•
__________
Shabazz is an attorney, radio talk show host and political commentator, college professor and stand-up comedian. Send comments on this column to ibjedit@ibj.com.
Please enable JavaScript to view this content.