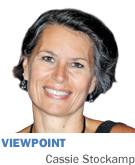 By the time I listed my car on Craig's List last year, I had been thinking and talking about it for months. I had some trepidation since, in a car-centric city like Indianapolis, it's one thing to occasionally park your car and rely on other transportation and another to sell your car.

It didn't take long for my decision to be affirmed. Not only did my car sell in two days, but on the day I sold it, I gave the keys to the new owner and walked immediately to the ceremony where the BlueIndy electric-car-sharing program was unveiled.

That moment underscored my belief that the sharing economy is here to stay. The question is whether we in Indy will encourage it—for the good of the community and ourselves.

Sharing has been a part of the economy forever, but the phenomenon we know as the sharing economy really exploded in the last 10 years. Airbnb, Uber, bike share programs and other sharing entities are changing the way the world does things—especially when it comes to transportation.

As I've traveled and talked to people from around the world, I've learned that the cities seen as most progressive are the ones that have embraced shared transportation. Being able to live in or visit a city without having to have a car is attractive, especially to the young professionals we're so interested in attracting.

Indy is making great strides in this area. Our bike sharing program outperforms expectations. Despite Blue Indy's rocky rollout, I've found it convenient and easy to use. And yet we still have much work to do, especially when it comes to mass transit, which is a vital link in the shared transportation landscape.

Even before I sold my car, I used the bus, and now I use it frequently. I've found it to be reliable, and I especially appreciate it on bad-weather days, when a bus driver can slog through the snow-covered streets. But I also have seen its limitations—the inability to get everywhere I need to go, or to get from one place to another in a timely fashion. And I look forward to more electric buses that won't leave behind black diesel clouds or make a roaring noise every time they pull away from the stop.

As practical as shared transportation is, I see higher benefits to this way of doing things. I believe these practices will create a more compassionate society, one that shares out of excess in order to help those who have less. Because sharing requires trust, we're building trust in one another. And it's clear these practices are easier on the environment, which translates into a healthier place to live.

I also see economic benefits. As we become more accustomed to shared transportation, the places where we access it will gain in commercial interest. I get excited when I think of all the transit-oriented development that will accompany improved transit, and I think it's important and forward-thinking that the city is working to protect people in neighborhoods from gentrification that could drive them out.

Certainly, I don't expect all residents of our city to sell their cars. But I do hope more and more people will have an open mind and actually try shared transportation. At best, you'll discover a new way of life that improves your life. At worst, you'll develop an understanding of what it is that's changing our lives.•

__________

Stockamp is president of the Athenaeum Foundation.