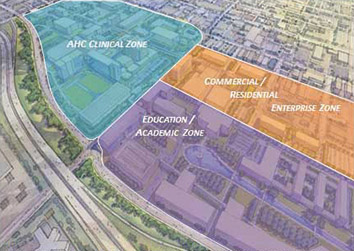 Indiana University Health hopes its $1 billion plan to expand Methodist Hospital will spawn much-needed development south of the campus, creating an area where employees can live adjacent to where they work.
The state's largest hospital group announced nearly a year ago that it will construct a new medical center and tear down existing, 100-year-old buildings as part of a seven-year project to transform the way it provides health care.
IU Health still is in the planning stages and should start the design phase later this year, with construction potentially starting in 2017 and lasting until 2022. But project details are beginning to emerge.
Herbert Buchanan, president of Methodist and University hospitals, told 150 members of the Indiana Subcontractors Association late last month that IU Health envisions the massive Methodist project acting as a catalyst to help revitalize its neighborhood.
"It could be a live-where-you-work opportunity," he said. "This whole region of Indianapolis could change."
The area ripest for redevelopment sits south of West 16th Street and east of Senate Avenue; it's referred to in the group's plans as the "commercial/residential enterprise zone."
The land consists mostly of paved parking lots and green space. It stretches east to Muskingum Street, between Capitol Avenue and Illinois Street, and is controlled by private owners.

Buchanan
But IU Health believes the parcels will attract development once the Methodist expansion begins and will help the hospital system recruit young health care professionals, Buchanan told IBJ.
"That can be very attractive," he said. "What we're seeing more in the industry—from minimum wage to the highest-paid surgeon—for some, it's accessibility to the workplace."
Other major Indianapolis employers are embracing the same trend. In 2010, for instance, Eli Lilly and Co. helped spur development of the CityWay mixed-use development on company-owned parking lots south of its headquarters.
The company said that project, which soon will launch a $110 million second phase, helps connect Lilly's offices with downtown proper and offers amenities that help it attract and retain employees.
Michael Osborne, president of the Near North Development Corp., said creating a live/work environment near Methodist could transform the area.
"In terms of this neighborhood, we have to view it as an opportunity that does need to be leveraged," Osborne said, "because they don't come along very often."
The prospects for development also could get a boost as plans for the 16 Tech innovation district come to fruition farther west.
16 Tech, which spans 60 acres from 10th to 16th streets between the White River and Fall Creek, is expected to draw a mix of research labs, corporate offices, business incubators, co-working spaces, apartments, retail businesses and parks. It could take 20 years to fully develop the area, which is just north of the IUPUI campus.
The Stadium Lofts apartment project, which opened in the 16 Tech zone in 2013, in the old Bush Stadium, adds further connectivity to that part of the city, said Tadd Miller, CEO of Milhaus Development LLC and a member of the Urban Land Institute's executive team.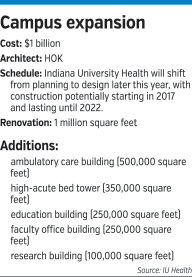 "You're going to have a lot of people going to school, going to work, and living and playing if [IU Health makes] that type of investment over there," he said. "I don't know why that wouldn't work and why it won't happen. It just takes time."
Changing busy Capitol Avenue from one-way to two-way traffic would bolster the walkability of the area, said Buchanan, acknowledging that the change is "a dream" of his.
As IU Health executes its redevelopment plans, the Methodist campus along Capitol Avenue will look vastly different, with the oldest buildings at 16th and Capitol torn down, followed by construction of facilities focused on serving walk-in patients.
Methodist's plans show a 500,000-square-foot ambulatory care building and 350,000-square-foot high-acute bed tower that together could house 600 to 800 beds.
Both buildings would be built along Capitol, replacing two century-old structures. The middle part of Methodist, which is the newest, would be renovated, Buchanan said.
"This is one of the most exciting parts of the project," he said. "When you come into a building that's been pieced together, the flows don't work very well."
The Methodist investment is part of a broader IU Health plan to boost efficiency by closing University Hospital on the IUPUI campus, reducing its in-patient facilities in the city's core from three to two.
Methodist and University together boast 1,200 licensed beds, but only 800 to 850 are occupied per day.
The Methodist buildings that have been stitched together through the years are woefully inefficient by today's health care standards and too expensive to renovate, with their mismatched floor plates and other peculiarities that have left entire floors unusable, real estate professionals say.
Plans also call for construction of a 250,000-square-foot education building and a 250,000-square-foot faculty office building, plus a 100,000-square-foot research building.
It's too early to know every detail of the project and whether the new medical center will stand alone or be incorporated into existing structures.
IU Health also intends to shift all obstetrical and newborn care from Methodist to Riley Hospital for Children on the IUPUI campus. That effort entails nearly 150,000 square feet of new inpatient and outpatient space.
Under the restructuring, clinical services will move to Methodist from University, which will close upon completion of the expansion but could reopen as a post-acute or rehabilitation hospital.•
Please enable JavaScript to view this content.