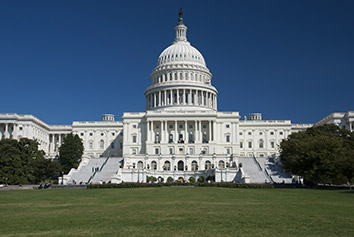 U.S. Rep. Todd Young has more money than his opponent, U.S. Rep. Marlin Stutzman, which could help him control the narrative of the Republican U.S. Senate race in TV advertisements during the last three weeks of the campaign.
But does Stutzman, who bills himself as the conservative "outsider," hold the trump card?
Political observers say the dynamics of the presidential primary election, where two anti-establishment candidates—New York billionaire Donald Trump and U.S. Sen. Ted Cruz—have emerged as the favorites in the GOP contest, could give Stutzman an advantage because his appeal has a similar refrain: Washington is broken, and I can fix it.
"Todd Young is running a very strong campaign," said Robert Dion, a political science professor at the University of Evansville. "He's got a lot of advantages.
"But Marlin Stutzman is running the kind of insurgent campaign that right now is leading the Republican Party. If those folks come out and want to send a message, they may send a message to Washington and Todd Young."
Indiana's May 3 primary falls at a pivotal time in this presidential campaign season because the three Republicans left standing are all grappling for delegates and face long odds to capture the numbers they need to easily secure the nomination. That is likely to drive up voter participation.
Therefore, the linchpin in the Senate race will likely be what kind of voter shows up for the primary, said Brian Howey, who runs the Howey Politics Indiana blog.
Indiana uses an open primary system, meaning voters aren't required to register with the Republican or Democratic parties to choose either one's ballot.
So if a brand new Trump voter who hasn't traditionally voted Republican wants to come out to support him—or if a Democratic-leaning voter wants to pull a Republican ballot to vote against him—that is allowed.
But here's some good news for Young: So far, congressional primary candidates hoping to ride Trump's coattails haven't been that successful. In North Carolina, Republican U.S. Sen. Richard Burr had no trouble beating Greg Brannon, who billed himself as a candidate to "defeat the Washington establishment." And in Illinois, state Sen. Kyle McCarter was supported by the conservative group Club for Growth—which has backed Stutzman—to try to unseat U.S. Rep. John Shimkus, but Shimkus had no trouble beating back the challenge.

Howey
"There's a lot of unknowns out there," Howey said. "We don't know how a new Trump voter is going to behave—if they're going to vote for president and walk out or if they're going to vote in the Senate race. We should be prepared for some big surprises."
Outsider credibility?
The contest between Young and Stutzman has turned competitive and personal as the candidates try to bill sell themselves as the right person to replace U.S. Sen. Dan Coats and carry the conservative cause in Washington. As to which is more of an outsider, that's all a matter of perception.
Both were elected to the U.S. House the same year.
Before that, Stutzman spent eight years as a member of the Indiana General Assembly while running his agriculture business.
He bucked members of his party by voting to oust former House Speaker John Boehner. He brags on his campaign website that he has an "unparalleled conservative record" that includes "voting to repeal all or part of Obamacare over 50 times."
Young, on the other hand, has an extensive military background and was an aide to former U.S. Sen. Richard Lugar. He's billing himself as a realist who wants to advance incremental change, and has criticized Stutzman as being a "rhetorical conservative." But he also told IBJ he was an "unapologetic pro-life, pro-gun conservative who wants to repeal and replace Obamacare."
The race hasn't been easy for either team. Both Young and Stutzman have had rough patches in their campaigns: Stutzman's staff almost entirely turned over several months ago, and Young faced a ballot challenge after his opponents found and several Indiana journalists confirmed that he didn't submit enough signatures to get on a ballot. The Indiana Election Commission's tied 2-2 ruling kept him on the ballot.
Despite that, Young has some advantages. Lt. Gov. Eric Holcomb's decision to drop out of the race to become Gov. Mike Pence's No. 2 likely helped Young more than Stutzman, since Holcomb and Young are both perceived to come from the same "establishment" wing of the party.
Young has raised considerably more money than Stutzman as reported so far, although voters will find out for sure in mid-April, when the Federal Election Commission updates fundraising totals for the first quarter of 2016.
In 2015, he raised $2.9 million, and ended the year with $2.6 million in cash on hand, according to the FEC. Stutzman raised $1.7 million in 2015, and ended the year with $1.1 million in cash on hand.
And this year, independent groups have spent major bucks to help Young win the primary. At the end of March, the U.S. Chamber of Commerce reported spending $1 million on a TV, radio and digital campaign to support Young. On April 3, the Senate Leadership Fund spent nearly $200,000 on pro-Young TV ads, according to the FEC.
By comparison, outside groups have so far spent just $15,000 to support Stutzman. All of it came from the Senate Conservatives Fund. Stutzman is also being supported by a few grass-roots conservative groups, including the Club for Growth and FreedomWorks.
To endorse or not?
With the presidential primary now careening toward Indiana, the Senate candidates could be faced with questions they'd hoped to avoid. Already, the Indiana Democratic Party has been pushing both to say whether they'll endorse Trump.
"Hoosiers deserve to know who they'll support on the national level," Democratic Party spokesman Drew Anderson blasted last month.

But neither Young nor Stutzman has been specific. Both candidates have said they'll support the eventual Republican presidential nominee, though they've been quiet about preferences.
Still, Stutzman is not shying away from the help he might get if the top of the GOP ticket is in play in the Indiana primary. He said the increased voter turnout—and the types of voters, many of whom are favoring "non-establishment" candidates in other states—is to his advantage.
"Donald Trump is bringing a lot of new voters to the polls," Stutzman said. "They are frustrated and rightly so. The two front-runners, Trump and Cruz, our message is very much in line with theirs."
Though Stutzman said he would support any Republican nominee among Trump, Cruz or John Kasich, he said he is not supportive of a brokered convention's resulting in an entirely different nominee.
"We cannot throw out the Democratic process here," Stutzman said.
Young is more tight-lipped about how the presidential campaign is affecting his race. But he's definitely feeling the pressure.
"I'm intently focused on making sure that I win this Republican nomination and I think we're on track to do that and defeat Baron Hill in the general election," Young told IBJ. "Control of the entire U.S. Senate could very well depend on Indiana."
Dion said the candidates are smart not to endorse a particular candidate—especially given the tenor of this presidential election.
Between talk of small hands and comparing the looks of candidates' wives, Dion said, the Republican Party has "reached new lows in the level of discourse."
He said it's smarter for candidates to think about endorsing a candidate after the primary. But given the turmoil in the Republican Party, an outright endorsement might never come, depending on whether Stutzman or Young wins the Senate race and who emerges out of the June GOP convention as the presidential nominee.
If it's Trump, there are rumblings that U.S. Senate Majority Leader Mitch McConnell could instruct GOP candidates to disassociate themselves from Trump and run separate campaigns.
"Hoosier voters have a known habit of splitting their ticket, anyways," Dion said. "Let's be honest: That's what Indiana Democrats do much of the time. Coattails are overrated."
For the moment, Howey said, it makes sense that Young and Stutzman aren't making an endorsement in the presidential race.
"There's kind of a paralysis there," he said. "They're really trying to straddle a line. I can't imagine being a candidate running for a U.S. Senate seat this year. It has a tone of a surreal alternative universe."•
 
Please enable JavaScript to view this content.