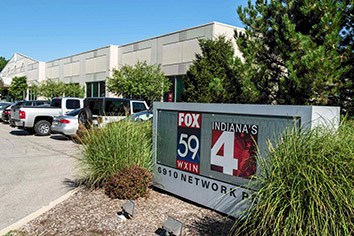 Six months ago, Indianapolis TV stations weren't anticipating much revenue from the presidential primary. Most local station managers, in fact, had a zero on that revenue budget line.
But now, advertising experts and political observers say the three Republicans and two Democrats left vying for their party's nomination—along with the political action committees trying to influence the election—could flood the market with more than $10 million in TV advertising revenue before the May 3 primary.
A lot depends on election outcomes in the six states that will hold their primaries before then.
But if the contests are still close, one former TV executive said, each Indianapolis station with a significant news presence could anticipate "a healthy seven-figure windfall."
It's possible, he said, that nearly 10 percent of all local TV advertising revenue generated in 2016 will pour in during a two-week run-up to May 3.
BIA Financial Network has estimated that a total of $200 million will be spent on TV advertising in the Indianapolis market this year.
"There's a full week between Indiana's primary and the ones before it," said Steve Passwaiter, business development and consulting leader for Washington D.C.-based Kantar Media Intelligence. "If the races are still hanging in the balance, that will put a lot of focus on the state of Indiana. And when you have a focus like that, you often have considerable spending."
It's difficult to say just how lucrative this presidential primary will be.
Typically, Indiana doesn't nab much of that spending because of its late primary. In 2008, however, Democrats Barack Obama and Hillary Clinton were still battling when Indiana's primary came around. Each local station raked in more than a million dollars, sources said, with the top stations receiving multiple millions.
With both primaries still in play in 2016, those numbers could be even higher.
Republicans Ted Cruz and John Kasich are waging a battle to keep Donald Trump from getting enough delegates to win the GOP nomination outright. They're hoping for a convention battle that would leave the decision to delegates who could choose another candidate if Trump lacks a majority on the convention's first ballot.

Delia
Meanwhile, Clinton is working to fend off a stubborn challenge from Bernie Sanders. Each has raised and spent more than their Republican counterparts.
And outside organizations have spent millions of dollars trying to either support or defeat one of the candidates.
"I'm going way, way back in my mind, and I don't know if Indiana has ever seen a presidential primary like this one," said Tom Cochrun, a longtime newscaster at WTHR-TV Channel 13 and former news director at WISH-TV Channel 8. "I have to go all the way back to 1968, when you had Kennedy, LBJ and McCarthy. The TV spending this time, though, I think will be unprecedented—certainly from a dollar-amount standpoint."
In addition to the presidential race, TV stations are getting an influx of advertising from the Republican contests for the U.S. Senate and the U.S. House's 9th District.
The unknown
The combination of so many unknowns has ad agencies and media buyers bracing for a tidal wave.
"This could be really, really big," said Terri Reilly, president of Echo Point Media, the media-buying arm of ad agency Young & Laramore. "This could be the first time both the Democrats and Republicans spend serious TV money in Indiana. Right now, nobody knows for sure."
Some regular TV advertisers could find themselves temporarily bumped from the airwaves.
"You have to have a high degree of communication during these periods," said WTHR President and General Manager Larry Delia. "We help our regular advertisers work around the political cycles. You can't just throw your loyal clients aside to go for the quick buck. They're your tried-and-true advertisers."
Delia admitted that accommodating everyone can get pretty crazy. Stations are keen to offer candidates equal time so as not to run afoul of Federal Communications Commission rules, which would result in a hefty fine.

Tew
"There's a lot of communication between the ad sales reps, the schedulers, and the advertising agencies and media buyers," Delia said. "It can get pretty complicated. We do a lot of communicating and are upfront with everybody."
Complicated is a good word for the way political TV advertising works. Stations are mandated by the FCC to sell candidates in federal races spots at the "lowest unit rate," the lowest amount that's been charged for a single spot—usually 30 seconds—during a given time slot over a certain period (45 days before a primary and 60 days before a general election).
A station can—and usually does—have rate tiers. For example, the cheapest tier means an advertiser's spot can be easily pre-empted. Less so for each spot up the rung. Ads on the top tier cannot be pre-empted.
Stations must offer political candidates the lowest unit rate for whichever tier the candidate chooses. The closer candidates get to the election, the more likely they are to pay for ads that can't be pre-empted. But it's difficult to learn how much stations can charge a presidential candidate until the stations submit the information in their required FCC filings.
Already, stations are charging candidates in another federal race—the GOP Senate primary—rates of $100 to more than $1,000 (depending on the time slot) for a 30-second spot.
Advertising experts said presidential candidates will likely pay more than that to get on a less pre-emptive tier.
Big-spending PACs
Stations are not obligated by federal regulations to charge political action committees the lowest unit rate. PACs, advertising experts said, can expect to pay $2,000 to $5,000 for a 30-second local spot the week before May 3.

Uecker
"The super-PACs and issue organizations have very deep pockets, oftentimes deeper than the candidates' themselves, so I expect them to throw a lot of fuel on this fire," said Scott Uecker, a University of Indianapolis communications instructor and general manager of UIndy TV, a campus station. "And in the week leading up to the race, air time could become extremely scarce, so rates will skyrocket. Most PACs don't balk at the high prices if they have an agenda they think is important and a race that's still undetermined."
Already, Club for Growth—a PAC headed by Hoosier native David McIntosh that has spent more than $10 million to defeat Trump—has said it's looking to buy ads in Indiana. The group spent little in New York in advance of that state's April 19 primary, in part because the advertising market is so expensive but also because Trump is expected to win big.
But Club for Growth spent $1 million in Wisconsin, where Cruz defeated Trump.
In Indiana—and most states—most political commercials will air during local newscasts.
"Political advertisers tend to be most comfortable in an environment where there tends to be a lot of discussion about the race," Delia said. "They like to be adjacent to that content."
Station managers said political advertisers also like prime-time and sports programming.
WTHR and WXIN-TV Channel 59, the local ratings leaders in TV news, will likely be the biggest winners in the primary advertising bonanza. But even WRTV-TV Channel 6 and WTTV-TV Channel 4, though they have lower local-news ratings, have solid prime-time lineups where they could easily charge presidential candidates $900 or more for a 30-second spot. Part of the money from ads during network shows goes to the network.
WISH-TV Channel 8 is also expected to do well because of the sheer volume of TV news the station—which has no major network affiliate—offers.
Spread the wealth
The windfall of primary money in Indiana won't be limited to Indianapolis.
Sixty percent of the state's voters fall within the Indianapolis TV market, but political experts predict considerable spending also in Fort Wayne and Evansville, as well as in markets outside the state that bleed into Indiana, such as Chicago, Cincinnati, Louisville and even Dayton.
Kip Tew, a former Indiana Democratic Party chairman who ran Obama's 2008 state campaign, is still trying to gauge how big the local influx will be.
"In 2008, Obama and Clinton began building their campaigns here in March and started TV advertising in early April, and we haven't seen that level of presidential activity yet on either side this year," said Tew, an attorney with Ice Miller. "Of course, if either race tightens up even more during the next week, that will likely increase spending here. There are a lot of variables at play right now."
Pete Seat, a Republican consultant for locally based Hathaway Strategies, said the run-up to the May 3 primary "could very well be a boon for TV stations. A very big boon."
He pointed to recent local office openings by Kasich—his company's client—Trump, Sanders and Clinton.
"I think the super-PACs will start pouring money into this TV market two weeks before the [primary], and the candidates themselves will weigh in in a big way one week before," Seat said.
"We're hearing more reports every day saying Indiana is going to be critical to what happens at the convention. The interest in this race is building, and I think it will be through the roof. And that could well be reflected in the amount spent here on TV advertising."•
Please enable JavaScript to view this content.