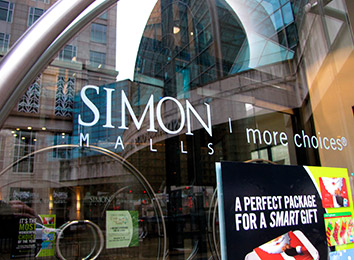 Indianapolis-based Simon Property Group Inc. on Tuesday morning raised its forecast for the year after the company posted better-than-expected earnings in the first quarter.
The nation's largest mall owner said funds from operations, a key measure of profitability, increased 15.4 percent to $951.8 million, or $2.63 per share. That compares to $830.7 million, or $2.28 per share, in the in the same quarter last year.
The latest results topped the average estimate of $2.54 per share from nine analysts surveyed by Zacks Investment Research.
Profit dropped to $481 million, or $1.55 per share, compared with $539.1 million, or $1.73 per share in the first quarter of 2015. But Simon said last year's higher profit received a per-share boost of 57 cents due to Klepierre SA's issuing of additional shares. Klepierre is co-owned by Simon.
Simon's revenue last quarter grew by 9.9 percent, to $1.3 billion, helped by higher rents. Average rents increased to $49.70 per square foot, up from $47.59 in the first quarter of the previous year.
Occupancy remained mostly flat, however, dipping to 95.6 percent in March from 95.8 percent in the first quarter of 2015. Sales per square foot fell from $621 to $613.
Simon expects 2016 earnings in a range of $6.01 to $6.11 per share, compared to its previous guidance of $5.95 to $6.05. The company also expects funds from operations of $10.72 to $10.82, lower than the average analyst consensus of $10.83 but higher than its previous guidance of $10.70 to $10.80 per share.
The company also declared a quarterly dividend of $1.60 per share, a year-over-year 6.7 percent increase, to be paid on May 31.
Simon shares traded early Tuesday afternoon at $203.29 each, down 24 cents for the day and significantly under a 52-week high of $210.41. However, shares had traded as low as $178.73 as recently as Feb. 8.
 
Please enable JavaScript to view this content.