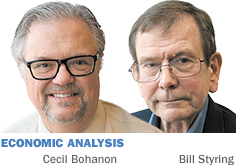 A presidential candidate's comment on a strike against Verizon Communications Inc.: "This is another major corporation trying to destroy the lives of working Americans." To his supporters, this is considered "colorful rhetoric" and "telling it like it is."
One can easily imagine another presidential candidate saying: "This is another bunch of foreigners trying to destroy the lives of working Americans." We know darn well the first candidate's supporters would label the second statement "nativist hate speech poisoning the political discourse."
For the record, Bohanon and Styring do not believe that either for-profit corporations or recent immigrants are trying to destroy the lives of working Americans.
The double standard for corporation-bashing is both amusing and ironic. The corporate form of organization is an innovation that made modern life possible. The "joint stock company" allowed many investors to pool their capital through stock purchases with the assurance of limited liability.
These large capital pools are necessary for any large-scale endeavor. Partnerships or family ties generally can't assemble that kind of financial firepower. Corporate organization made possible CO2-puffing railroads and steel mills but also First Solar's panels and GE's wind turbines.
Corporations constitute a way for a group of people to do something "together" that none of them could do on their own. We thought that was a good thing. Alas, to some it seems doing something "together" counts only when it is state-directed.
Although there are many attributes to corporations as legal persons, one of the most important is that their members or shareholders are shielded from unlimited liability. If the not-for-profit but incorporated Daffodil Club negligently sells a bulb that causes widespread illness, only the assets of the club are up for grabs. Club President Petuna Petalsmith's house is not on the line.
Correspondingly, if the disease-infested bulb was negligently sold through Walmart, only Walmart corporate assets are up for grabs. Petalsmith's 200 shares of the company's stock can go to zero, but a shareholder's personal assets are not at stake.
If limited liability via corporate formation were not part of the social and business landscape, it is doubtful anyone but the very wealthy could launch civic or business enterprises. In the United States, 50 percent to 60 percent of all households directly or indirectly own common stock of corporations. Widespread ownership of common stock through the corporate form democratizes capitalism. Curious, we thought that was a good thing.•
__________
Bohanon is a professor of economics at Ball State University. Styring is an economist and independent researcher. Both also blog at INforefront.com. Send comments to ibjedit@ibj.com.
Please enable JavaScript to view this content.