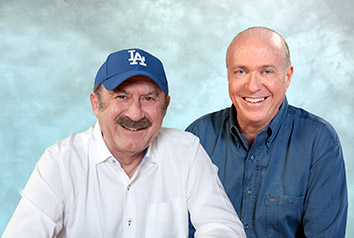 In the wake of two key departures in January, advertisers and radio stations nationwide are keeping a close watch on the ratings of "The Bob & Tom Show," as this year proves to be a critical one for the morning show that launched in 1983.
While its ratings have slipped a bit in the first quarter, the WFBQ-FM 94.7 show remains a local powerhouse and doesn't appear in imminent danger of losing advertising revenue or affiliated stations that carry the morning broadcast.
Despite co-host Bob Kevoian's retirement and cast member Kristi Lee's defection, the show, which airs from 6 a.m. to 10 a.m., still maintained a ratings edge over its nearest competitor in the local market in two important categories in March, the most recent rating period.
Tom Griswold, the other half of "Bob & Tom," along with other main characters, including Chick McGee, remain with the show.

Uecker
"The rumors of their demise seem to have been greatly exaggerated," said Scott Uecker, a University of Indianapolis communications instructor and general manager of WICR-FM 88.7.
But there's good reason to keep an eye on the show's performance locally and nationally, industry experts said.
While "The Bob & Tom Show" originated locally and is still produced in Indianapolis, the syndicated show is now its own broad-reaching entity. Indianapolis is just one market of 112, in 38 states, for the show's producers to be concerned about. The ratings will affect not only how many advertisers the show can attract but also its syndication deals.
"Stations aren't going to wait too awfully long to make a decision on what to do with this show," said Robert Unmacht, a partner at iN3 Partners, a Tennessee-based investment banking consultancy focused on radio. He predicted that station managers will weigh in "within the next two or three quarters."

Bryant
So far this year, the show's ratings nationally "are mixed," Unmacht said. The show is still "going strong in the Midwest and in Indianapolis where it has a very loyal audience," he added.
"There's no indication at this point that advertisers nationally are leaving the show, nor are there any indications that stations are seriously contemplating dropping it," Unmacht said. "Certainly not en masse."
Officials from WFBQ and "The Bob & Tom Show" did not return calls seeking comment. An official from Westwood One, the show's syndicator, declined to comment.
Among central Indiana listeners ages 6 and older, "The Bob & Tom Show" on WFBQ scored a 7.8 share in March, according to Nielsen Radio, meaning 7.8 percent of people listening to radio at that time were tuned into the show. That topped WZPL-FM 99.5, which registered a 7.5 share, and WJJK-FM 104.5 and WYXB-FM 105.7, both at 7.2, according to Nielsen.
While the morning drive shows on WZPL and WJJK both had higher cumulative audiences—the total number of people listening during any given week—"The Bob & Tom Show" ranked higher in the "average persons" category, which measures the number of people listening at any one moment. WFBQ scored an 11,300 in that metric in March, according to Nielsen, while WZPL registered 10,900, and WJJK and WYXB were at 10,400.
"That number is very important to advertisers," Uecker said. "That lets them know how many people will likely be listening to their 30-second ad spot no matter when during the time slot it runs."
'Close tabs'
One operator of an FM station in Michigan that airs "The Bob & Tom Show" said he's seen only a slight decline in listeners on his station, adding, "We're hoping and praying it's just a blip and not a long-term downward trend."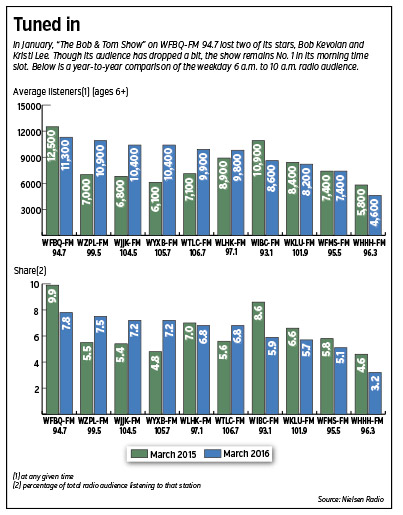 "When we found out Bob [Kevoian] was leaving, it was a big concern," the Michigan station operator said. "Then, when Kristi [Lee] announced she was leaving, it was a big jolt. We're certainly keeping close tabs on what listeners and advertisers are thinking and doing."
The trend in the Indianapolis market indicates the show is bouncing back from an early drop. In January, the average-persons marker dropped to 10,600 for listeners6 years and older, then grew to 10,800 in February and bounded up another 500 points to retake the top spot in the morning drive in March. The weekly cumulative audience the last three months has been stable, though "Bob & Tom" has trailed WZPL's "Smiley Morning Show" in that category throughout the quarter.
"Bob and Tom" is getting a boost, Unmacht said, because there aren't many suitable morning alternatives for listeners or advertisers in Indianapolis or other—mostly small and midsize—markets where it airs.
Locally, the show is still a stalwart in the 25-to-54 age group sought most by advertisers, ranking second in March behind WZPL. It skews much heavier male (more than 60 percent) than many of its main morning rivals, including WZPL and WYXB, which are more than 50 percent female. While WJJK also skews toward the male audience, Uecker pointed out that it mainly plays music.
"People go to 'The Bob & Tom Show' to be entertained by the banter and the jokes," Uecker said. "I don't see WJJK as an alternative to that."
'Immensely loyal'
Six local advertising agencies contacted by IBJ said they have no intention of pulling ads off "Bob & Tom."

Randall
"We have no hesitancy in buying time for our clients on 'The Bob & Tom Show.' There is a big block of listeners who are immensely loyal to that show, and we haven't seen that erode," said Gerry Randall, CEO of Williams Randall Marketing. "We're looking for a diversified portfolio for our clients, and 'The Bob & Tom Show' is still a very strong component in reaching the 25-to-54 demographic."
Bruce Bryant, president of locally based Promotus Advertising, said the show has maintained "a high quality of entertainment" despite the departure of Kevoian and Lee.
"Six months from now, we're going to be taking a hard look at the ratings and the [advertising] rates," Bryant said. "If the ratings decline, we're going to be asking for lower ad rates. At this point, though, I don't think it's going to be a huge problem. But to be sure, we're watching."
Several aspects of the show will be critical to its future, Uecker said, including whether Pat Carlini will become a permanent replacement for the popular Lee, and how she will be received; if Kevoian will be replaced (so far, a steady stream of guests have filled his spot); and perhaps most important, how—if at all—the 63-year-old Griswold's role evolves.
"Bob was the foil. He could take a topic and make it even funnier than it already was," Uecker said. "Tom has always been the one that has kept the show moving forward and he still does that. The question is, will he have to take on more and can he do more to carry the show without Bob?"•
Please enable JavaScript to view this content.