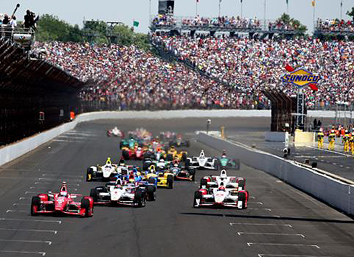 For the first time in the long history of the Indianapolis 500, WRTV-TV Channel 6 has rights to air the ABC broadcast of the race twice.
Unfortunately for those not attending the 100th running of the race this year, neither of those broadcasts will be live despite the fact the race is expected to be sold out this year for the first time in 20 years. 
While ABC airs the race live nationwide, WRTV—per ABC's contract with the Indianapolis Motor Speedway—will broadcast the race on a delayed basis. Typically, the race has aired in central Indiana the night of the race—several hours after the 500-mile race has ended. This year, WRTV will air the race at 7 p.m. on race day (May 29) and again from 10 a.m. to 1:30 p.m. on May 30, Memorial Day.
ABC said the decision whether or not to broadcast the race live in the Indianapolis market belongs to IMS. 
Speedway President Doug Boles said televising the race live on race day has been discussed by IMS and ABC officials for several years, but no changes to the policy of blacking it out locally are planned despite projections of a sellout and a live crowd that is expected to be be nearly 100,000 spectators larger than it has been in recent years.
Ticket brokers said many tickets are selling at twice the price on the secondary market as they did just a year ago, with tickets in the penthouse and those high up in prime locations in Turn 1 and Turn 4 going for more than twice face value. Officials at Carmel-based FanFare Tickets said they've even sold a handful of tickets with a face value of $350 for between $1,250 and $1,500.
"As far as I know at this point, it will still be tape delayed [locally]," Boles said. "We explore it every year. It's one of those conversations that we have with our partners and others. But at this point in time it's still tape delayed."
Local sports marketers said there are no shortage of race fans that would like to see the race televised live, but Boles said it's also part of the local tradition to watch it tape-delayed.
"It's funny, because I'll get responses from our customers who can't wait to get home and watch it on TV," Boles added. "Part of their tradition is going home, cooking a burger out back and watching it on TV at home to see what they didn't see when they were in the venue. At least for the locals that come to the 500, that's part of the tradition."
IMS controls the local broadcast rights and has blacked out the live broadcast in the Indianapolis market since 1950, according to WRTV officials. The Speedway made the decision this year to give WRTV rights for a second broadcast. Financial terms of that deal were not disclosed.
"Indianapolis loves the tradition of this iconic sporting event," Larry Blackerby, vice president and general manager of WRTV, said in a written statement. "Hundreds of thousands of people pack the Indianapolis Motor Speedway to see all of the action, but that's not enough. They want to watch every lap and every pit stop at home on TV. With our second broadcast, fans will have more opportunities than ever to relive that unforgettable experience." 
When asked who would have to approve of lifting the local blackout, Boles said "a whole bunch of people," including IMS, "partners and others." 
"It's not as simple as it might seem," Boles said.
Please enable JavaScript to view this content.